New clinical pathway approach for hip and knee replacement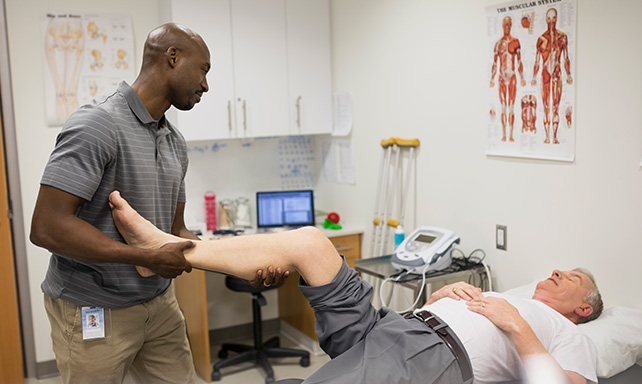 Major Joints for Life (MJL) is a new Life Healthcare product that will change how patients experience knee and hip replacement surgery – and how they pay for it.
Many people experience hip and knee pain due to normal wear and tear, genetics or injury. However, when the discomfort becomes debilitating, replacement surgery is often the only way to find lasting relief. While this kind of surgery might sound expensive, painful and uncomfortable, it's known to be cost-effective in improving quality of life. Life Healthcare has adopted an approach that could save you financial distress.
A new approach to hip and knee replacement
Life Healthcare has received buy-in from healthcare professionals, who have agreed to work in Life Healthcare facilities within a total remuneration structure.
Major Joints for Life (MJL) is a new clinical pathway – or route a patient takes when undergoing a primary hip or knee replacement. It allows the hospital and doctors' bills to be bundled up into fixed fees.
The MJL pathway consists of three important elements: 
Consultations with the necessary clinicians, such as an orthopaedic surgeon, anaesthetist and physiotherapist. (Other specialists may be required in specific cases.)
Hospital admission.
Post-discharge assessments.
It is an integrated pathway in that the patient, doctors and broader treatment team are all kept updated on the journey. The journey is coordinated by a clinical coordination team, making the process easier for the patient.
Clinicians are professionally responsible at their points of contact with the patient for good practice. They optimise the patient for surgery pre-operatively, intra-operative skilled care and post-operative recovery and rehabilitation.
The hospital provides a level of care that is appropriate for uncomplicated surgery, measurement of clinical outcomes and measurement of costs associated with the process. 
Note that not everyone undergoing knee or hip replacement surgery is eligible for the pathway. There are exclusions and funders (medical aids) may add other criteria as the pathway is tested. 
Who will this package benefit?
Patients. Many patients have a better hospital experience and a smoother recovery when financial worries are addressed before surgery. With the MJL pathway, selected candidates won't be responsible for co-payments to the healthcare professionals. (Depending on your scheme and option there may be scheme-imposed co-payments for the hospital admission.)
Clinicians. Medical aids will refer members to orthopaedic practices involved in MJL and they will receive feedback on their clinical outcomes and cost-efficiency within the Group.
Hospitals. The facilities involved will benefit from simplified administrative procedures, reduced total costs per surgery and increased efficiency in internal processes.
Medical aids. These organisations will be able to better manage the costs and risks involved.
Community. MJL contributes to sustainable, affordable healthcare in South Africa.
The MJL pathway is ushering in a multi-disciplinary approach to healthcare, providing patients with an improved clinical treatment solution.
Find out more about the product and participating orthopaedic surgeons by contacting the  following hospitals: