Life Kingsbury Hospital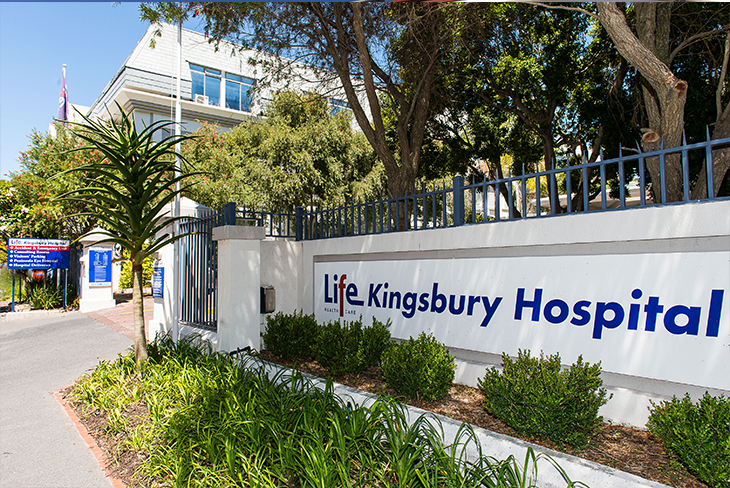 Overview
In 2014 the long-awaited amalgamation of Life Claremont and Life Kingsbury Hospitals took place, putting this Claremont Hospital in a position to offer its patients an even wider range of excellent health services as well as a holistic healing environment. The excellent facilities and caring staff make it possible to focus on high-quality treatment, whether for routine, more serious, or extensive procedures. 
The hospital has 229 beds, 11 theatres, an accident and emergency unit with a doctor on duty 24/7, as well as state-of-the-art diagnostic and monitoring equipment. New service offering: renal unit providing dialysis treatment to persons living with acute or chronic kidney failure. New technology includes the first da Vinci X robotic surgical system in Africa (to find out more - scroll down to the bottom of this page for Special Services). There is a dedicated team of first-class health professionals at this hospital dedicated to delivering a special brand of healthcare to patients. Through their ongoing quality training, hospital employees are able to deliver excellent healthcare and embrace the principles of empathy, ethics, excellence and empowerment.
Free Advanced Life Support Paramedic Response Vehicle: 0860 123 367
Terms and Conditions
Operational 24/7. Based in Pinelands, covering: Southern Suburbs, Maitland, Salt River, Observatory, Epping, Cape Town CBD, Anywhere else where ALS is urgently required. The Advanced Life Support Paramedic Response Vehicle does not assist in patient transfers, their mandate is to stabilise patient whilst an ambulance is dispatched. 
Emergency

Telephone

Email
Physical address

Wilderness Road, Claremont, 7700

GPS

-33.980201 : 18.467197
Hospital manager

Christine Malan
Visiting hours
For visitation exceptions around neonatal ICU and paediatric wards contact the hospital directly or click here for more information. 
To facilitate the patient's healing and recovery, we believe in integrating the patient's loved ones into their day. However, in the interest of our patient's wellbeing, we do enforce visiting times, limitations to the number of visitors per patient, and age restriction regulations for children. Children who are 12 years of age old and in good health are welcome to visit; we encourage children who are younger to wait in the reception area, if they are supervised by an adult. Alternatively, please contact the Unit Manager/Sister in Charge to make arrangements to visit. 
All visitors are required to kindly report to Reception first when visiting outside of these visiting hours. A maximum limit of one visitor per patient (for all wards) is enforced to allow for the privacy of our patients. 
General Wards: GIT, Medical and Surgical 1 to 4
Afternoons: 15h00 - 16h00
Evenings: 19h15 - 20h15 
Intensive Care Unit (ICU) and High Care (HC) Unit
Mornings: 11h00 – 12h00 (At the discretion of the Unit Manager/Sister in Charge)
Afternoons: 15h00 – 16h00
Evenings: 19h15 – 20h15
(Additional visits allowed at the discretion of the Unit Manager/Sister in Charge)
No children under 12 allowed 
Maternity Ward
Husband/Partner may visit anytime between 10h00 and 20h00 except during the rest period of 13h00 – 15h00. (This will be at the discretion of the Unit Manager/Sister in Charge).
Grandparents only: 11h00 – 12h00 
Neonatal ICU (NICU)
Parents: open visiting time.
Grandparents may pay a short visit to their grandchild over weekends between 15h00 and 16h00, at the discretion of the Registered Nurse in charge of the shift.
We discourage visiting by anyone who is ill, has been ill, or who has been exposed to illness in the past two weeks. Parents who are ill are to inform staff and will be provided with a mask. 
Paediatric Ward
Afternoons: 15h00 – 16h00
Evenings: 19h15 – 20h15
Parents: open visiting time
Medical services
Bariatric surgery
Cardio thoracic surgery
Colorectal surgery
Diabetes clinic
Dermatology
Endocrinology
ENT Surgery
Gastroenterology
Gastro intestinal surgery
General surgery
Gynaecology
Hepatobiliary surgery
High care
Intensive care
Internal medicine
Maternity & fertility service
Maxillo-Facial surgery
Neonatal high care
Neonatal intensive care
Nephrology
Neurology
Neurosurgery
Obstetrics
Ophthalmology
Orthopaedic surgery
Paediatrics
Paediatric high care & intensive care
Paediatric surgery
Plastic & reconstructive surgery
Psychiatry
Pulmonology
Renal unit
Robotic surgery: da Vinci X surgical system (first and only model in Africa)
Surgical & medical high care & intensive care
Thoracic surgery
Urology
Vascular surgery
Ancillary services shared at the Medical Village
Biokinetics
Dietetics
Foetal assessment
Fertility treatment
Nuclear medicine
Pathology
Pelvic floor dysfunction unit
Physiotherapy
Radiology
Stomal therapy
Doctors

Audiologist(s)

Claremont Audiology

0216831393

Biokineticist(s)

Carol Jeffery

0826851629

Cardiologist(s)
Dr Chevaan Hendrickse

0216378218

Dr Saleem Dawood

0216378218

Dr Thayabran Pillay

021

6378218

Dr Zaid Mohamed

021

6378218

Colorectal & Surgical Gastroenterologist

Dr Ebrahim Dalwai

0216833893

Dr Mike Elliott

0216837003

Cape Town Bariatric Clinic (Obesity)
Cathy Brunger (Clinic Coordinator)

0216743309

Dermatologist(s)

Dr L Krause

0216834580

Dr R Lehloenya

0216710999

Dr S Christians

0216710999

Diabetes Wellness Centre

Dr Tracy van Rensburg

0216741431

Dietician(s)

Claire McMahon

0826680668

Gina Fourie

0828239762

Mariam Forgan

0769849496

Sarah Gouws

0721116226

Ear, nose & throat surgeon(s)

Dr Gary Kroukamp

0216740885

Dr Ola Basson    

021 683 5590

Dr Michael Molyneaux

0212018709

Prof Johan Fagan

0216743353

Emergency Unit

ER Consulting INC

0216704180

Endocrinologist(s)

Dr Hilton Kaplan

0216742086

Dr Jocelyn Hellig

0212051829

Dr Wayne May

0216746414

Gastroenterologist(s)

Dr Abdul Cariem

0216837001

Dr Colin Rush

067 429 1397 / 087 702 6244

Dr John Wright

0216834600

General practitioner(s)

Dr Colin de la Harpe

0216836810

Dr James Millar

0216836810

Dr Pete Sandell

0216836810

General surgeon(s)

Dr Aaron Ndhluni

0212033893

Dr Bernie Maree

0216833893

Dr Colin McGuire

0216719600

Dr Ebrahim Dalwai

0216833893

Dr Ian Marr

0216740107

Dr Mark Hewat

0216833893

Mark van Rensburg

0215322118

Prof Robert Baigrie

0216833893

Hepato-Pancreato-Biliary & GIT Surgeon 

Dr Mark Hewat  

0216833893

Maxillofacial and oral surgeon(s)

Dr Brian Berezowski

0217977252

Dr Craig Greeff

0216717517

Dr Rushdie Hendricks

0216715040

Dr Sanjay Ranchod

0211371713

Neurologist(s)

Dr Pearl Thomas
0217125374

Neurosurgeon(s)

Dr Andile Mbatha (spine)

0216704357

Dr John Hill

0216741257

Nuclear physician(s)

Dr Pieter Botha

0216830535

Obstetricians & gynaecologist(s)

Dr Andy Newham (*Gynaecology patients only)

0216717052

Dr Gary Groenewald

0216710347

Dr Kerry Sherwood

0216719692

Dr Laura Graves

0216714005

Dr Lynette Jansen-Olarogun

0216830370

Dr Manasri Naiker

0216740376

Dr Philip Zinn

0216830453

Dr Paula Penkin

0216831785

Dr Sarah Shanahan

0216831798

Dr Kim Sonntag

0216852375

Dr Ursula Botha

0216714050

Prof Alan Alperstein (*Gynaecology patients only)

0216831724

Occupational therapist(s)

Faheema Isaacs
0820422076

Orthopaedic surgeon(s) 

Dr André Demblon

0216837315

Dr Ben Grey (Shoulder and elbow)

0216711344

Dr Clive White (Hip and knee)

0216836037

Dr Christelle van der Watt (Shoulder)

0215550530

Dr Dirk van der Spuy (Hand)

0216712896

Prof Graham McCollum (Foot and ankle)

0216716213

Dr John May (Hip and knee)

0216715651

Dr Leith Stewart (Hip and knee)

0216836037

Dr Marc Nortje (Hip and knee)

0216716213

Dr Rory Harvey (Shoulder)


0216716160

Dr Sirk Loots

0216714575

Orthotist(s) and Prosthetist

Malcolm Freedman & Associates

0214224599

Paediatric surgeon(s)

Dr Shalin Singh

0212240972

Paediatrician(s) 

Dr Allan Puterman

0216834454

Dr Ashley Wewege

0217972087

Dr Hedi van der Watt

0217613408

Dr Lara Smith

0217613408

Dr Rabeen Lutchman

0216850336

Pathologist(s)

Ampath

0216839511

Lancet Laboratories

0216731700

PathCare

0216742643

PathCare DSP

0216711156

Periodontist(s)

Dr Pieter Wolfaardt

0216834802

Physician(s)

Dr Asheen Haripersad

0218794693

Dr Jocelyn Hellig

0212051829

Dr John Turner

0216834770

Dr Laila Suleman

0218794692

Dr Richard Court

0764014373

Physician/Nephrologist

Dr Fatima Khan

0218794694

Physiotherapist(s)

Ashraf Natha & Associates

0216716707

WEST Physiotherapy

0216715300

Corina Avni

0216831174

Ellenberger, Gorman & Associates

0218238779

Plastic and reconstructive surgeon(s) 

Dr Alex Landau

0216740775

Dr Bernard Price

0216836544

Dr Gary Dos Passos

0216710942

Dr Kevin Adams

0216710942

Dr Keith Cronwright

0216716024

Dr Werner Smith

0216711406

Prosthodontist(s)

Dr Z Patel

0216718951

Pulmonologist

Dr Laila Suleman

0218794692

Radiologist(s)

Kingsbury Radiology

0216834567

Reproductive medicine specialists (Cape Fertility Clinic)

Dr Razak Dhansay

0216837036

Dr Lizle Oosthuizen

0216742088

Dr Paul Le Roux

0216742088

Dr Sulaiman Heylen

0216742088

Dr Tamtam Matebese

0216742088

Speech-Language Therapist
Ingrid von Bentheim

0215065558

Thoracic surgeon(s)

Prof Mark de Groot

0215320343

Dr Loven Moodley

0215311206

Urologist(s)

Dr Conray Moolman

0216831974

Dr Malcolm Dewar

0216831974

Dr Prenevin Govender

0216831974

Uterine Fibroid Embolisation

Dr Gary Sudwarts

0214340180

Vascular surgeon(s) 

Dr James Tunnicliffe

0212033893

Dr Martin Forlee

0212033893

Dr Philip Matley

0216833893

Dr Neil Cloete

0216833893
Contact us
Physical address

Wilderness Road
Claremont
7700

Postal address

P O Box 23905
Claremont
7735

Free Advanced Life Support Paramedic Response Vehicle

0860 123 367

Telephone

021 670 4000

Fax

021 683 5138

Email

carmen.loots@lifehealthcare.co.za

Map

Hospital Manager

Christine Malan
Special Services
Renal Dialysis Unit
Life Kingsbury Hospital has opened a renal dialysis unit to assist patients diagnosed with acute or chronic kidney failure. Our unit is managed by a nephrologist and clinical team to assist and support patients through their treatment plan. 
Dialysis services are offered from Monday – Friday include:
Chronic haemodialysis and haemodiafiltration
Acute dialysis; and
Continuous renal replacement therapy 
For more information on how you can access these services, contact the renal dialysis unit on 021 670 4000 or email carmen.loots@lifehealthcare.co.za.
Robotic Surgery 
Quality and patient centered care is at the heart of everything we do, therefore Life Kingsbury Hospital has acquired Africa's first da Vinci X Robotic Surgical System. This will ensure that our surgical specialists have access to treat patients with the latest technology. The system is powered by innovative robotic technology that allows the surgeon's hand movements to be translated into smaller, precise movements of tiny instruments inside the patient's body. The surgeon is 100% in control of the system at all times.
Some of the improved patient outcomes include:
Excellent cancer control
Improved functional outcomes
Less blood loss and fewer transfusions
Shortened hospital stay
Less pain
Lower risk of infection and complications
Fast recovery and return to normal activities
Small incisions and less scarring
The da Vinci X Surgical System is typically used for urology, general surgery and gynaecology. For more information, contact the hospital on 021 670 4000, alternatively email Olivia.Carney@lifehealthcare.co.za .
Contact a da Vinci surgeon:
Dr Conray Moolman, Urologist
Email: conraym@gmail.com
Telephone: +27 (0) 21 683 1974
Prostate
Kidney
Registered da Vinci ® Training Surgeon
Dr Malcolm Dewar, Urologist
Email: maldewar@gmail.com
Telephone: +27 (0) 21 683 1974
Bariatric (Obesity) Surgery 
Obesity is a serious condition associated with multiple problems like:
Heart Attacks
Strokes
Diabetes
High Blood Pressure
Cancer
Depression
Arthritis
Sleep Disorders
The Chrysalis Clinic at Life Kingsbury Hospital offers bariatric surgery (surgical treatment for morbid obesity) within the context of a multidisciplinary team of medical and paramedical specialists.
The team comprises endocrinologists, critical care physician, dieticians, psychiatrist, clinical psychologist, biokineticist and two accredited laparoscopic bariatric surgeons. A professional nurse serves as the clinic coordinator. The team assesses patients to determine whether surgery is an appropriate treatment option for their obesity and, if so, prepares them for the surgery and assists them with their journey after the surgery.
The Chrysalis Clinic is accredited by the South African Society for Obesity and Metabolism (SASOM) and the South African Society of Endoscopic Surgeons (SASES) as a 'Centre of Excellence' for bariatric (weight loss) surgery.
Gastric Bypass and Laparoscopic Adjustable Gastric Band ('Lap Band') are among the surgical options offered.
Palliative Care
Is medical care that focuses on the physical, psychological, and spiritual needs of patients and their loved ones who are living with a life threatening illness.  It runs concurrently with other medical treatments.
What can the palliative care service do for you?
Treat pain and other symptoms like shortness of breath, fatigue, nausea, depression and anxiety.
Help you maintain the best quality of life possible. Help you and your family in making difficult decisions by providing answers, assistance and support.
Help coordinate care with your treatment team.