Life Midmed Hospital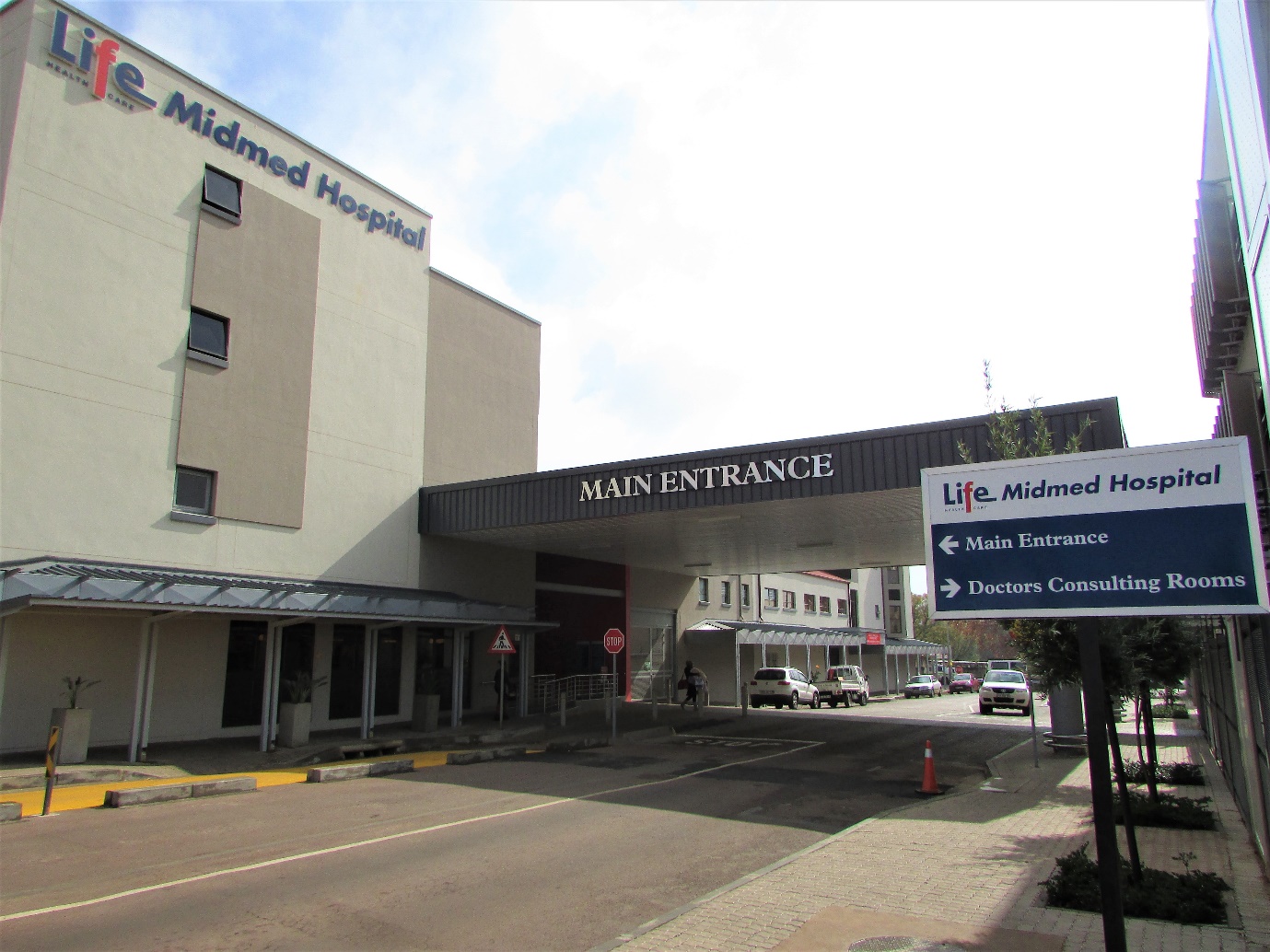 Overview
Life Midmed Hospital serves the community and surrounding areas of Middelburg in Mpumalanga. The focus of this 221-bed facility is on delivering a special brand of health and care to patients, whether for routine, major or extensive procedures. The state-of-the art facilities include 6 theatres, an accident and emergency unit, two intensive care and high care units, as well as an 8-bed neonatal intensive care unit containing sophisticated life-support equipment. There is also a renal dialysis unit. A first-class team of health professionals from different medical and surgical disciplines is available to patients for consultation. They provide the high-quality care for which the Life Healthcare Group is known throughout the healthcare industry. Through their ongoing quality training, hospital employees are able to deliver excellent healthcare and embrace the principles of empathy, ethics, excellence and empowerment.
Physical address

Cnr Crocker & Joubert Street, Middelburg, Mpumalanga 1050

GPS

-25.756637 : 29.457304
Hospital manager

Hennie Viljoen
Visiting hours
All visiting hours listed below for all general wards, ICU and High Care units are suspended until further notice.
For visitation exceptions around neonatal ICU and paediatric wards contact the hospital directly or click here for more information.
General wards
10:00 - 11:00
15:00 - 16:00
19:00 - 20:00
Visitors are restricted to three per patient
Children are welcome provided that they have adult supervision
Neonatal Intensive Care unit
10:00 - 11:00
13:00 - 14:00
19:00 - 20:00
Parents only
Only one grandparent visit allowed during the hospital stay
Little Life Maternity unit
08:00 - 21:00 (Fathers)
10:00 - 11:00
15:00 - 16:00
19:00 - 20:00
Except for siblings, no children under the age of 16 allowed
Life Kids ward
11:00 - 12:00
15:00 - 16:00
19:00 - 20:00
No children under the age of 12 allowed
Intensive care and high care units
11:00 - 11:30
15:00 - 16:00
19:15 - 20:00
Only two family members per patient
Medical services
ENT surgery
General surgery
Gynaecology
Internal medicine
Laparoscopic Surgery
Maxillofacial surgeon
Neurosurgery
Obstetrics
Orthopaedic surgery
Paediatric
Plastic & reconstructive surgery
Urology
Critical care
Dentistry
Dermatology
Neonatology
Physician
Ambulance service
Ancillary services
Audiology
Dietetics
Physiotherapy
Occupational therapy
Radiology
Pathology
Biokinetics
Pharmacy
Psychiatry
Social worker
Doctors
Anaesthetist(s)

Dr Dave Reyneke

0132441166

Dr Johannes Smit

0824922178

Dr Sakeena Hassim

 0793768079

Dentist(s)

Dr Ashlynne Brown

0132478200

Dr Albe van Heerden

0132825247

Dr Abel Bronkhorst

0132432160

Dr Amelia Steynberg

0132433860

Dr Rassie Erasmus

0132826789

Dr Cornelius Rossouw

0132478200

Dr Dirkie Steyn

0132827584

Dr F Choonara

0132623906

Dr Johan van der Merwe

0132825247

Dr Jurie du Preez

0132430787

Dr Monique Thomson

0132825272

Dr Mohamed Essack

0132824651

Dr Moosa Kadwa

0132432803

Dr Nadine Pretorius

0132825272

Dr Sifiso Mokoena 

0132430511

Dr Suraya Peer

0132430197

Dr Thandeka Masango

0132422901

Dr Wilson Mathebula

0132941169

Prof Herman Bernitz

0132826419

Dermatologist

Dr Abraham Visser

0136565511

Ear, nose & throat surgeon

Dr Wynand Joubert

0132827967

General practitioner(s)

Dr André Grobler

0132825272

Dr Andrew Umeh

0132431772

Dr Ahmed Kola

0132824374

Dr Anton Pelimpasakis

0132825321

Dr Adele Senekal

0132430220

Dr Ayesha Bassa

0132825218

Dr Cecil Keys

0132825321

Dr Nicolene Erasmus

0132827283

Dr Christiaan Steenkamp

0132825321

Dr Danie du Plessis

0132825321

Dr Diphalong Mashifane

0132433735

Dr Ebrahim Ismail

0132825451

Dr Elmarie Meyer

0132825321

Dr Friedrich Petrick

0132971027 / 0132930052

Dr George Bronkhorst

0132825989

Dr Herman Nell

0132825321

Dr Janine Jacobs

0132825989

Dr Jaco van den Bergh

0132430220

Dr John Welsh

0132838716

Dr Abrie du Plessis

0132430220

Dr Jabulani Mkhwanazi

0132430556

Dr Leonard Joubert

0132827283 / 2838736

Dr Lister Kobe

0132411969

Dr Maria Ntuli

0132435123

Dr Maxine Sampson

0132430220

Dr Mohammed Tayob

0132825218

Dr Mbofheni Nndwa

0132422296

Dr Nadine Jooste

0132825272

Dr Piet van Schalkwyk

0132825989

Dr Paul Du Plessis

0132825272

Dr Redge Janse van Rensburg

0132825272

Dr Sekolo Mogano 

0132431404

Dr Sephungo Ledwaba

0132411262

Dr Theuns Botha

0132431435

Dr Wouter Labuscagne

0132827283

Dr Yasser Jooma

0132825218

Dr Gladstone Ngozo

0132443213

General surgeon(s)

Dr Bob Senamela

0132437559

Dr Zelda Henning

0132430100

Gynaecologists & Obstetrician(s)

Dr Deon van der Merwe

0132431446

Dr Nhlanhla Mashabane

0132437784

Dr Elfriede Swarts (Obstetrician and Gynaecologist)

0132431898

Maxillo, Facial & Oral Surgeon

Dr Cornelia van Straten
0123468416

Neurosurgeon

Dr Dusan Tatomir

0132824493

Orthopaedic surgeon(s)

Dr Anton de Munnik

0132430082

Dr Dewalt Tromp

0132433257

Dr Matthys van Wyk

0132821265

Paediatrician(s)

Dr Derick Bissett

0132435546

Dr Riekert Swart

0132431033

Dr Armstrong Gowa

0665177169

Pathologist(s)

Ampath

0132824786

Lancet

0132828606

Neuberg Global

0132431370

Physician(s)

Dr Augustine Chaumba

0132431768

Dr Qwako Mosia

0132430618

Plastic surgeon

Dr Liana Volkwyn

0123460730

Radiologist(s)

Dr Deon Eksteen

0132826797

Dr Frik van der Merwe

0132826797

Urologist(s)

Dr Heinrich Voigt

013283 8874

Dr Nico van Greunen

0132838874

Dr Wikus Vermeulen

0132838874
Contact us
Physical address

Cnr Crocker & Joubert Street
Middelburg
Mpumalanga
1050

Postal address

P O Box 2398
Middelburg
1050

Telephone

013 283 8700

Fax

013 282 6126

Email

Map

Hospital Manager

Hennie Viljoen