Life St James Hospital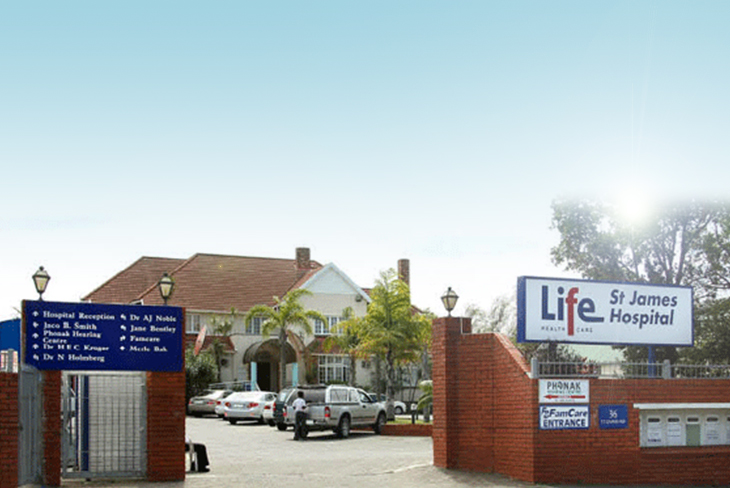 Overview
Life St James Hospital, situated in Southernwood in East London, has 28 beds and 4 theatres, and caters mainly for day patients. Where necessary, patients can be accommodated overnight but all patients – whether short term or long term – experience the compassionate care of expertly trained nurses and specialists. The hospital's excellent quality of the services complements those provided by its sister hospitals in the city - Life St Dominic's Hospital and Life East London Private Hospital. Many dental, maxillofacial, ophthalmological and gynaecological procedures (as well as some other minor surgical procedures) are performed at this modern and sophisticated facility, where a team of first-class health professionals focus on the personal needs of patients and their families. Here you can see Life Healthcare's key pillars – life, health and care – in action.
Telephone

Email
Physical address

36 St James Road, Southernwood, East London, 5201

GPS

-33.000489 : 27.9010499999999
Hospital Manager

Sentle Moroeroe
Visiting hours
Our visiting times are subject to change. For information on visiting times, please contact the hospital directly.
Medical services
Dentistry
ENT surgery
Gynaecological procedures
Maxillofacial surgery
Minor general surgery
Orthodontics
Ophthalmology
Doctors

Anaesthetist(s)

Dr Adrian Toma

043 743 8358

Dr Colin Boting

043 743 8358

Dr Jan Barnard

043 701 8300

Dr Johan Ellis

043 743 8358

Dr John Liesching

082 567 0086

Dr Jan Swanepoel

043 701 8300

Dr André Evans

043 701 8300

Dr Jonathon Dowie

043 701 8300

Dr Loyiso Mfeya

043 701 8300

Dr Noel Hartwig

043 743 8358

Dr Roelof Steyn

043 701 8300

Dr Retief Strauss

043 701 8300

Dr Vince Wheeler

043 742 4126

Dr Eleni Garoufalias

043 701 8300

Dr Suné Thompson

043 701 8300

Dr Clive Wesson

043 701 8300

Dentist(s)

Dr Anton Crouse

043 748 3269

Dr Annelien Nortje

043 707 4214

Dr AR Nina

043 748 1359

Dr Chris Brent

043 722 2571

Dr D Scheckter

043 726 8138

Dr Dirk Uys

043 722 4915

Dr E van der Merwe

043 707 4214

Dr E van Wyk

043 722 2571

Dr Francois Coetzee

043 726 1360

Dr Guillaume Marx

043 740 2040

Dr Graham Tarrant

043 707 4214

Dr H Cornelius

043 711 4400

Dr Hendrik Swart

043 735 4395

Dr Inus Strydom

043 721 0118

Dr Dawie Schlebusch

043 748 1359

Dr J van Vuuren

043 707 4214

Dr JA van der Merwe

043 726 8138

Dr Johannes Janse van Vuuren

043 707 4214

Dr Johan Botha

043 722 4915

Dr Kenneth Rosentrauch

043 726 8407

Dr Kate Sifuba

043 707 4214

Dr Leon Botha

043 748 3269

Dr MariusFryer

043 707 4214

Dr M Stampa

043 711 4400

Dr NK Pema

043 711 4400

Dr R Thompson

043 707 4214

Dr Xhaka Giyose

043 743 6892

Dermatologist(s)

Dr Andiswa Skenjana

043 722 0577

Dr Rupesh Misra

043 748 3024

Dr Sarina Drusinsky

043 743 8813

Dr Zikhona Gxolo

043 722 0102

Ear, nose & throat surgeon(s)

Dr John James

043 722 4834

Dr Mark Richardson

043 743 9151

Dr Paul Steyn

043 743 8804

General surgeon(s)

Dr Mbulelo Renene

043 743 7872

Dr Neil Comley

043 743 9853

Dr Wonga Matshoba

043 743 7872

Maxillofacial surgeon(s)

Dr Herman Kruger

043 722 6212

Dr Yanga Ngcwama

043 743 7872

Ophthalmologist(s)

Dr Ahmed Asholi

043 722 1422

Dr Bernard de Boer

043 748 4888

Dr Janet Edeling

043 726 2779

Dr Niel Holmberg

043 742 0351
Contact us
Hospital manager

Sentle Moroeroe

Physical address

36 St James Road
Southernwood
East London
5201

Postal address

P O Box 11187
Southernwood
East London
5213

Telephone

043 722 9685

Fax

043 722 5000

Email

Map