Life West Coast Private Hospital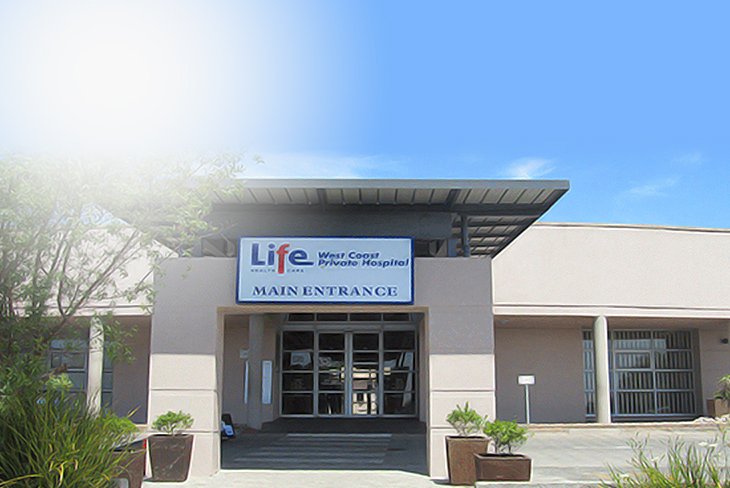 Overview
Life West Coast Private Hospital is a 61-bed facility situated in the town of Vredenburg on the West Coast of the Western Cape. It is focused on providing high-quality treatment and an excellent standard of care to all its patients and visitors. The modern and sophisticated facilities include an emergency unit with a doctor on call (24/7), specialist backup, an intensive-care unit, a neonatal ICU, and a radiology facility with CT and MRI capability. There is a team of first-class health professionals available at this hospital, and the dedicated staff members prioritise quality, empathy and ethics in their delivery of service. The hospital employees actively participate in community initiatives to improve the quality of life of the people who live in the surrounding area, and through their ongoing quality training, hospital employees are able to deliver excellent healthcare and embrace the principles of empathy, ethics, excellence and empowerment.
Emergency

Telephone

Email
Physical address

22 Voortrekker Road, Vredenburg, 7380

GPS

-32.9120336 : 17.9894761
Hospital manager

Annette Olls
Visiting hours
For visitation exceptions around neonatal ICU and paediatric wards contact the hospital directly or click here for more information.
Medical services
Anaesthesiology
Clinical & cosmetic dermatologist
Ear, nose & throat surgery
Eye surgery
General surgery
Internal medicine
Gynaecology / Obstetrics
Orthodontics
Orthopaedic surgery
Paediatrics
Pathology
Physician
Plastic surgery
Radiology (including CT and MRI)
Urology
Doctors
Anaesthetist(s)

Dr Ryk Lochner

0227154740

Dr Wim van der Merwe

0227154740

Clinical and Cosmetic Dermatologist(s)

Dr Charlotte Mathobela

0227191353

Clinical Psychologist

Dr Gielie van Dyk

0227191353

Dietician

Annchen Weidemann

0833043257

Jess de Wet

0826228259

ENT Surgeon(s)

Dr Adriaan Pentz

0227134996 / 0219110898

Dr Pieter Troost

0227191353

General surgeons

Dr Piet Boer

0227132460

Dr Gerrie Steenkamp

0227131599

Gynaecologists & Obstetrician(s)

Dr Johan Coetzee

0227191017

Dr Claudine Smit

0227191173

Ophthalmologist

Dr Zoran Aleksic

0227151380 / 0214264842

Maxillo-facial surgeon

Dr Sunil Sunirath

022 719 1353

Orthopaedic surgeon(s)

Dr Naudé Marais

0227132227

Dr Martin Storm

0227135123

Paediatrician(s)

Dr Susan Annandale

0227191393

Dr Hester van der Walt

0227135149

Pathology

Pathcare

0227132103

Plastic & Reconstructive Surgeon(s)

Dr Clare Neser

0227191353

Dr Conrad Pienaar

0227191353

Radiologist

Schnetler, Corbett & Partners (SCP)

0227134431

Rheumatologist

Dr Joe Latief

0227132142

Specialist Physician(s)

Dr Dewald Barnard

0227191062

Dr Charles Marais

0227191062

Urologist

Dr Paul Whittaker

0227191353

West Coast Rehabilitation

Physiotherapy, Orthotist, Occupational Therapist

0227135340
Contact us