Life Flora Hospital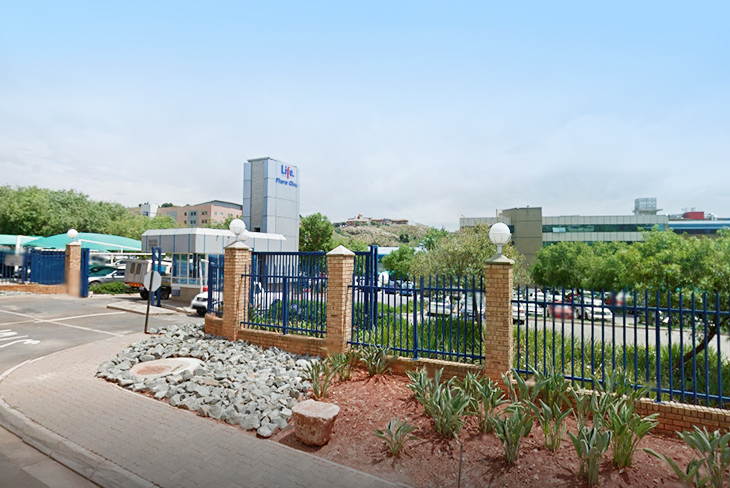 Overview
This large 333-bed hospital in Florida, Johannesburg, is renowned for its state-of-the art hybrid theatre that is used for vascular, cardiothoracic and cardiology surgeries. The theatre is equipped to do vascular and cardiac surgery on high-risk patients and patients with structural heart disease, and a fully integrated cardiac unit is available to patients. Other procedures are also done in the 10 theatres at the hospital, and the facilities include an intensive-care unit, a 16-bed paediatric unit, a neonatal ICU and a radiology unit with sophisticated diagnostic equipment. Within this world class hospital, the first-class team of health professionals is focused on providing high-quality treatment and excellent care to its patients and their families. Through their ongoing quality training, hospital employees are able to deliver excellent healthcare and embrace the principles of empathy, ethics, excellence and empowerment.
Emergency

Telephone

Email
Physical address

William Nicol Drive, Floracliffe, Florida, 1709

GPS

-26.1512924 : 27.9198097
Hospital manager

Jacques de Klerk
Visiting hours
15h00 - 16h00
19h30 - 20h00 
COVID-19 Positive Units: As per arrangement with the relevant Unit Manager or Manager on call (after hours)
Maximum two visitors per patient. Only one visitor is allowed at the patient bedside at a time. Visitors may wait outside the unit and take turns in visiting the patient.
Only parents are allowed in Paediatric, Maternity & Neonatal Units at this stage.
Medical services
Anaesthesiology
Cardiology
Cardio-Thoracic surgery
Dermatology
Ear, Nose & Throat ENT surgery
Gastroenterology
General surgery
Gynaecology & Obstetrics
Internal Medicine / Renal Dialysis Unit
Neurology
Neurosurgery
Oncology
Opthalmology
Orthopaedic surgery
Paediatrics
Pathology
Plastic & Reconstructive surgery
Radiology
Urology
Vascular surgery
Ancillary services
Doctors
Audiology & speech therapy

Listen Hear Audiology

011 758 6550

Cardio-thoracic surgeon(s)

Dr Jaco Botha

011 470 7974

Dr Nic Nicolaou

011 675 1806

Cardiologist(s)

Dr Anthony Becker

011 758 6555

Dr Christian Conradie

011 475 7654

Dr Kevin Ho

011 758 6474

Dr David Marks

011 758 6570

Prof Ferande Peters

011 758 6589

Dr Robin Tager

011 758 6540 / 011 470 7844

Clinical dietitian(s)

Mrs Amanda Huyssteen

011 470 7775

Ms Anette Prinsloo

011 470 7775

Clinical Neurophysiologist

Mr Willem Nel
011 470 7775

Colorectal surgeon

Dr Veneshree Naidoo
011 470 7775

Dermatologist(s)

Dr Irshad Essack

011 475 8046

Dr Ayanda Motau

011 470 7775

Dr Michael Musk

011 470 7775

Ear, nose & throat surgeon(s)

Dr Ismail Patel

011 470 7997

Dr Imraan Variava

011 670 3400

Fetal & Maternal Medicine

Dr Chrysanthi Georgiou

010 745 1936

Gastroenterologist(s)

Dr Gideon de Vos

071 485 6706

Dr Paul Dempsey

011 675 2626 /1223

Dr Rashid Issacs

011 758 6590

Dr Joshua Sibanda

010 110 0229

General surgeon(s)

Dr Andre Baars

011 475 6885

Dr Mohammad Hameed

011 470 7775

Dr George Huysamen

011 679 4949

Dr Akos Kiss

011 475 0129

Dr Maciej Pawlak

011 758 6566

Dr Gideon van Wyk

011 470 7736

Gynaecologist(s)

Dr Eularnia Bok-McMinn

011 470 7717

Dr Hendrik Du Plessis

011 475 1316

Dr Munovar Gaffoor

011 470 7949

Dr Anushka Lekha

011 470 7775

Dr Boitumelo Molamu

011 470 7929

Dr Emmanuel Opai-Tetteh

011 758 6565

Dr Hasina Salli

011 758 6456

Dr Danellus van der Watt

011 475 8725

Hepatobiliary Surgeon

Dr Zain Ally
011 470 7775

Intensivist

Dr JohnTilley

011 758 6451

Maxillofacial surgeon

Dr John Elakhe

011 470 7956

Nephrologist

Dr Blaine Bloy

011 758 6588

Neurologist

Dr Kerena Gengan

011 470 7775

Dr Dimitri Manoussakis

011 470 7971

Neurosurgeon(s)

Dr Ipeleng Matshitse

079 598 2854

Dr Dinesh Naidoo

011 470 7775

Dr Jacques Scheltema

011 758 6470

Dr Savvas Thomaides

011 758 6500

Oncologist(s)

Dr Nirasha Chiranjan

011 991 3500

Dr Ingo de Muelenaere

011 991 3500

Dr Bernard Donde

011 991 3500

Dr Daleen Geldenhuys

011 991 3500

Dr Gary McMichael

011 991 3500

Opthalmologist

Shabbir Hussain
011 470 7775

Orthopaedic surgeon(s)

Dr Jason du Plessis

072 609 6005

Dr Neil Mouton

011 758 6466

Dr Coenie Pretorius

011 470 7860/5

Dr Fred Ukunda

011 758 6352

Dr Loekie Venter

011 475 9830

Paediatrician(s)

Dr Marc Kitoko

011 470 7960

Dr Heinrich Koekemoer

011 758 6548

Dr Azwitamisi Tshigabe

011 758 6560

Physician(s)

Dr Blaine Bloy

011 758 6588

Dr Susan Coetzer (Geriatrician)

010 745 1938

Dr Rashid Isaacs

011 758 6590

Dr Joshua Sibanda

010 110 0229

Dr Brian Sloane

011 679 3128

Plastic surgeon

Dr Anton Brewis

011 758 6490

Psychiatrist(s)

Dr Clementine Chawane

011 476 6410

Dr Chane Magnus

011 470 7775

Radiologist

Van Rensburg & Partners

011 475 1364

Trauma surgeon

Dr Rachel Isakov

011 470 7775

Dr Solomon Mulira

011 470 7775

Urologist(s)

Dr George Bell

011 470 7966

Dr Steven Kamba

011 758 6407

Dr Colin Martheze

011 758 6469

Dr Reuben Ras

011 470 7966

Vascular surgeon

Prof Jay Pillai

011 470 7993
Contact us
Hospital Manager

Jacques de Klerk

Physical address

William Nicol Drive
Floracliffe
Florida
1709

Postal address

PO Box 5116
Weltevreden Park
1715

Telephone

011 470 7777

Fax

011 470 7817

Email

Map

For emergency medical assistance please contact our advanced Life Support unit

086 012 3367

Accident and Emergency Unit

011 470 7720