Life Dalview Hospital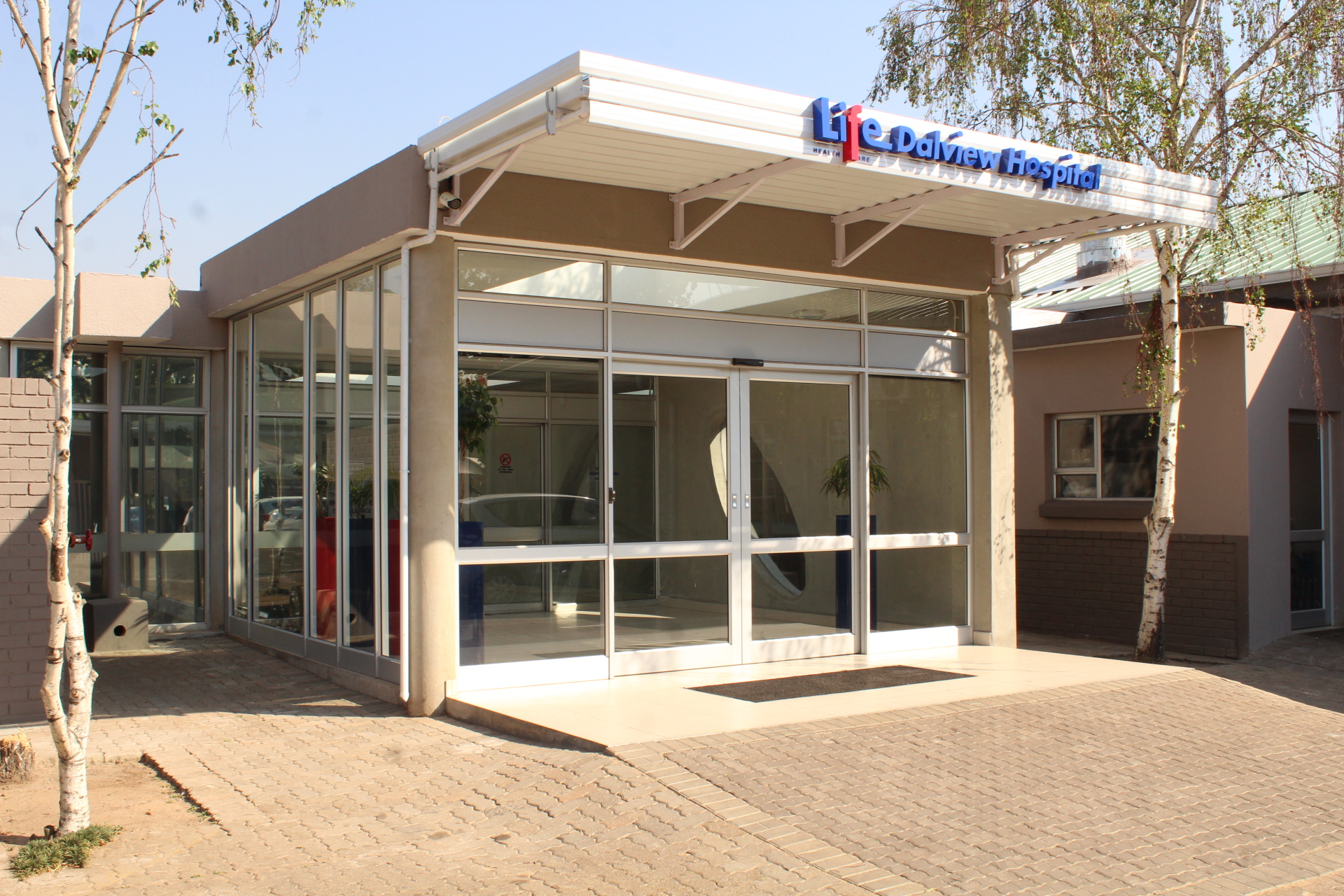 Overview
The Life Dalview Hospital is a 96 bed community-based hospital situated in Brakpan. The care delivered at this facility enjoys the strong support of general practitioners in the area. We are committed to delivering professional medical care to our community. A combination of quality and clinical excellence, supported by a focus on the personal needs of our patients and their families, makes Life Dalview Hospital your hospital of choice.
The accommodation includes general wards, paediatric unit, Little Life maternity unit with a luxury suite, neonatal ICU, intensive care unit and a 24 hour accident and emergency unit.
Emergency

Telephone

Email
Physical address

11 Hendrik Potgieter Road, Brakpan, 1541

GPS

-26.238491 : 28.354477
Visiting hours
All visiting hours listed below have been reviewed according to current lockdown regulations. Please contact the hospital directly for updated information.
For visitation exceptions around neonatal ICU and paediatric wards contact the hospital directly or click here for more information.
Only 2 visitors per patient allowed due to infection control and please ensure hand hygiene when entering the ward.
General wards (Medical and Surgical)
11h00 to 12h00

15h00 to 16h00

19h00 to 20h00

Children under 12 not allowed in the unit
Paediatric unit
11h00 to 12h00

15h00 to 16h00

19h00 to 20h00

Parents can visit any time
Grandparents and family only during visiting time
Children under 12 not allowed in the unit
Little Life Maternity unit
11h00 to 12h00

15h00 to 16h00

19h00 to 20h00

Only the patients' own children are allowed
Children under 12 not allowed in the unit
Neo natal ICU
11h00 to 12h00

15h00 to 16h00

19h00 to 20h00

Parents can visit any time until 21h00
Children under 12 not allowed in the unit
Intensive Care Unit
11h00 to 12h00

15h00 to 16h00

19h00 to 20h00

Strictly two visitors allowed
Children under 12 not allowed in the unit
Unique Services
Chosen designated service provider for Discovery Keycare option

Radiology unit includes a CT scanner
Medical services
Ear, nose & throat (ENT) surgery
General surgery
Gynaecology & Obstetrics
Internal medicine (physician)
Orthopaedic surgery
Paediatrics
Pathology
Psychology
Radiology
Surgical dentistry 
Urology
Ancillary services
Audiologist

Antenatal classes

Baby clinic

Chiropractor

Diabetic clinic

EEG Laboratory

Orthotist

Physiotherapist

Psychiatrist

Psychologist

Speech therapist

Travel clinic
Doctors
Audiologist

Dr Mariekie Cilliers

011 740 9013 / 4

Dentist

Dr N Fowler

011 841 0360

Ear, nose & throat surgeon

Dr Quintus de Flamingh

011 740 9013 / 4

Dr Aslam Khan

011 747 9013/4

General practitioner(s)

Dr Alec Goosen

011 841 0360

Dr Eugene van Staden

010 534 6677

Dr Fanie van der Linde 

011 744 4048

Dr Frans Pieterse

011 744 4417

Dr Fred Vermeulen

011 740 9620

Dr Gert Muller

011 740 9322

Dr Johan van der Linde

011 421 6334

Dr Justin Babs Ogunojemite 

011 744 0966

Dr Karinda Pretorius

011 740 9620

Dr Karen van den Berg

011 841 0360

Dr Lutete Malanda

081 259 7703

Dr Marga du Plessis (Emergency Unit Doctor)

011 747 0747

Dr Raymond Pieters

011 740 3994 / 8

Dr Tharina Gunter

011 841 0360

Dr Veronica van Rensburg 

011740 9620/2

Gynaecologist(s)

Dr Sothiprakasen Naicker

011 815 6491 / 6365

Dr Dawid Venter (male) 

083 652 0437

Dr Joseph Kinunu (male)

011 740 9013/ 4

Dr Lusizo Gqiba (male)

011 740 9013 / 4

Orthopaedic surgeon(s)

Dr Maurice Kaputu

011 740 9013 / 4

Dr Selwyn Rose

011 740 9013 / 4

Dr Leslie Jacobs

011 740 9013 / 4

Orthotist

Dr Joos Huyzers

011 740 9013/4

Paediatrician

Tanya Ndou

011 812 4076

Dr Mathew Rajan

011 740 9013 / 4

Dr Ewa Stepien

011 815 5568/4093

Dr Antonios Zamakides

011 365 1516

Dr Katlego Madini

011 740 9013

 Dr Mavis Mashitisho

011 747 9013 / 4

Physician(s)

Dr Derrick Wilton

011 825 1468 / 9

Dr Felix Sambo

011 740 7083

Dr Mathew Rajan

011 747 9013 / 4

Physiotherapist(s)

Mrs Karen Dansie

011 740 8956

Mrs Ilene Odendaal

011 740 7240

Psychiatrist

Dr Anthony Harlies

011 740 9013 / 4

Psychologist(s)

Johan Pieterse

011 744 4417

Radiologist

Dr Van Rensberg and Partners

011 740 1310

Specialist general surgeon(s)

Dr Christopher Snowdowne 

010 446 1066

Dr Lendo Nsakala

011 747 9013 / 4

Speech therapist

Wilhelmien Booysen

011 820 2672

Urologist

Dr Gregory Basiewicz 

011 740 9013 / 4
Contact us
Physical address

11 Hendrik Potgieter Road
Brakpan
1541

Postal address

PO Box 20
Brakpan
1540

Telephone

011 747 0747

Fax

011 744 4216

Hospital Manager

 

Email

Map