Life Westville Hospital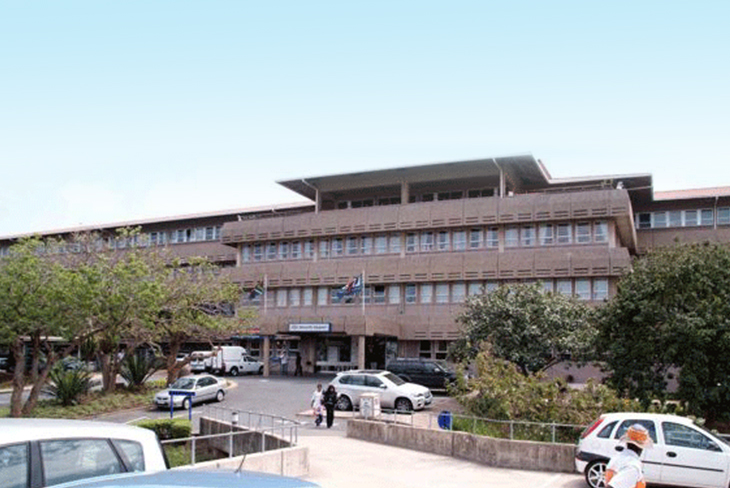 Overview
At the 290-bed Life Westville Hospital it is the priority of the first-class team of health professionals to focus on the delivery of a special brand of health and care to patients. This hospital, situated 20km from the centre of Durban, provides its patients with excellent, world-class care, whether they require routine, more major or extensive surgery. The hospital offers treatment in over 30 medical and surgical disciplines, and is particularly known for its excellent heart unit, where the standard of diagnostic, interventional cardiology, pacemaker and cardiac surgery is comparable with the highest international standards. Extensive support services also contribute to the overall health of every patient. Through their ongoing quality training, hospital employees are able to deliver excellent healthcare and embrace the principles of empathy, ethics, excellence and empowerment.
Click here to watch our explainer video on what to expect during your emergency unit visit.
Emergency

Telephone

Email
Physical address

7 Harry Gwala Road(Spine Road), Westville, 3630

GPS

-29.844935 : 30.932101
Hospital manager

Atish Maharaj
Visiting hours
For visitation exceptions around neonatal ICU and paediatric wards contact the hospital directly or click here for more information.
Medical services
Bone densitometry
Cardiac rehabilitation
Cardiology
Cardiothoracic surgery
Dentistry
Dermatology
Endoscopic surgery
ENT surgery
Gastroenterology
Gastroenterological surgery
General practice
General surgery
Geriatrics
Gynaecology
Heart rhythm management (electrophysiology)
Internal medicine
Laparoscopic surgery
Maxillofacial & oral surgery
Neonatology
Neurology
Neurosurgery
Obstetrics
Occupational medicine
Oncology
Ophthalmology
Orthopaedic surgery
Paediatric endocrinology
Paediatrics
Pathology
Plastic & reconstructive surgery
Psychiatry
Pulmonology
Radiology
Rheumatology
Thoracic surgery
Urology
Vascular surgery
Ancillary services
Ambulance service
Audiology
Behavioural psychology
Clinical psychology
Dialysis
Educational psychology
Dietetics
Occupational therapy
Pharmacy
Physiotherapy
Podiatry
Psychology including child psychology, stress and trauma management
Speech therapy
4D sonar scan
Travel clinic
Doctors
Anaesthetist(s)

Beck, Danchin and partners

0312651212

Dr Sanyuktha Singh

0312651020

Audiology & speech therapy

Mrs Miki Jooste

0312650976

Cardio-thoracic surgeon

Mr Pravin S Maharaj

0312650217

Cardiologist

Dr Pumeshen Bisetty

0312650293

Dr Ntando Peaceman Duze

0312516988

Clinical technologist(s)

Mr A Singh

0828808911

Dermatologist(s)

Dr Noufal Raboobee

0312651505

Dr Zubie Hamed

0313095454

Dietician

Ms Kelly Francis

0312655377

Ear, nose & throat surgeon(s)

Dr Brian HC Williams

0312650977

Dr MD Mahabeer

0313017088

Dr Niven Singh

0312652879

Gastroenterologist

Dr Bernhard Insam

0312651062

General practitioner

Dr Gopal Sanpersad

0312651047

General surgeon(s)

Dr Anver D Goga

0312658387

Dr Garyth M Green

0312650208

Dr Pragandaran Moodley

0312655849

Dr Pranesh Rambaran

0312653655

Dr Tuendra V Bisetty

0312652910

Maxillofacial and oral surgeon(s)

Dr V Rughubar

0312651053

Nephrologist

Dr Priyesh Mody

0312650340/0312516963

Neurologist(s)

Dr J David

0312650286

Dr Ridwaan Kathrada

0312652845

Neurosurgeon

Dr Gona Govender

0312516719

Dr Devola Phillips

0312516989

Obstetricians & gynaecologist(s)

Dr Adam Czarnocki

0312651191

Dr Jithesh V Jogessar

0312658444

Dr Makaya Mchunu

0312650212

Dr Naseera Mahomed

0312651634

Dr SP (Gitesh) Rampersadh

0312651020

Dr W Zawilski

0312650231

Occupational therapist

Mrs Myashree Naidoo

0312650996

Ophthalmic surgeon(s)

Dr Chris Pearse

031 265 1057

Dr KA Ramdass

031 265 0967

Dr William J Nortje

031 265 0967

Orthopaedic surgeon(s)

Mr H Mahomed

031 265 0899

Dr Leon Moodley

031 265 8485

Dr MAF Mohideen

031 265 8490

Dr Sicelo N Mvelase

031 265 0239

Dr Sudarshan Naidoo

031 265 8485

Dr Tobias CL Bremer

031 265 1044

Mr Jordan Pryce Lewis

031 265 0960

Mr Robert McLennan-Smith

031 265 0899

Mr Tahir R Islam

031 265 1400

Paediatric asthma and allergy

Dr Ahmed Manjra

031 265 1024

Paediatric endocrinologist

Dr Kubendran Pillay

031 265 5377

Paediatrician(s)

Dr Ahmed Manjra

031 265 1024

Dr Krian Naidoo

031 265 1333

Dr Andre Botha

031 265 1024

Dr Kubendran Pillay

031 265 5377

Dr Mahendra Mackenjee

031 265 1060

Dr Suleman Mahomedy

031 265 1333

Pathologist(s)

Ampath Laboratories

031 265 0958

Lancet Laboratories

031 275 4460

Physician(s)

Dr Ajesh B Maharaj

031 265 4897

Dr Bernhard Insam

031 265 1062

Dr Shevern V Ramdial

031 251 6826

Dr Sureka Maharaj

031 265 5501

Dr Trevor Kemp

031 265 1040

Physiotherapist(s)

Devashni Gathiram

031 265 0299

Liesel Way Physiotherapy

031 265 0955

Reola Bodasing

031 265 0296

Preshani Reddy

083 799 7409

Plastic and reconstructive surgeon(s)

Dr Gary Zinn

031 265 0988

Dr Manti Makakole

084 757 0003

Psychiatrist(s)

Dr Pravitha Miseer

031 265 5800

Dr Zerisha Bodasing

031 265 2879

Psychologist(s)

Mr Francois De Marigny (clinical)

031 265 0983

Mrs Melinda Howlett (counselling)

031 265 0983

Pulmonologist

Dr P Baijnath
031 265 0304

Radiologist

Lake, Smit and Partners

031 275 9100

Rheumatologist

Dr Ajesh B Maharaj

031 265 4897

Urologist(s)

Dr Anthony Grizic

031 202 4076 / 083 798 6651

Dr Anton Jansen

031 265 1042

Dr A Singh

031 251 6962

Dr Ehab Abdel Goad

031 251 6951

Dr Yomesh Dassaye

031 825 4040

Vascular surgeon

Dr Pragandaran Moodley

031 265 5849

Dr Rampershad Shikar

031 630 0115
Contact us
Physical address

7 Harry Gwala Road (Spine Road)
Westville
3630

Postal address

PO Box 467
Westville
3630

Telephone

031 251 6700

Fax

031 265 0952

Email

Map

Hospital Manager

Atish Maharaj