Life Anncron Hospital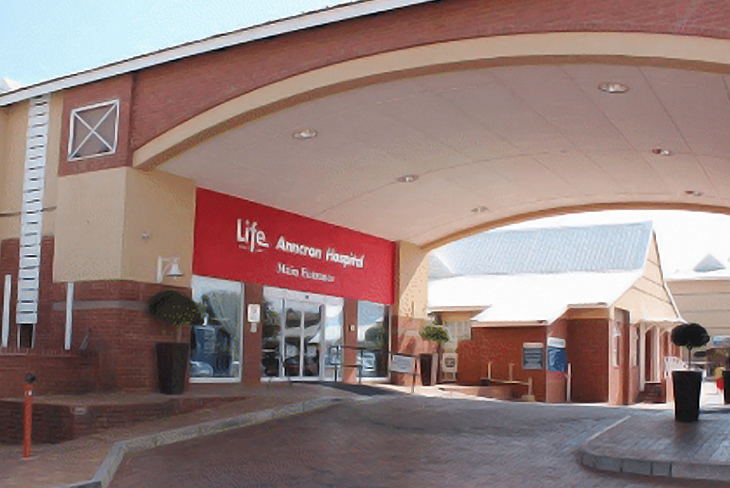 Overview
Located in Klerksdorp, the large Life Anncron Hospital has modern and sophisticated facilities aimed at providing high-quality treatment and unique standards of care. This 150-bed facility is equipped to provide extensive medical treatment to patients whether they are admitted for routine, more serious, or extensive procedures. There are five theatres, several specialised intensive-care units, a 16-bed maternity unit and the only cardiology facility in the central region of the North West Province. Cardiology spectrum has the ability to do vascular and cardiac surgery on high-risk patients and patients with structural heart disease, and a fully integrated cardiac unit is available to patients. There is a large team of specialists in different medical and surgical disciplines available to patients, and together with dedicated nursing staff and allied health professionals, they are able to truly focus on the needs of patients and their families. Through their ongoing quality training, hospital employees are able to deliver excellent healthcare and embrace the principles of empathy, ethics, excellence and empowerment. We have a 24-hour emergency unit which is able to treat patients for both emergencies and/or more routine or extensive procedures.
Emergency

Telephone

Email
Physical address

Cnr. Dr Yusuf Dadoo Ave & Hartley Street, Wilkoppies, Klerksdorp, 2571

GPS

-26.8405262 : 26.6673218
Hospital manager

Lukas Greeve
Visiting hours
Visiting hours have been reviewed in accordance with the updated regulations and the influence of
COVID-19 cases locally. Please note the visiting hours can change at short notice and this is at the
discretion of hospital management, dependent on the local COVID-19 situation and advice from
clinical and doctor committees.
Visitation is limited to 2 (two) persons per patient, per visiting hour.

General wards and Specialised Care Units
Monday – Sunday
15h00 – 16h00
19h15 – 20h00
Paediatric Wards: One parent will be permitted to sleep in with an admitted paediatric patient.
Parents are allowed to alternate the stay and care, with prior consultation with the unit manager.
General visitation is allowed during the stipulated visiting hours; regrettably no children under the
age of 12 years are allowed.

Confinement – partner support in theatre/labour ward: Fathers/Birthing partners will be allowed
access subject to provision of a negative COVID-19 test result within a minimum period of 72-hours
prior to confinement of birthing mother. On the day of labour, the birthing partner may stay for an
extended period. The duration of the stay will be at the discretion of the unit manager.
General visitation is allowed during the stipulated visiting hours.

Nursery and Neonatal ICU: Little Life encourages the participation of the mother with the newborn
baby during their stay in the Nursery or Neonatal ICU. Our nursing employees will liaise with the
parents regarding the feeding times for the newborns and general care for a newborn baby. These
times will be communicated to you once you have settled in our Little Life Maternity Unit.
Only grandparents are allowed visitation within the NNICU, regrettably no children under the age
of 12 years are allowed.

Visitation in areas in which confirmed, or suspected COVID-19 patients are cared for will remain
suspended.

Please note that the Main Entrance will be closed daily at 20h30.
 Medical services
Anaesthesiology
Cathlab
Cardiology
Cardo-Thoracic Theatre
Critical Care Unit
Dentistry
Dermatology
Ear, nose & throat surgery
Emergency services
General surgery
Gynaecology
Internal medicine
Maxillofacial & oral surgery
Neurosurgery 
Obstetrics
Orthodontics
Orthopaedics
Ophthalmology
Paediatrics
Pathology
Periodontal surgery
Plastic surgery 
Radiology including CT scanner
Urology
Vascular Surgery
Doctors
Anaesthetist(s)

Dr Carina Maree

0184683205

Dr Charl Rawlins

0184683205

Dr Daleen Kapp

0184683205

Dr Frank Pelser

0184683205

Dr Gail Rood

0184687735

Dr Johan Hagen

0184683205

Dr Johannes Meyer

0184683205

Dr Junius Pozyn

0184683205

Dr Marcelle du Pré

0184683205

Dr Pietman Fourie

0184683205

Dr Nello Sacca

0184683205

Cardiologist(s)

Dr David Mundell

0188800105

Dr Don Zachariah

0188800104

Cardio-Thoracic Surgeon(s)

Dr Devan Scott

0181000042

Dermatologist(s)

Dr Heinrich van Rensburg

0184681203

Dr Jannie Lee

0184626838

Dr Quin Kgabale

0184687207

Ear, nose & throat surgeon(s)

Dr Jakkie Nel

0184688004

Dr Pieter van Dyk

0184687788

General surgeon(s)

Dr Johan Combrink

0184683679

Dr Johan Fourie

0184681309

Dr Sampie Smith

0184687014

Dr Theunis du Toit 

0180110564

Gynaecologist(s)

Dr Bongi Makhubo

0188800107

Dr Charles Nienaber

0184686219

Dr Gustav Pienaar

0184687760

Dr Jan van Soest

0184682213

Dr Clifton Piek

0184686219

Dr Kevin Abraham

0180101138

Maxillofacial surgeon(s)

Dr Jason White

0184686732

Neurosurgeon(s)

Dr Fazleh Taleb
0184684915

Ophthalmologist(s)

Dr Tony Gill


0184687737

Dr Hennie Scholtz

0184687120

Orthopaedic surgeon(s)

Dr Charles Oosthuizen

0184688338

Dr Kiewiet Vlok

0184687735

Dr Johan Visser

0184681452

Dr Masego Morule

0184620185

Paediatrician(s)

Dr Barbara Mason

0184688308

Dr Jaco Strauss

0184687786

Dr Marabi Tshenkeng

0184687943

Physician(s)

Dr Binu Luke

0184687207

Dr Kees de Hoog

0184681571

Dr Gerrie Janse van Rensburg

0184620811

Dr Gloria Mangaba

0184681658

Dr Morne Marais

0184683567

Dr Marietha van Zyl

0184681571

Plastic surgeon(s)

Dr Jan-Hendrik Lamprecht

0184681590

Dr Siegmund Johannes

0184680090

Psychiatrist(s)

Dr Henriette Smith

0184684247

Psychologist(s)

Alet Venter

0184684854

Urologist(s)

Dr Albie Botha

0184681031

Dr Chris van der Walt

018 468 7729/30

Dr Ruark Botha

0184683385
Contact us
Physical address

Cnr. Dr Yusuf Dadoo Ave & Hartley Street
Wilkoppies
Klerksdorp
2571

Postal address

PO Box 6003
Flamwood
2572

Telephone

018 468 0000

Hospital manager

Lukas Greeve

Emergency unit telephone

018 468 1911/018 468 6688

Fax

018 468 6775

Email

Map