Life Mount Edgecombe Hospital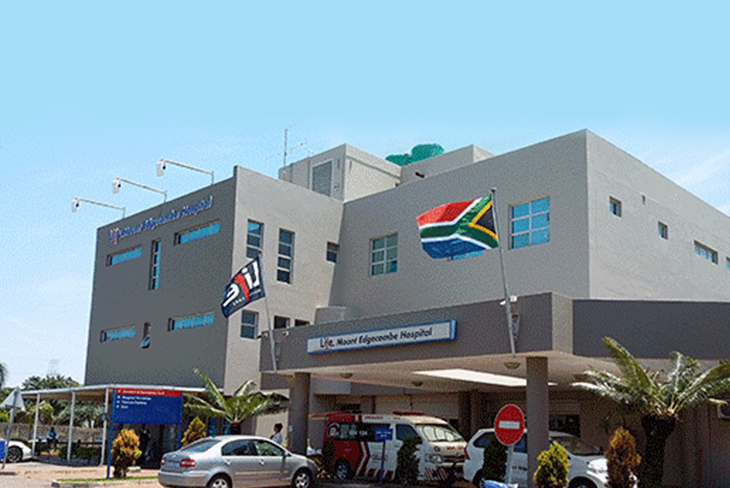 Overview
At Life Mount Edgecombe Hospital our focus is on the delivery of quality, excellence and unique standards of care for routine or more serious procedures. This 201bed hospital is situated northwest of the centre of Durban. Its first-class team of health professionals offer patients exceptional treatment in 25 medical and surgical disciplines. There are four theatres, a maternity unit, a neonatal ICU and a 24-hour accident and emergency unit. Modern and sophisticated diagnostic equipment is available to patients, and complementing the clinical excellence is a commitment to serve and support surrounding communities. Employees at all levels actively participate in community initiatives to improve the quality of life of the communities in which they work.
Emergency

Telephone

Email
Physical address

163 - 179 Redberry Road, Phoenix, 4068
Hospital Manager

Stacey Naidoo
Visiting hours
For visitation exceptions around neonatal ICU and paediatric wards contact the hospital directly or click here for more information.
Medical services
Cardiology
Dermatology
Endoscopic surgery
ENT surgery
Endocrinology
Gastroenterology
Gastroenterological surgery
General practice
General surgery
Gynaecology
Internal medicine
Laparoscopic surgery
Maxillofacial & oral surgery
Nephrology
Neurology
Obstetrics
Ophthalmology
Orthopaedic surgery
Paediatrics
Pathology
Pulmonology
Psychiatry
Radiology
Urology
Ancillary services
Ambulance service
Audiology
Behavioural psychology
Clinical psychology
Educational psychology
Speech therapy
Occupational therapy
Pharmacy
Physiotherapy
 Doctors and allied services
Audiology & speech therapy

Mr PM Naidoo

031 502 6391

Mrs C Govender

032 533 9585

Biokineticist

Mr K Naicker

031 502 7369

Cardiologist(s)

Dr Ash Naicker

031 502 1081 / 5

Chiropractor

Dr A Prithipal

031 502 5243

Dermatologist(s)

Dr C Sibisi

031 566 4748

Ear, nose & throat surgeon(s)

Dr NSingh

031 502 3794

Dr PK Soni

031 502 7930 / 1

Dr TJ Maharaj

031 502 2826 / 2802

 Endocrinologist 

Dr VL Jairam 

031 537 4247

Gastroenterologist

Dr NM Ghila

031 539 1980

Dr Y Moola

031 502 4401

General practitioner(s)

Dr C Koobair

031 502 2278

Dr MF Sacoor

031 502 2582

General surgeon(s)

Dr K Chetty

031 502 1073

Mr AR Sham

031 502 3234 / 3216

Mr AG Naidu

031 502 3234 / 3216

Mr N Sewkuran

031 502 3234 / 3216

Dr Chetan Bhula

031 502 4327

Dr K Govender

031 502 3234

Maxillofacial and oral surgeon

Dr V Garach

031- 202 2084 / 031 268 5519

Nephrologist

Dr J Moodley

031 5374125 / 031 5023142

Dr V Moodley

031 502 3703 / 031 537 4301

Neurologist

Dr Irshad F Siddi Ganie

031 539 3233 / 071 368 9277


Dr Naazim Siddi Ganie

031 539 3233 / 071 368 9277   


Dr S Bhola

 

Obstetricians & gynaecologist(s)

Dr B Bishop

031 502 1920 / 1

Dr Dhanyaneethie Moopanar

031 582 5292 / 031 829 1458

Dr S Keerath

031 502 1920 /1

Dr S C Moodley

031 502 6290 / 6289

Dr R Mahabir

031 829 1922

Dr VS Naicker

031 502 3691 / 6840

Dr V Nandlall

082 774 1896

Dr E Ati

031 537 4082

Dr L Augustine
031 537 4081
Dr N Parikh
031 537 4081

Occupational therapist

Ms S Kasolall

031 502 6077

Ophthalmic surgeon(s)

Dr T S Naidu

031 539 2104 / 5

Dr Z Vally

031 539 3347

Orthopaedic surgeon(s)

Dr N Naidoo

031 539 6520


Dr RD Rajoo

031 539 6520

Mr R Reddy

031 539 5228

Mr S Sathyapal

031 539 5228

Dr K Naidoo 

031 539 6520

Dr Y Singh

031 5027469

Orthotist

Mr Jay Naidoo

031 502 6540 / 031 539 5575

Paediatrician(s)

Dr LM Kunnie

031 502 1898 / 9

Dr RC Naranbhai

031 502 1898

Dr M Govender

031 539 7733

Dr Rashinta Moodley

031 5374125 / 031 5023142

Dr Rajendra Naranbhai

031 502 1898

Dr Abdul Quiyyum Sayed

031 502 3048 / 031 537 4243

Paediatric Nephrologist


Dr Rashinta Moodley

031 5374125 / 031 5023142

Physician(s)

Dr A Naidoo

031 537 4244

Dr Ambaram

031 502 4401

Dr Chandrakant Jeena

031 502 1600 / 1

Dr Dustin Ramdass

031 502 2001 / 2

Dr J Moodley

031 537 4125

Dr N Ghila

031 539 1980

Prof Lalloo

031 502 4401

Dr V Jairam

031 537 4247

Dr Y Moola

031 502 4401

Physiotherapist(s)

Miss S Moodley

031 502 6472

Mr N Viranna

031 502 1602 / 3

Plastic and reconstructive surgeon

Dr K Lutchminarian

031 100 0012

Psychiatrist(s)

Dr A Chunilall

031 502 4401

Dr HR Nowbath

031 502 6947

Psychologist(s)

Mrs V Maharaj

031 502 2826

Pulmonologist(s)

Dr A Ambaram

031 502 4401

Prof Umesh Lalloo

031 502 4401

Urologist(s)

Mr MO Ali

031 539 7251 / 7166

 Vascular Surgeon

Dr MZ Shaik 

031 502 3381
Contact us
Physical address

163 - 179 Redberry Road
Phoenix

Postal address

PO Box 204
Mount Edgecombe
4300

Telephone

031 537 4000

Fax

031 502 1207

Email

Map