Life The Crompton Hospital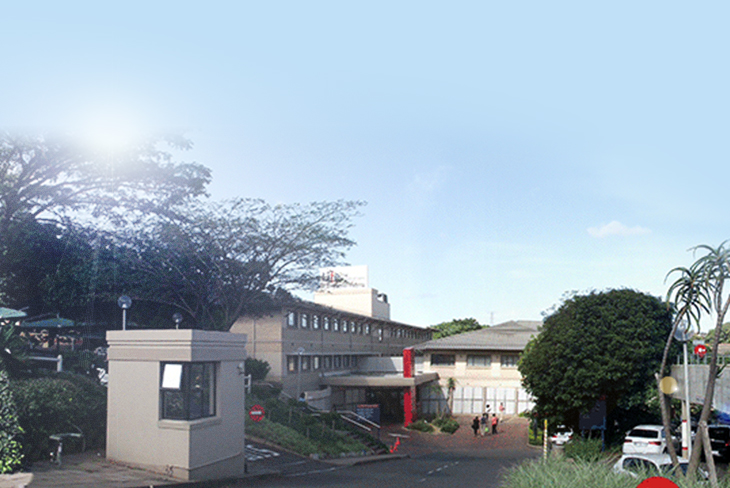 Overview
At Life The Crompton Hospital, the employees understand that they have a responsibility to meet the expectations of those who are entrusted to their care as well as the expectations of their loved ones.
This 189-bed hospital has four operating theatres, and its first-class, dedicated team of health professionals delivers high-quality treatment in a number of medical and surgical disciplines.
We take pride in providing you with the information you need in order to make your stay with us as pleasant and hassle free as possible. Accommodation in our hospital is extensive and includes the following:
Private Wards
Two, four & six bed wards
Surgical Wards
Medical Wards
Day Clinic
High Care
Intensive Care
Paediatric Unit
Woman's Health Maternity Unit
24 Hour Emergency Unit
NICU (Neonatal ICU)
Emergency

Telephone

Email
Physical address

102 Crompton Street, Pinetown, 3610

GPS

-29.804507 : 30.863299
Hospital manager

Zakiya Essa
Visiting hours
For visitation exceptions around neonatal ICU and paediatric wards contact the hospital directly or click here for more information.
Medical & surgical disciplines
Ear, Nose & Throat (ENT)
Gastroenterology
General Practice
General Surgery
Gynaecology
Nephrology
Obstetrics
Ophthalmology
Orthopaedics
Paediatrics
Pathology
Plastic & Reconstructive Surgery
Psychiatry
Pulmonology
Radiology
Urology
Ancillary services
Audiology
Clinical Psychology
Physiotherapy
Speech Therapy
Specialist facilities
Doctors
Audiology & Speech Therapy

Mandy Pillay

031 701 8429

Natasha Pillay

031 701 8429

Ear, Nose & Throat surgeon(s)
Dr Sujith Basanth
031 701 1114
Dr Jyothi Ramlal
031 709 3174
Gastroenterologist
Dr Osman Aboo
031 702 9343
General Practitioner(s)
Dr Imraan Khan
031 702 2163
Dr Frank Sabbatini
031 701 3256
Dr Keith Stack
031 701 2811
General Surgeon(s)
Dr Bilal Kadwa
031 701 8737
Dr Deena Govender
031 709 2041
Dr Leonel Du Plessis
031 701 6632
Nephrologist
Dr Ishan Rambali
031 301 0935
Obstetricians & Gynaecologist(s)   
Dr Leon Augustine
031 701 2199
Dr Aref Bassa 
031 702 4578
Dr Graeme Birdsey
031 941 5460
Dr Sunkaran Pillay
031 701 1061
Dr Wendy Dhlomo
031 701 8799
Dr Nitish Parikh
031 701 2199
  Ophthalmic Surgeon(s)
Dr Dharmesh Parbhoo
031 701 0273
Dr Sharisha Surajballi
031 701 2276
  Orthopaedic Surgeon(s)
Dr Bandile Mapekula
031 701 8958
Dr Goodman Seyisi
031 701 0520
Dr Muziwamandla Ngwazi
031 701 8958
Dr Mzukisi Grootboom
031 701 2721
Dr Nkgato Tlale
031 701 8958
Dr Prenolin Kistnasami
031 701 5806
Dr Vincent Hlophe
031 701 2721
Paediatrician(s)
Dr Ashmika Gokhul
031 701 2000
Dr Bahlebonke Soni
031 701 4334
Dr Ridwan Omar
031 701 1524
  Pathologists
Ampath Laboratories
031 702 4151
Lancet Laboratories
031 702 3413
  Physician(s)
Dr Osman Aboo
031 702 9393
Dr Richard Nandagopalan
031 701 9507
Dr Rishen Puran
031 701 0199
Dr Shamim Cassim
031 702 9343
Physiotherapist
Kumarie Govender
031 702 9000
Hayley Pillay
031 701 8784
Plastic Surgeon
Dr Shaal Ramdial
031 941 5460
Psychiatrist
Dr Viashini Moodley
031 709 3548
Psychologist
Lisha Bhadree
084 477 1672
Pulmonologist
Dr Prinita Baijnath
031 701 1814
Radiologist
Lake Smith & Partners
031 701 0208
Social Worker(s)
Miss Zukiswa Ginya
074 349 9090
Mrs Tammy Pather
072 252 3407
Urologist(s)
Dr Shiven Ramkissoon
031 701 1814
Well Baby Clinic
Sr Lindsey's Baby Clinic
066 211 7777
Contact us
Physical address

102 Crompton Street
Pinetown
3610

Postal address

PO Box 1466
New Germany
3620

Telephone

031 737 3000

Fax

031 702 2790

Email

Hospital manager

Zakiya Essa