Life Fourways Hospital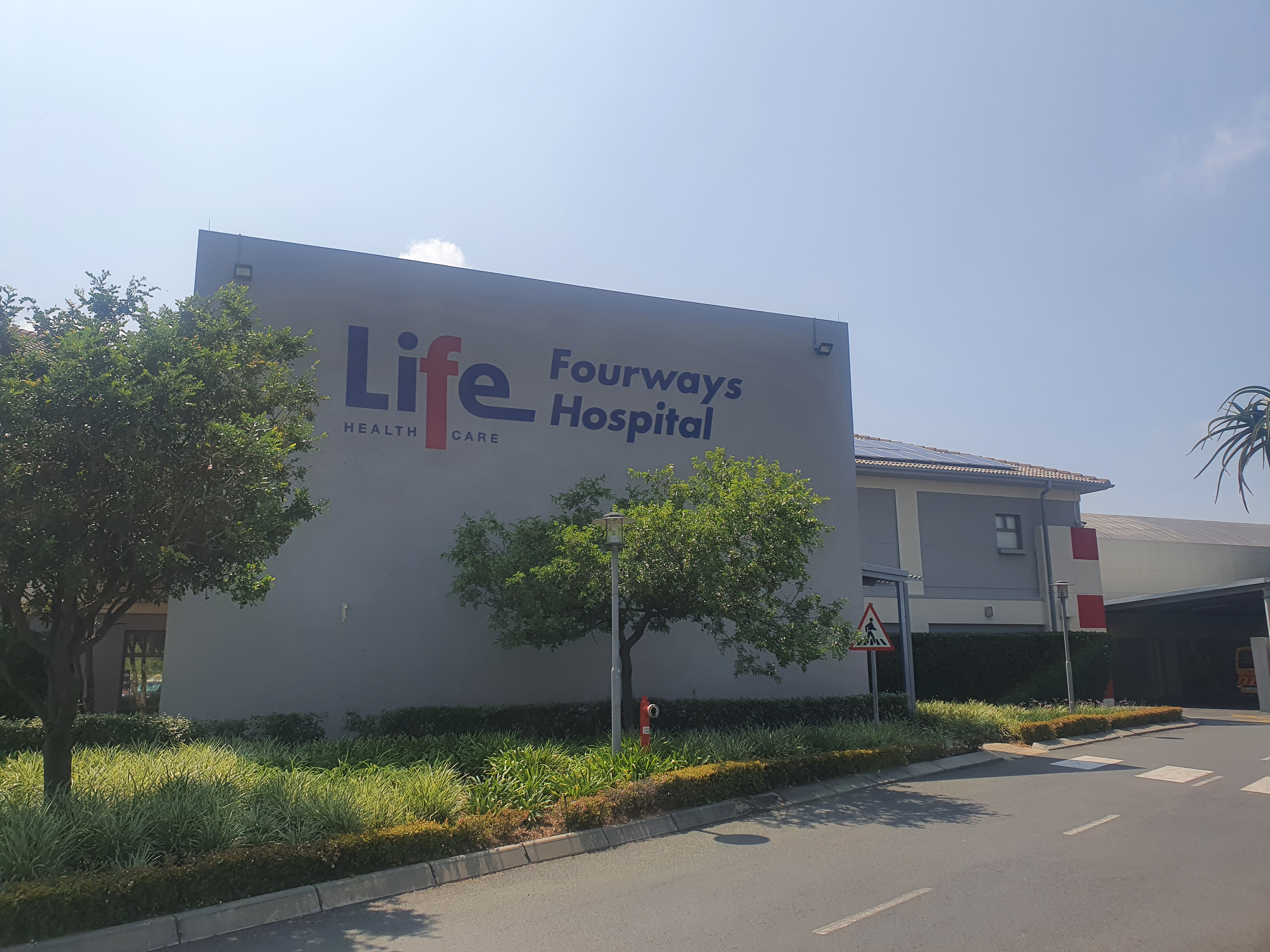 Overview
Situated in Johannesburg, the 194-bed Life Fourways Hospital is focused on the delivery of high-quality treatment and unique standards of care – whether for routine, more serious or extensive procedures. This modern and sophisticated hospital is renowned for its state-of-the-art equipment, and has a cardiac unit and cardiac catheterisation laboratory supported by super-specialised cardiologists and surgeons. The world-class facilities at the Life Fourways Hospital include a 16-bed maternity ward, a neonatal ICU, a paediatric ward, a 26-bed ICU and 10 theatres. The hospital does not just cater for heart patients, and there is medical support provided by specialists and surgeons across 26 medical and surgical disciplines. Through their ongoing quality training, hospital employees are able to deliver excellent healthcare and embrace the principles of empathy, ethics, excellence and empowerment.
Advanced life support paramedic service

Telephone

Email
Physical address

Corner Cedar Road and Cedar Avenue West, Fourways, 2055

GPS

-26.005065 : 27.993791
Hospital manager

Carey MacColl
Visiting hours
For visitation exceptions around neonatal ICU and paediatric wards contact the hospital directly or click here for more information.
14h00 – 15h00

19h30 – 20h30

Visitors are restricted to two per patient at a time. Children are welcome but they must have an adult supervising them
In the Intensive Care Unit, we only allow two family members per patient and children under 12 years of age are not permitted in Unit.
In the Maternity Unit, fathers and grandparents may visit between 08h00 and 20h00 but other visitors must adhere to normal visiting hours between 15h00 to 16h00 or 19h00 to 20h00. Siblings may visit from 15h00 to 16h00.
Medical services
Anaesthesiology
Breast Health
Cardiology
Cardio-Thoracic Surgery
Dermatology
Ear, Nose & Throat (ENT) Surgery
Endocrinology
Gastroenterology
General Surgery
Gynaecology & Obstetrics
Internal Medicine
Interventional Radiology (UFE)
Maxillo-Facial Surgery
Medical Oncology
Nephrology
Neurology
Neurosurgery
Ophthalmology
Orthopaedics Surgery
Paediatrics
Paediatric Surgery
Pathology
Plastic & Reconstructive Surgery
Psychiatry
Pulmonology
Radiology
Rheumatology
Urology
Vascular Surgery
Ancillary services
Ante Natal Classes

Audiology and Speech Therapy

Baby Clinic

Medical Orthotist and Prosthetist

Occupational Therapy

Pharmacy

Physiotherapy

Podiatry

Psychology

Renal Unit (8 station dialysis unit)

Wound Clinic
Doctors
Audiology & speech therapy

Mrs Janine Schnugh

0118751750

Cardiothoracic surgeon

Dr Elias Zigiriades

0118751820

Cardiologist(s)

Dr Anthony Dalby

0118751920

Dr Anthony Yip

0118751760

Dr Sunil Bedhesi

0118751790

Dermatologist(s)

Dr Mary Rouhani

0118751870

Dr Michael Jameson

0118751720

Ear, nose & throat surgeon(s)

Dr Martin Gill

0118751757

Dr Shahpar Motakef

0118751900

Endocrinologist

Dr Sundeep Ruder

0118751940

Gastroenterology

 

Dr Didintle Mokgoko
011 875 1950

General surgeon(s)

Dr Karol Kozaczynski

0118751880

Dr Mark José

0118751530

Dr Sudha Naidoo

0118751660

Dr Doug Ross

0118751992

Gynaecologist(s)

Dr Abigail Lukhaimane

0118751687

Dr Corné Brink

0118751620

Dr Casandra Pillay

0118751600

Dr Melissa van der Merwe
0118751610

Dr Kofi Kwaw-Asante

0118751630

Interventional Radiology (UFE)

 

Dr Gary Sudwarts

011 484 0135

Maxillofacial and oral surgeon

Dr Veruschka José-Bryant

0118751710

Medical Orthotist and Proshetist
Adrian Singh
011 875 1909
Medical Oncologist 
Dr Yusuf Mayet 

0118751870

Nephrologist

Dr Rachael de Zeeuw

0118751870

Dr Tebogo Machailo

0118751800

Neurologist(s)

Dr Kalpesh Jivan

0118751890

Dr Kaushik Ranchod

118751890

Neurosurgeon(s)

Dr Avinash Kolloori

0118751730

Ophthalmologist(s)

Dr Dory Neu-Ner

0118751866

Dr Vojin Djordjevic

0118751870

Orthopaedic surgeon(s)

Dr Harry Papagapiou

0118751930

Dr Josip Cakic

0118751780

Dr Nick Botoulas

0118751706

Dr Prakash Kana

0118751700

Dr Ravi Bhaga

0118751700

Dr Lerato Nhlapo

0118751855

Paediatric surgeon

Dr André Theron

0118751870

Paediatrician(s)

Dr Ashraf Ahmed

0118751840

Dr Dewald Buitendag

0118751666

Dr Natasha Padayachee-Govender

0118751854

Physician(s)

Dr Lebogang Moja

0118751950

Dr Lee-Ann Spoolder

0118751830

Plastic surgeon(s)

Dr Deon Weyers

0118751694

Dr Vengal Medapati

0118751680

Podiatrist

Cheylee Smith

0118751910

Psychiatrist(s)

Dr Nadira Khamker

0118751890

Dr Raksha Singh

0118751890

Psychologist(s)

Mrs Kalyani John

0118751870

Mr Nico Brink

0118751627

Ms Maryna Edwards

0118751890

Pulmonologist(s)


Dr Bronwyn Schar

0118751806

Dr Muhammad Chohan

0118751806

Radiation oncologist

Dr Sudeshen Naidoo

0118751870

Rheumatologist 
Dr Debbie Haasbroek
0118751905

Urologist(s)

Dr Bradley Wood

0118751640

Dr Evangelos Apostoleris

0118751766

Dr Trevino Ridgard

0118751996

Vascular surgeon(s)

Dr Pradeep Mistry

0118751770
Contact us
Hospital Manager

Carey MacColl

Patient Services Manager

Thea van Reenen

Physical address

Corner Cedar Road and Cedar Avenue West
Fourways,
2055

Postal address

Postnet Suite 141,
Private Bag X033,
Rivonia,
2128

Telephone

011 875 1000

Emergency Unit / After hours

0860 123 367 / 011 875 1050

Trauma (Reception)

011 875 1000 / 44 / 50

Life Support Paramedic

0860 123 367

Pharmacy

 

011 875 1282 

Monday to Friday: 09:00 – 20:30
Public Holidays: 09:00 – 20:30
Saturdays: 09:00 – 20:30
Sundays: 09:00 – 20:30

Fax

011 875 1001

Compliments / Complaints

 

Marthinus Grobler
Marthinus.Grobler@lifehealthcare.co.za

Kim Da Cruz
kim.dacruz@lifehealthcare.co.za

Marketing Manager

 

Tanya Jenneker
tanya.jenneker@lifehealthcare.co.za

Map