Life Robinson Private Hospital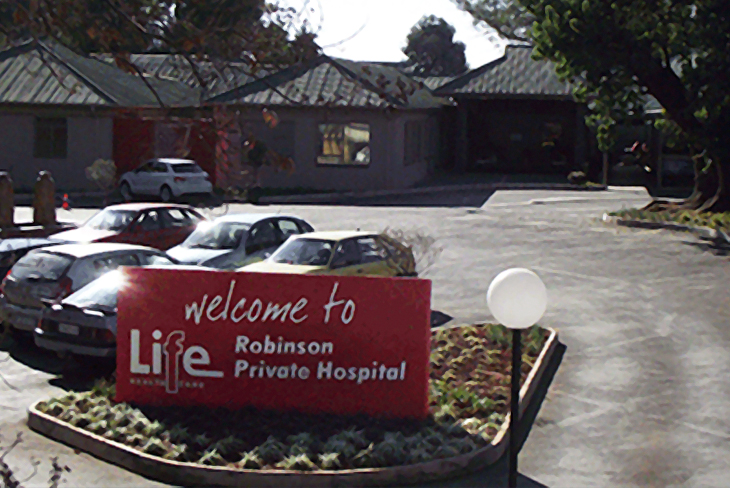 Overview
Situated in Randfontein, Johannesburg, is the 136-bed Life Robinson Private Hospital. This excellent facility is focused on the delivery of high-quality treatment and unique standards of care – whether for routine, more serious or extensive procedures. A team of first-class health professionals from 21 medical and surgical disciplines are available for consultation in this modern and sophisticated hospital, which is specifically well-known for its advanced maternity unit and orthopaedic unit as well as its excellent emergency unit. The medical and nursing staff at this hospital understand that they have a responsibility to meet the expectations of those who are entrusted to their care as well as the expectations of their loved ones. Through their ongoing quality training, hospital employees are able to deliver excellent healthcare and embrace the principles of empathy, ethics, excellence and empowerment.
Emergency

Telephone

Email
Physical address

Hospital Road, Randfontein, 1759

GPS

-26.154577 : 27.709637
Hospital manager

Dr Marinda Overbeek
Visiting hours
For visitation exceptions around neonatal ICU and paediatric wards contact the hospital directly or click here for more information.
Orthopaedic ward, Medical ward, Surgical ward and the Intensive care unit
10h00 – 11h00
15h00 – 16h00
19h00 – 20h00
Children's ward
15h00 – 16h00
19h00 – 20h00
Maternity ward
Fathers are permitted in the unit from 07h00 – 22h00
Only grandparents and the sibling of the baby are permitted during visiting hours.
15h00 – 16h00
19h00 – 20h00
Neonatal intensive care unit
Only parent are permitted in the NNICU 
Further to this, other rules apply with respect to visitors and these are:
Visitors are restricted to three per patient at a time.
For infection prevention purposes and children's health and safety, children under the age of 12 years are not permitted in the units.
Maternity
The maternity unit offers a home-from-home environment to our mothers and babies. Equipped with 5 single rooms and 5 suites with private courtyards, charged at standard rates, the well-appointed and secure unit is supported by three Gynaecologists and three Paediatricians. Our skilled nursing staff assist our mothers and provide them with advice during and after their stay. 
Antenatal classes help parents to prepare for pregnancy and parenthood. A 3 week programme which includes topics such as nutrition, exercise, normal and caesarian delivieries, breastfeeding, formula feeding and parenting skills is offered free of charge.
Renal Dialysis
Our state-of-the-art renal dialysis unit is supported by our resident nephrologist and physician.   Equipped with seven beds and two isolations cubicles the dialysis unit assist patients in acute or chronic kidney failure.
Treatment services offered include:
Chronic haemodialysis and haemodiafiltration
Acute haemodialysis
Continuous renal replacement therapy (CRRT); and
Plasmapheresis
Dialysis services are offered from Monday to Saturday and flexible sessions can be arranged.  The renal dialysis unit can be contacted on 011 278 8005.
Medical services
Anaesthesiology
Cardiothoracic surgery
Dentistry
Dermatology
Dietetics
Ear, nose & throat surgery
General surgery
General practice
Gynaecology & obstetrics
Internal medicine
Nephrology
Neurosurgery
Neurophysiology
Orthopaedic surgery
Paediatrics
Pathology
Plastic & Reconstructive Surgery
Radiology
Urology
Ancillary services
Audiology
Pharmacy services
Physiotherapy
Prosthesis service
Radiology unit
Social worker
Speech therapy
Occupational therapy
Wound care
Doctors
Anaethetist(s)

Dr Andrew Jacobs

0116622980

Dr Anina Lamprecht

0119534744

Dr Brandon Piketh

0119541683

Dr Cobus Steyn

0844441939

Dr Doug Gurnell

0119531700

Dr Noel Hurrell

0119509000

Dr Retha Kruger

0116621464

Dr Tabie Marais

 

Audiologist(s)

Hearing centre

0114122414

Cardio-thoracic surgeon(s)

Dr Elias Zigiriadis

0119505945

Dr Theo Nortje

0116604046

Dentist(s)

Dr Daan van Rensburg

0116922277

Dr Heleen Olivier

0116933428

Dr Marilé Pretorius

0114122370

Dr Nicol Hurter

0116923147

Dr Yvette Venter

0116931089

Dermatologist
Dr Bonolo Mushiana
011 278 8770

Dietician(s)

Ms Marijke Pienaar

0112788770

Ear, nose & throat surgeon(s)

Dr Andre Hough

0119534447

Dr Gert Olivier

0119534447

General practitioner(s)

Dr Bertus Pretorius

0114122370

Dr Derek Vogt

0116932201

Dr Driekus Opperman

0116924087

Dr Esmeraldi von Wielligh

0114123955

Dr Ian Cumming

0117541076

Dr Jan Reinier Kuiper

0114122960

Dr Nico Serfontein

0114122960

Dr Okkie Dupper

0116932201

General surgeon(s)

Dr Alex Faber

0112788832

Dr Riaan Joubert

0114121667

Gynaecologist(s)

Dr Ehi Aigbe

0112788708

Dr Pieter Van Rooy

0116604715 / 6

Dr Zandile Dlamini

0112788770

Dr Lawrence Phofa

0112788770

Nephrologist

Dr Mathews Thomas

0112788895

Neurophysiologist(s)

C&N Diagnostic Centre

0116473511

Neurosurgeon

Dr Arnold Louw

0119510545 / 6

Ophthalmologist(s)

Dr Laila Raman-Abdulla

0870872653

Orthopaedic surgeon(s)

Dr Anne Maina 

0870770987

Dr Attie Cloete

0101100885

Dr Eric Ndzeru

0112788770

Dr Peter Ojwang

0112788891

Dr Piet Botha

0101100886

Dr Mluleki Tsama

011 278 8786

Orthotist(s)

Marissa Nel

0116922896

Steve Green

0116604717

Paediatrician(s)

Dr Alex Ogugua

0116602138

Dr Busi Ngcobo

0112788844

Dr Peter Angura

0112788820

Pathologist(s)

AMPATH laboratories

0112788742

Lancet laboratories

0112788741

Physician(s)

Dr Mahesh Naidu

0116937457

Dr Mathews Thomas

0112788895

Physiotherapist(s)

Kay Kgarume

0828176773

Luke & Barker

0116935041

Mokaba Lebepe

0828542258

Smit - Thorius & Odendaal

0114123781

Plastic and Reconstructive Surgeon

Dr Brian Monaisa

011 950 5945

Dr Jonel Breytenbach

011 951 0417 / 011 278 8832

Psychologist

Mr Formyn de Kok

0736970851

Radiologist

Dr Johann Schutte

0116924070

Social worker

Ms Madelaine Niemand

0824747212

Trauma doctor

Dr Jaco van der Merwe

0112788772

Urologist

Dr Deon Knoesen

0119531758

Wound care

Ms Hanri van Niekerk 

083 302 4270

Ms Leilani van der Merwe

083 656 9270
Contact us
Physical address

Hospital Road
Randfontein
1759

Postal address

P O Box 37
Randfontein
1760

Telephone

011 278 8700

Fax

011 693 3109

Email

Map

Hospital Manager

Dr Marinda Overbeek

Emergency unit emergency line

011 693 0044