Life Roseacres Hospital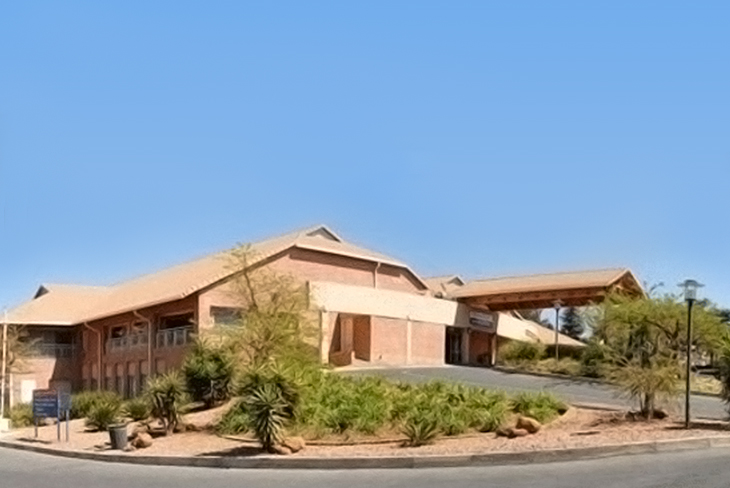 Overview
The first-class team of health professionals at the 128-bed Life Roseacres Hospital focuses on an experience of top-quality care for everybody who visits or is admitted to this healthcare facility. Results of ongoing patient surveys show that a stay at the Life Roseacres Hospital reflects the high standards of health and care that the staff sets out to deliver to patients. The modern sophisticated facilities include 4 theatres, a 24-hour accident and emergency unit with a resuscitation room, a general and neonatal ICU, a secure and well-equipped maternity ward with private family room, a psychiatric ward and a radiology facility. A large number of health professionals from different disciplines can be consulted at this top-class hospital. Through their ongoing quality training, hospital employees are able to deliver excellent healthcare and embrace the principles of empathy, ethics, excellence and empowerment.
Life Roseacres Hospital is a member of the Life Healthcare Group, one of the largest private hospital groups in South Africa, operating more than 60 acute facilities across the country.
Telephone

Email
Physical address

Cnr. Castor Road and St. Joseph Street, Symhurst Primrose, 1401

GPS

-26.172472 : 28.167952
Hospital manager

Henriette Pretorius
Visiting hours
All visiting hours listed below for all general wards, ICU and High Care units are suspended until further notice.
For visitation exceptions around neonatal ICU and paediatric wards contact the hospital directly or click here for more information.
General wards, ICU, paediatric ward and psychiatric ward
Daily:
10h00 – 11h00
15h00 – 16h00
19h15 – 20h00
Maternity ward
Daily:
10h00 – 11h00
15h00 – 16h00 (for siblings)
19h15 – 20h00
Neonatal ICU
Parents open visitation
Grandparents can visit once upon admission
Only two visitors allowed per patient, of which one visitor should be a parent
Medical services
Medical and surgical disciplines
ENT surgery
General surgery
Obstetrics & gynaecology
Internal medicine
Oncology
Ophthalmic surgery
Orthopaedic surgery
Paediatrics
Pathology
Psychiatry
Radiology
Urology
Ancillary services
4-D scans
Audiology & speech therapy
Dermatology
Occupational therapy
Orthotics
Physiotherapy
Podiatry
Psychology
Wound clinic
Doctors
4-D scans

Isabel Coetzee

011 842 7651

Audiologist & hearing aids(s)

Chantel Victor – HearProf

011 842 7651

Frank Solomon Hearing Centre

011 842 7651

Cardiologist

Dr Lance Mkhwanazi 

011 842 7651

Dermatologist

Dr Lindi Sibisi

011 842-7651

Dietician

Anita Mostert

011 842 7651

Ear, nose & throat surgeon(s)

Dr Ridwaan Essa


011 842 7651

Dr Willem van Rensburg

011 842 7651

Gastroenterologist

Dr Amal Singh

011 842 7567

General surgeon(s)

Dr Amal Singh

011 842 7567

Dr Nhlanhla Magagula

011 842 7567

Dr Robert Hartley

011 842 7751

Dr L Hochart

011 842 7651

Lancet laboratories

Dr Clive Soldin

011 842 7560

Maxillofacial and Oral Surgeon
Dr Priyesh Hira
011 842 7651
Neurologist
Dr Mukhethwa Tsikane
011 842 7651

Neurosurgeon(s)

Dr Hendrick Madumo

011 842 7651

Dr Lebohang Modikeng

011 842 7651

Obstetricians & gynaecologist(s)

Dr Adegboyega Oyebajo

011 842 7545

Dr Beulah Green

011 842 7515

Dr Wally Green

011 822 4293

MBCHB (SA) Specialist Obs & Gynae (Bulgaria)

Dr Petko Margaritov 

011 842 7602

Occupational therapist(s)

Maddie Delgado

011 842 7557

Mpho Monyatsi

072 503 5630

Oncologist

Dr Leiyah Bassa

011 842 7651

Ophthalmic surgeon

Dr Savvas Christodoulou

011 842 7651

Orthopaedic surgeon(s)

Prof Chris Frey

011 842 7566

Dr Juan Marin

011 842 7670

Dr Mohammed Suliman

011 842 7670

Dr Ziyaad Mayet

011 842 7670

Orthotist

Burt Kachelhoffer

011 842 7669

Paediatrician(s)

Dr Desmond Thwala

011 842 7525

Dr Hassina Ebrahim

011 842 7651

Dr Nomsa Maseko

011 842 7605

Physiotherapist

Leanne Barnard

011 842 7669

Plastic & Reconstructive Surgeon

Dr Boitumelo Kenoshi

011 842 7651

Psychiatrist(s)

Dr Ahmed Valli

011 842 7506

Dr Elizabeth Borkowska

011 842 7672

Dr Michael Slutzkin

011 842 7651

Psychologist(s)

Asif Bhaiyat

073 775 5996

Candice Janks

061 642 4709

Carolyn Brady

082 459 9679

Craig Palmer

011 842-7506 / 011 822-2959

Yvonne Chilimanzi

062 096 7742

Martiana Peltz

082 888 5588

Raeesah Valli

082 823 1790

Shereen Abramowitz

082 856 2092

Radiology / X-ray department

Diagnostic Radiological Services

011 822 4278

Social worker

Debbie Beech

083 232 5535

Specialist physician(s)

Dr Andreas Stavrides

011 842 7750

Dr Rakesh Bisram

011 842 7535

Dr Regina Mampane

011 842 7604

Dr Sidney Kramer

011 842 7651

Specialist Physician Rheumatologist

Prof Mohammed Tikly
011 842 7651

Urologist

Dr Marek Borkowski

011 842 7672
Contact us
Physical address

Cnr. Castor Road and St. Josephs Street
Symhurst
Primrose
Germiston
1401

Postal address

P O Box 2302
Primrose
1416

Telephone

011 842 7500

Fax

011 842 7721

Email

karen.landsberg@lifehealthcare.co.za

Map

Hospital manager

Henriette Pretorius