Life Bedford Gardens Hospital
Bedfordview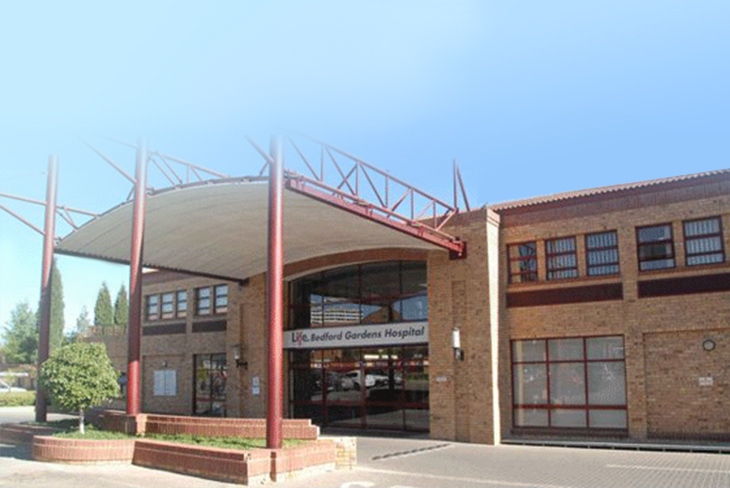 Overview
Life Bedford Gardens Hospital is a 144-bed hospital situated in Bedfordview, Johannesburg. Clinical excellence and high quality care are the focus at this modern and sophisticated facility where a large team of first-class health professionals offer the full suite of procedures to medical, surgical, paediatric and neonatal patients. The six theatres are all fully equipped for performing advanced laparoscopic (keyhole) surgery. There are two intensive care units as well as a radiology unit with modern diagnostic equipment. Treatment is available in 28 different medical and surgical disciplines, but Life Bedford Gardens Hospital is also recognised for its high-quality care and compassion when treating its patients. Through their ongoing quality training, hospital employees are able to deliver excellent healthcare and embrace the principles of empathy, ethics, excellence and empowerment.
Emergency

Telephone

Email
Physical address

7 Leicester Road, Bedford Gardens, Bedfordview, 2008

GPS

-26.18364 : 28.120011
Hospital manager

Paul Mokoena
Visiting Hours
Visiting hours have been reviewed in accordance with the current regulations. 
Please note the visiting hours can change at short notice and this is at the discretion of each hospital, dependent on the local COVID-19 situation and advice from hospital management and doctor COVID committees. 
COVID WARD Regrettably, visitation in areas in which confirmed, or suspected, COVID-19 patients are being cared for remains suspended. 
For critically ill patients in these areas limited visitation with special permission of hospital management may be allowed, and in consultation with the treating doctor. Special measures will be required in such situations to protect the health of the visiting family members and hospital employees. Our nurses are sensitive to the strain on family members in such situations and will do their best to accommodate both the needs and the safety of family members. Our nurses will continue to keep family members updated on the condition of the patient and, wherever possible, will facilitate communication with patients through electronic means such as video calls.
 Visitation will be allowed as follows in non-COVID areas: 
General wards: One visitor per day for a maximum of 30 minutes.
Paediatric Wards/ICU: One parent will be permitted to sleep in with an admitted paediatric patient. The other parent will be permitted to visit for 30 minutes per day.
Nursery and Neonatal ICU: Parents may visit together once a day. The duration of the visit will be at the discretion of the unit manager.
Adult ICUs: One visitor per day for a maximum of 30 minutes.
Critically ill patients: Family visitation may be allowed subject to special arrangements with the hospital manager.
Confinement – partner support in theatre/labour ward: please liaise with your doctor/the hospital you have booked at for the birth of your baby
Visiting Times: Daily from 15h00 – 15h30 and 19h30 - 20h00
Please come early to ensure time for screening at the front door.
Pharmacy
Pharmacy Retail Trading hours: Mon – Fri 8am to 6pm, Wed 8am to 8pm, Sat/Sun & public holidays 9am to 2pm
Medical services
Advanced laparoscopic surgery
Advanced arthroscopic surgery
Cardiology

Cardiothoracic surgery

Dentistry
Dermatology
ENT surgery
Eye surgery
Endocrinology
Gastroenterology
General surgery
Gynaecology
Internal medicine
Maxillofacial surgery
Neurosurgery
Neurology & electrophysiology
Nuclear medicine
Obstetrics
Ophthalmology
Orthodontics
Orthopaedic surgery
Paediatrics
Paediatric surgery
Psychiatry
Pathology
Plastic & reconstructive surgery
Radiology
Renal dialysis 
Rheumatology
Surgery
Thoracic surgery
Urology
Ancillary services
Dietetics
Pharmacy
Physiotherapy
Postnatal baby clinic
Doctors

Cardio-thoracic surgeon

Dr L Dongo
011 622 8470

Cardiologist

Dr CA Zambakides

011 622 9642

Dermatologist

Dr D Klevansky

011 622 8470

Dr J Nkehli

011 622 8470

Ear, nose & throat surgeon(s)

Dr B Malakou

011 622 6314

DR I Patel

011 622 7968

Dr I Jardine

061 717 8999

Endocrinologist(s)

Dr D Andreanis

011 622 8888

Dr N Goolam Mahyodeen

011 622 8470

Gastroenterologist

Dr Kara

011 616 2535

General practitioner with special interest in Paediatric Surgeon(s)

Dr Carapinha

011 622 8470

Dr T Govender

011 622 8470

General surgeon(s)

Dr C Sofianos

011 616 8340

Dr K Bulabula

011 616 3446

Dr NC Magagula

079 780 8468

Gynaecologists & Obstetrician(s)

Dr A Oyebajo

011 615 8745

Dr N Sikakane

067 759 3228

Dr W Prinsloo

011 622 5107

Dr S Fonseca

011 309 5900

Maxillofacial surgeon

Dr C Ferretti

011 615 9595

Nephrologist(s)

Dr S Wadee

011 677 8704

Dr V Rekhviashvili

011 677 8704

Dr Z Ganagat

011 677 8704

Neurologist

Dr C Dendere

068 141 5208

Dr V Parmanand

011 615 4251

Neurosurgeon(s)

Dr V Karan

011 615 9885

Nuclear medicine

Dr E Springolo

011 677 8500

Dr W Vangu

011 677 8500

Ophthalmologist(s)

Dr E Mia

011 616 7275

Dr S Christodolou

011 453 9505

Dr Kisten

011 616 7275

Orthopaedic surgeon(s)

Dr A Younus

011 616 3446

Dr Accone

011 615 9284

Dr T Hanck

011 616 6114

Dr W Niazi

011 620 3050

Dr A Garcez

011 615 3025

Paediatrician(s)

Dr A Baxter

011 622 4409

Dr M Platten

011 622 2771

Dr S Strachan

011 622 2771

Plastic surgeon(s)

Dr C Sofianos

010 500 5151

Dr C Ladas

011 616 6964

Dr F Padilha

011 620 3014

Rheumatologist

Dr F Khatib

011 622 8470

Specialist physician(s)

Dr Kara

011 616 2535

Dr F Rolland

011 616 8039

Dr R Bisram

011 615 4329

Dr R Ranchod

011 615 1398

Dr S Kaftel

079 515 6560

Dr Bisram

011 842 7508 / 7535

Urologist(s)

Dr R Blumberg

011 615 1400

Dr M Borkowski

011 615 5843

Dr Nadimpalli

011 615 1941
Contact us