Life Carstenhof Hospital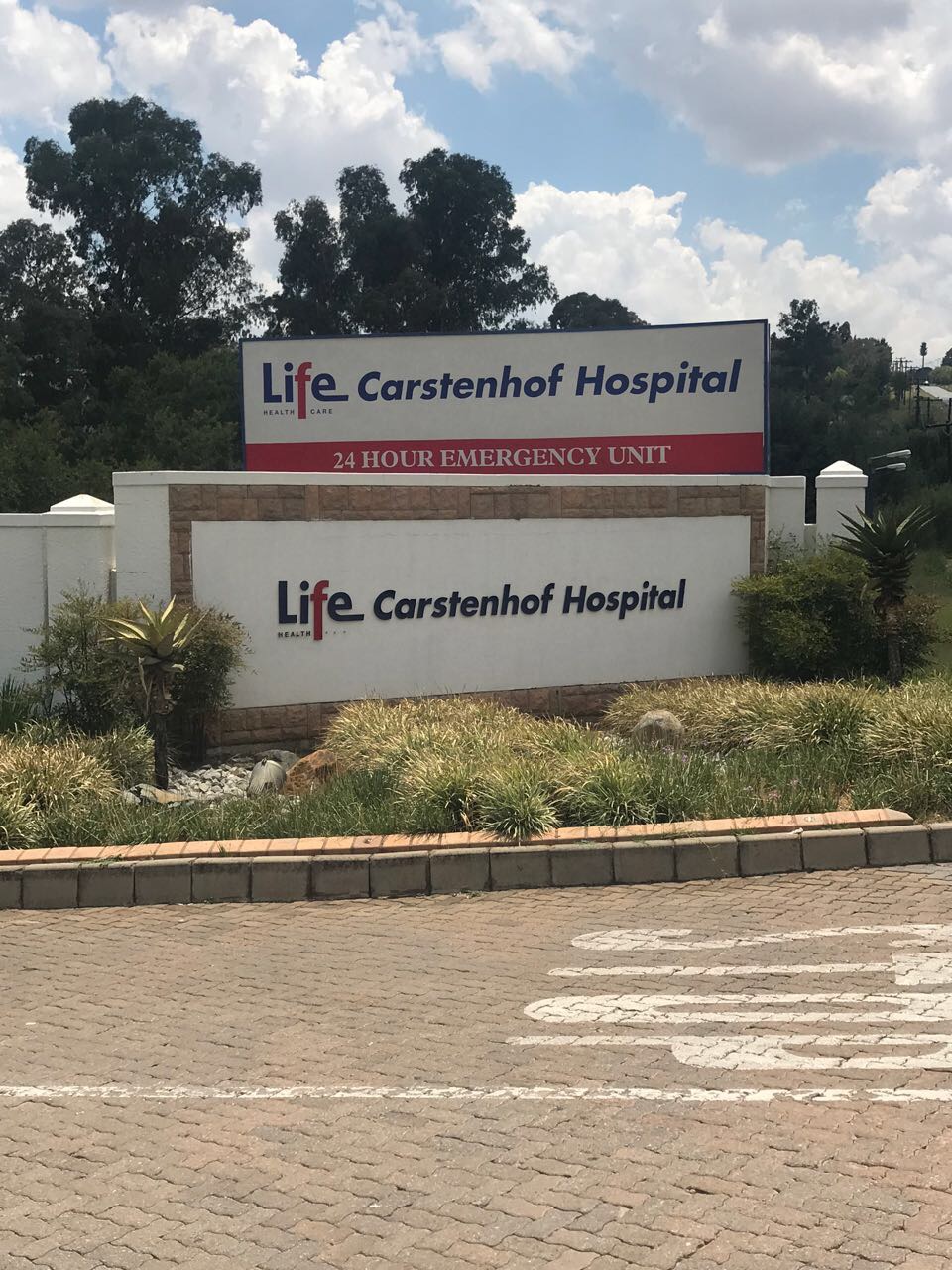 Overview
Life Carstenhof Hospital is a member of Life Healthcare, one of the largest private hospital groups in South Africa, operating 63 acute care facilities across the country.
Life Healthcare is recognised throughout the health industry for its high calibre healthcare professionals and excellent facilities.
We believe delivery of world class healthcare is achieved through a combination of quality and clinical excellence; along with a true focus on the personal needs of our patients and their families.
Every day we subscribe to the core values of the Life Healthcare group, while individually striving to continually improve facilities, standards and technology.
At Life Carstenhof Hospital our priority is to focus on the delivery of a special brand of health and care to patients. Within a world class hospital, this unique approach is what makes the difference.
We are also very proud of our beautiful surroundings- the peaceful stream that flows through our grounds, our tall willows, our peacocks- always ready to show off their plumage, to name but a few. Each room in the hospital is equipped with a glass door leading to the outside, enabling you to recover in the presence of Mother Nature.
Emergency

Telephone

Email
Physical address

21 Dane Road, Glen Austin, Midrand, 1685

GPS

-26.023553 : 28.140204
Hospital manager

Thabo Mosheledi
Visiting hours
For visitation exceptions around neonatal ICU and paediatric wards contact the hospital directly or click here for more information.
We welcome all of our patients` visitors, as we know what a difference the support of close family and friends can make.
In light of this, we also have to be aware of the rest that all of our patients require and we have thus provided for visitors to visit our hospitals only at certain designated times and these are:
10:00 - 11:00 (designated wards only)
15:00 - 16:00
19:00 - 20:00
Further to this, other rules apply with respect to visitors and these are:
Visitors are restricted to three per patient at a time. Children are welcome but they must have an adult supervising them.
No children are allowed to visit in the Paediatric Unit, for infection reasons.
In the Intensive Care Unit (ICU), we only allow two family members per patient.
In the High Care wards, two visitors per patient are allowed.
Medical services
Clinical oncologist
Dermatology
ENT surgery
Cardio thoracic surgeon
General surgery
Gynaecology
Internal medicine
Maxillofacial surgery
Nephrology
Neurology
Neurosurgery
Obstetrics
Ophthalmology
Orthopaedic surgery
Paediatrics
Paediatric surgery
Pathology
Plastic & reconstructive surgery
Psychiatry
Radiology
Urology
Ancillary services
Audiology & speech clinic (011 655 5570)
Compasionate healthcare services (011 655 5500/ 010 223 7442)
Dietician (011 655 5568)
Orthotics and prosthesis service (011 655 5568)
Pharmacy (011 655 5599)
Physiotherapy (011 655 5514/5573/5543)
Well baby clinic (011 655 5605)
Wound clinic (011 655 5753)
Doctors
Audiology & speech therapy

Carstenhof Hearing Centre

011 655 5570

Clinical oncologist

Dr Uzma Majeed

011 655 5568

Dermatologist(s)

Dr Daniela Tenea

011 655 5568

Ear, nose & throat surgeon

Dr Mukadi Nkongolo

011 655 5582

Dr Sibulele  Cezula

011 655 5634

Gynaecologist(s)

Dr Esther Rockson (Female)

011 655 5646

Dr Alta Maphalala (Female)

011 655 5559

Dr Iris Moiloa (Female)

011 655 5524

Dr Tebogo Mogakane

011 655 5632

Dr Tefo Mosetlhe

011 655 5540

Dr Sothiprakasen Naicker

011 655 5568

Dr Uviwe Petse

011 655 5543

Hand & Macro surgeon

Dr Cynthia Sathekga

011 655 5568

Nephrologist

Dr Moses Mahlangu

011 655 5532

Neurologist

Dr Siphokazi Nkohla

011 655 5555

Neurosurgeon(s)

Dr Jaffar Azhar

011 655 5568

Ophthalmologist

Dr Darshana Soma

011 655 5598

Orthopaedic surgeon(s)

Dr Moses Maine

011 655 5568

Dr Maleho Maku

011 655 5664


Dr Charles Mujakachi

011 655 5597

Dr Solomon Ndou

011 655 5568

Paediatric surgeon

Dr Ellen Mapunda

011 310 4021 / 011 655 5624

Dr Esi Botschway

011 655 5568

Paediatrician(s)

Dr Rebecca Makate

011 655 5509

Dr Bilema Mwambenu

011 655 5568

Dr Salome Sesoko

011 655 5527

Pathologist(s)

Ampath

011 655 5663/5 / 011 655 5574

Lancet

011 655 5574 / 011 655 5547

Physiotherapist(s)

Mr Tshilidzi Nemutandani

011 310 9692 / 011 655 5514

Mr Andrew Tyler

011 310 3583 / 011 655 5573

Mrs Nonto Petse

011 655 5543

Plastic surgeon

Dr Vaneshri Chetty

011 655 5568

Podiatrist

Gugu Njoko

011 863 3225

Psychiatrist

Dr Sanjna Keerath

011 655 5647

Psychologist

Mr Lazarus Kgalema

011 655 5720

Radiation oncologist(s)

Dr Leiyah Bassa

011 655 5568

Dr Yastira Ramdas

011 655 5568

Radiologist

Centre for Medical Imaging

011 655 5516

Rheumatologist

Dr Anita lai

011 655 5568

Specialist general surgeon(s)

Dr Costa Bope

011 655 5582

Dr Sibusiso Malinga

011 655 5568 / 011 021 1815

Dr Selepe Motuba

011 655 5568

Specialist physician(s)

Dr Thabo Mokotong

011 655 5568

Dr Olusewun Odomosu

011 655 5555

Dr Neo Rakumakoe

011 655 5522

Dr Khethiwe Nyuswa

011 655 5649

Urologist(s)

Dr Patrick Obidike

011 655 5568

Dr Lybon Rikhotso

011 655 5542

Wellness Specialist(s)

Dr Nomfundo Nhlapo
011 655 5369
Emergency Unit
| | |
| --- | --- |
| Telephone | 011 655 5602 |
| Telephone | 011 655 5603 |
Contact us

Physical address

21 Dane Road
Glen Austin
Midrand
1685

Postal address

Private Bag X54
Halfway House
1685

Telephone

011 655 5500

Fax

086 514 7564

Email

Portia Moshokwa
nteseng.moshokwa@lifehealthcare.co.za

Map