Life Hilton Private Hospital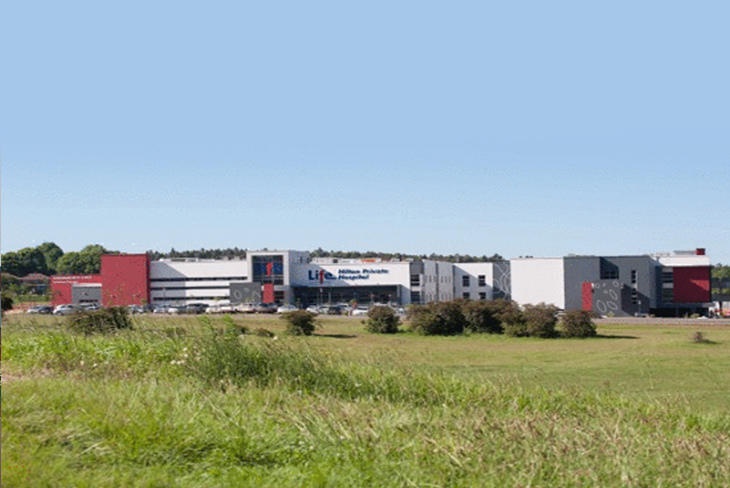 Overview
With a focus on sustainability and much-needed service offerings like oncology and nephrology, Life Hilton Private Hospital is a state-of-the-art hospital with heart and healing at its core. Based in Hilton, KwaZulu-Natal, the 106-bed multidisciplinary hospital enhances Life Healthcare's patient-care offering in the Natal midlands, and offer residents unrivalled medical care with an emphasis on quality, clinical excellence and a healthcare approach that places the needs of the patient and visitors first. Local patients will be able to access advanced treatment without having to travel long distances and the healthcare innovations employed at the facility demonstrates the hospital's commitment to providing patients with exceptional care. Through their ongoing quality training, hospital employees are able to deliver excellent healthcare and embrace the principles of empathy, ethics, excellence and empowerment.
Emergency

Telephone

Email
Physical address

Corner of Hilton Avenue & Monzali Drive, Hilton, 3245

GPS

-29.533163 : 30.299266
Visiting hours
All visiting hours listed below have been reviewed according to current lockdown regulations. Please contact the hospital directly for updated information.
For visitation exceptions around neonatal ICU and paediatric wards contact the hospital directly or click here for more information.
General wards:
10h00 to 13h00 and 14h00 to 20h00
Maximum of two visitors per patient at a time
Maternity unit:
Fathers, grandparents and siblings: 08h00 to 20h00
Other visitors: 15:00 to 16:00
Maximum of two visitors per patient at a time
Paediatric ward:
Parents: any time up to 20h00
Quiet time: 13:00 to 14:00
Maximum of two visitors per patient at a time
ICU and high care ward:
11h00 to 13h00 and 15h00 to 20h00
Only family members are allowed to visit with a maximum of two visitors per patient at a time
No visitors under 12 years
Neonatal ICU:
Medical services
24 hour emergency unit
Endoscopic surgery
Ear, nose & throat surgery
Endocrinology
Endoscopic surgery 
Gastroenterology
General surgery
Gynaecology
Internal medicine
Laparoscopic surgery
Nephrology
Neurosurgery
Obstetrics
Oncology/Radiotherapy
Ophthalmology
Orthopaedic surgery
Paediatrics
Pathology
Radiology
Renal dialysis
Urology
Ancillary services
Audiology
Pharmacy
Physiotherapy
Doctors
Anaesthetist

Jones, Bhagwan and Partners 

033 342 3757

Ear, nose & throat surgeon(s)

Dr Bruce McKenzie

033 330 8091

Dr Kerusha Moodley

033 329 5745/7

Dr Muhammad Essa

033 392 0041

Dr Wyndham Robartes

033 394 6456/6460

Emergency Unit

Dr D.I.P Ogg Inc.

033 3295606/07/17

Endocrinology

Dr Andrew van der Walt

033 329 5720

General surgeon(s)

Dr Glyn Tudor

033 329 5750

Dr Grahame Reimers

033 329 5750

Dr Henry van Niekerk

033 329 5764

Dr Ian Donkin

033 329 5750

Dr Neil Moodley

033 329 5750

Dr Todor Pavlov

033 342 4420

Intensivist(s)

Dr Brett Cullis

033 329 5889

Dr Tashmin Bisseru(Paediatric)

033 329 5770

Nephrologist

Dr Brett Cullis

033 329 5889

Neurologist

Dr Zaheer Sacoor

033 394 7866/7833

Neurosurgeon

Dr Stewart Chite

033 329 5777

Obstetricians & gynaecologist(s)

Dr Juan Carlos Navarro Ricardo

033 347 1568

Dr Randall Hammond

033 815 6760

Dr Cecil van Heyningen

033 329 5739

Dr Kesaven Dhavaraj

033 387 8703

Dr Rochelle Pillay

033 342 1073

Dr Samshad Amod

033 329 5700/5702

Dr Sean Drew

033 329 5812

Oncologist(s)

Dr Hasinah Asmal

033 342 0380

Dr JD Sithulu

033 342 0380

Dr Pelham Piek

033 342 0380

Dr Robbie Dent

033 342 0380

Dr Shane Cullis

033 342 0380

Dr Ziad Seedat

033 342 0380

Ophthalmic surgeon

Dr Alan Sara

033 330 2244

Orthopaedic surgeon(s)

Dr Andre Morrish

033 329 5712

Dr James McAllister

033 329 5729/5730

Dr Katherine Troisi

033 329 5729

Dr Nitesh Bhagwan

033 329 5712

Dr Ruvyn Frank

033 329 5712

Dr Rian Smit

033 329 5730

Dr Jacques de Wet

033 329 5712

Paediatrician(s)

Dr Frank Böcking

033 329 5722

Dr Tashmin Bisseru

033 329 5770

Pathologist(s)

Ampath Laboratories

033 264 6660

Lancet Laboratories

033 343 0888

Physician(s)

Dr Prian Vather

033 329 5734

Dr Roull Jaikarun

033 345 5855/7262

Dr Andrew van der Walt

033 329 5720

Plastic surgeon

Dr Bronwyn Schoenfeld

033 330 4724/7

Radiologist(s)

Kauffman and Partners

033 329 5900

Urologist(s)

Dr David Smart

033 329 5710

Dr Rupert Rencken

033 329 5780

Dr Hugo Le Roux

033 342 6360
Contact us
Physical address

Corner of Hilton Avenue & Monzali Drive
Hilton

Postal address

PO Box  1311
Hilton
3245

Telephone

033 329 5600

Fax

033 329 5601

Email

Map