Life Chatsmed Garden Hospital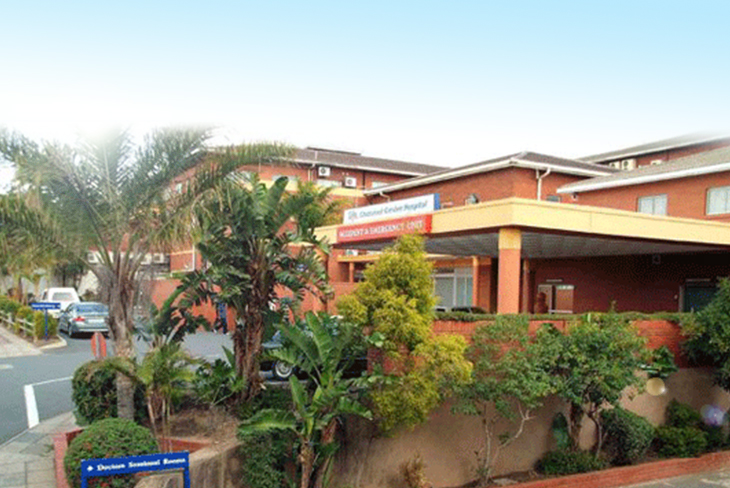 Overview
At Life Chatsmed Garden Hospital, the employees understand that they have a responsibility to meet the expectations of those who are entrusted to their care as well as the expectations of their loved ones. This 215-bed hospital has five operating theatres, and its first-class, dedicated team of health professionals delivers high-quality treatment in a large number of medical and surgical disciplines. Also available at this modern and sophisticated facility is state-of-the art diagnostic and surgical equipment ensuring world-class care for all our patients. There are also two digital operating theatres, a large intensive-care unit and a 20-bed psychiatric ward. Our employees at all levels actively participate in community initiatives to improve the quality of life in surrounding areas.
Emergency

Telephone

Email
Physical address

80 Woodhurst Drive, Woodhurst, Chatsworth, 4092

GPS

-29.90273 : 30.905575
Hospital manager

Ishan Sewpersad
Visiting hours
For visitation exceptions around neonatal ICU and paediatric wards contact the hospital directly or click here for more information.
General Wards
Weekdays
14h00 – 15h15
19h15 – 20h00
 Weekends & Public Holidays
 No children under 12 allowed
Intensive care unit/ High Care
Weekdays & Public Holidays
 11h10 – 12h00
19h15 – 20h00
 No children under 12 allowed
Medical services
Cardiology
Dentistry
Dermatology
Digital operating room
Endocrinology
Endoscopic surgery
Electroencephalography
Gastroenterological surgery
General practice
General surgery
Gynaecology
Laparoscopic surgery
Maxillofacial & oral surgery
Neonatology
Neurology
Nephrology
Obstetrics
Ophthalmology
Orthopaedic surgery
Paediatric endocrinology
Paediatrics
Pathology
Plastic & reconstructive surgery
Psychiatry
Pulmonology
Radiology
Rheumatology
Urology with lithotripsy
Vascular surgery
Ancillary services
Ambulance service
Audiology
Psychology
Biokinetics
Bone densitometry
Clinical psychology
Occupational therapy
Pharmacy
Physiotherapy
Renal dialysis
Sleep therapy
Speech therapy
Pre-admission clinic
Doctors
Anaesthesiologist(s)

Dr K Naidoo & Partners

0314014237

Dr R Naidu

0314018854

Dr S Singh

0314020710

Audiology & speech therapy

Karishma Manick

0314010339

Biokinetics

Mr Kiruben Naicker

0314598067

Cardiologists

Dr RK Naidu

0314037146

Dermatologist(s)

Dr A Moodley

0314930266

Dietician

N Reddy

0314598123

V Rugbur

0314598068

Ear, nose & throat surgeon(s)

Dr MA Naidoo

0314031215

Endocrinologist

Dr A Amod

0314021537

General surgeon(s)

Mr A Gounden

0314031369

Mr ADR Reddy

0314034403

Mr M Naidoo

0314031369

Maxillofacial and oral surgeon(s)

Dr V Garach

0314037101

Dr V Rughubar

0314019999

Nephrologist

Dr B Naidoo

0314010557

Neurologist(s)

Dr HC Haribhai

0314019133

Neuropsychologist

Dr T Lazarus

0314598067

Obstetricians & gynaecologist(s)

Dr L Augustine

0314011617

Dr N Parikh

0314011617

Dr SP Rampersadh

0314020710

Dr V Govender

0314017740

Occupational therapist(s)

Mrs M Naidoo

0314035589

Mrs R Singh

0314012647

Oncologist

Dr J Reddy

031 400 0040

Ophthalmic surgeon(s)

Dr KR Moodley

0314036018

Dr N Khan

0314020130

Dr SG Naidoo

0314036018

Orthopaedic surgeon(s)

Dr DD Beekarun

0314010003

Dr L Reddy

0314010003

Dr SA Moodley

0314010003

Orthotics / Prosthetics

Mr T Gangan

0314598067

Paediatrician(s)

Dr K Naidoo

0314039702

Dr N Chetty

0314038613

Dr T Maduray

0314039702

Physician(s)

Dr A Amod

0314021537

Dr AS Ramdass

0314037105

Dr PR Kambaran

0314037015

Physiotherapist(s)

Mr A Khan

0314030684

Mr D Lazarus & Mrs S Lazarus

0314032860

Mrs K Thandroyen

0314014171

Plastic and reconstructive surgeon

Mr M Pillay

0314013673

Psychiatrist(s)

Dr SK Kader

0314033108

Dr T Moodley

0314016372

Dr TB Viranna

0314019034

Psychologist(s)

Dr Guru Kistnasamy

031 459 8067/8 / 082 923 8520

Mr A Chetty

031 401 9999 / 083 789 9852

Mr C Venketsamy

0314030886

Pulmonologist

Dr MC Kamdar

0314598067

Sleep Dynamix


Nashreen Rampersad

0314011662
Travel Clinic


Dr Devan Moodley

0314598067

Urologist(s)

Dr D Bhagaloo

0314010557

Mr AB Asmal

0314037130

Mr NC Hargovan

0314037101

Vascular surgeon

Dr MZ Shaik

0314010987

Mr P Rajaruthnam

0314034403
Contact us

Physical address

80 Woodhurst Drive
Woodhurst, Chatsworth
4092

Postal address

PO Box 56602
Chatsworth
4030

Telephone

031 459 8000

Fax

031 403 5388

Email

Map