Paramedics and life support: the difference between BLS, ILS and ALS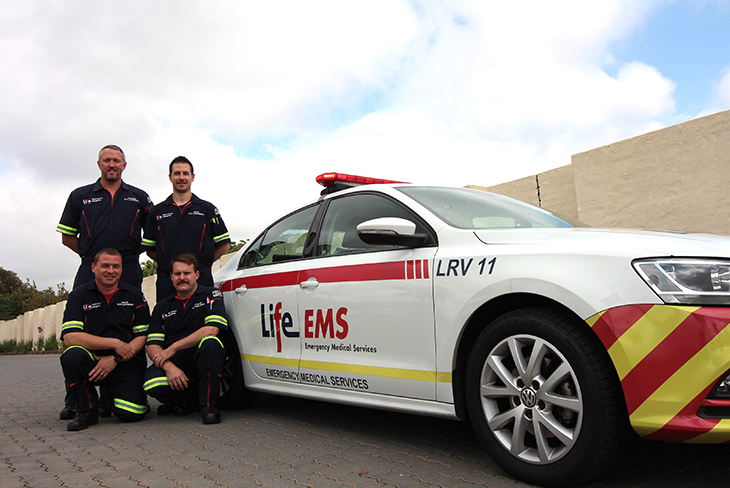 Advanced life support (ALS) paramedics have specialised emergency medical services (EMS) training in a set of life-saving protocols and skills that extend beyond basic life support (BLS) and intermediate life support (ILS). Warren Hastings, ALS paramedic at Life Fourways Hospital, explains the role these specially trained individuals play and how patients and their families can assist them in delivering the best treatment.
Emergency medical services in South Africa
Emergency medical services encompass ambulance and paramedic services that provide urgent prehospital care for the treatment and stabilisation of serious injuries and illnesses in an emergency.
'Life Healthcare dispatches free emergency medical services via our 0860 123 367 emergency number and provides ALS medical assistance to anyone needing help, regardless of income, within regions where our prehospital services are available (Gauteng: Life Flora Hospital, Life Fourways Hospital, Life The Glynnwood, Life Springs Parkland Hospital; Free State: Life Rosepark Hospital; Western Cape: Life Vincent Pallotti Hospital),' explains ALS paramedic Warren Hastings.
'We pride ourselves on our strong, neutral relationships with the government and private sector hospitals and EMS to deliver world-class ALS emergency care to anyone who needs it.'
ALS and the Chain of Survival
Imagine a chain and each link is an important step in delivering ALS emergency care:
activation of emergency response

high-quality CPR 

defibrillation 

advanced resuscitation 

post-cardiac arrest care 

recovery
This concept of the Chain of Survival was first documented by the American Heart Association in 1991. It represents the critical actions necessary to treat severe life-threatening emergencies such as heart attack, cardiac arrest, stroke and airway obstructions. 
'The chain is always as strong as the weakest link, hence Life Healthcare ensures continued learning in advanced cardiac, paediatric and international trauma life support,' Warren says. 'Our multidisciplinary approach means we have built strong connections with medical staff and specialists at Life Healthcare hospitals and beyond for the best care possible.'
Warren recalls a case where a child had fallen headfirst off a balcony on the first floor of a Johannesburg home. The dispatcher talked the caller through CPR while Warren and the EMS team made their way to the scene, so the child had a pulse upon their arrival.
'By the time we arrived, we were able to rapidly provide further advanced life support interventions and airlift the child to a facility for further definitive and intensive care. The child made a full recovery,' he says.
This is a good example of how the Chain of Survival works for the best possible outcomes – and the call was made early. CPR was done before they got there and a defibrillator was not necessary. 'The chain ensures cohesion in the whole team, bringing all the disciplines together for a rapid response to improve outcomes,' explains Warren. 
BLS, ILS and ALS: What's the difference?
Prehospital care is broadly classified into ALS, ILS and BLS levels according to the type of care provided. 
BLS and ILS are prehospital medical care used to ensure that a patient is stable enough for transportation for more appropriate medical care in hospital. 

ALS prehospital medical care uses more

sophisticated

methods, such as intravenous fluids and medications, in conjunction with advanced airway management and ventilation, on patients with the ultimate aim of decreasing mortality and improving health-related quality of life of the patient. 
Examples of situations that require BLS prehospital care: 
where an automated external defibrillator (AED) can be used for patients in cardiac arrest

non-critical dislocations and bone fractures

where patients do not require cardiac monitoring

when

psychiatric patients

only require transportation and no intervention

discharges to

step-down facilities

or hospital-to-home transfers, or vice versa 
Examples of situations that require ILS prehospital care:
when a patient is in cardiac arrest – ILS can diagnose and perform necessary defibrillation

where ECG interpretation is required

where a

diabetic emergency

needs to be managed –

ILS can provide some assistance

where

certain

intravenous therapy needs to be administered
Examples of situations that require ALS prehospital care:
where BLS and ILS treatment requires further intensive and critical-care intervention

from a more highly trained emergency care practitioner

in the management of patients, ranging from

premature birth

to geriatric emergencies

when treating medical/surgical patients who require continuous IV infusion medication

where patients need high-care/ICU or ventilatory and respiratory support

where patients require cardiac monitoring, with possible interventions such as cardioversion and

pacing

 
How can you help? 
'There's a lot that ordinary citizens can do to help paramedics. Firstly, list the symptoms to the dispatch unit in as much detail as you can. It really helps to have knowledge of CPR and basic life support or first aid, but if you don't, the medically trained dispatcher can talk you through it,' Warren explains.
'Patient history is another important factor and I encourage people to put these on the fridge, especially when it comes to the elderly, or for anyone living with chronic conditions and taking chronic medication. Last but not least, your doctor's contact number (if the patient has a primary-care physician or GP) and know the exact location and landmarks when talking to the dispatcher to give accurate directions for a speedy response.'
Important: All 41 Life Healthcare emergency units remain open at all times. Doctors, experienced nursing staff and specialists on call are available to ensure our patients receive the best emergency care. Save your nearest Life Healthcare emergency unit contact details in your mobile phone in case of medical emergencies or download this useful list of emergency numbers.
The information is shared on condition that readers will make their own determination, including seeking advice from a healthcare professional. E&OE. Life Healthcare Group Ltd does not accept any responsibility for any loss or damage suffered by the reader as a result of the information provided.