What specialists are in a stroke rehabilitation treatment team to help with recovery?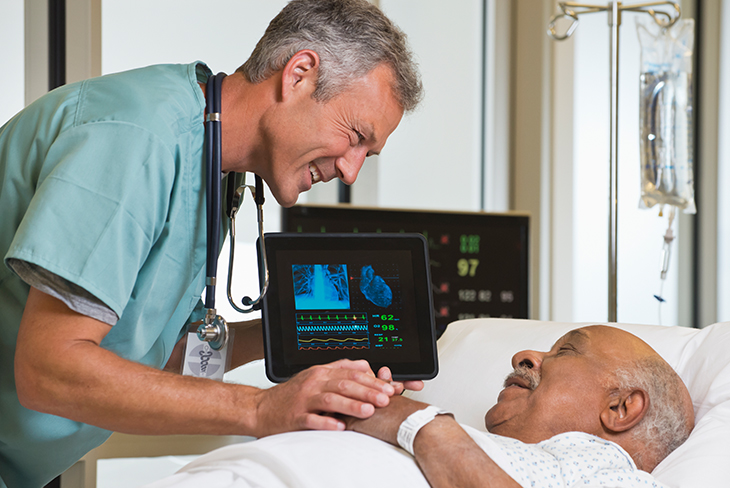 After a stroke, a multidisciplinary treatment team provides personalised care, helps to set goals for recovery and supports the patient through the highs and lows of the stroke journey. These are a few of the people who provide support for stroke patients. The objective is to ensure a seamless, integrated, coordinated and targeted care approach for a successful and functional recovery – with a focus on strength, balance, movement and optimal return to pre-stroke levels of functioning.
Strokes occur when a blockage or tear affects an artery carrying oxygen and nutrients to part of the brain, depriving it of blood. As a result, these brain cells may sustain permanent damage. 
Stroke-recovery support
Eighty-five percent of stroke complications occur within the first 48 to 72 hours and therefore a quick response is necessary to prevent and address complications. This is why it's vital that a stroke patient should be admitted to an acute facility as soon as possible to be stabilised. Here, a brain scan can be done and acute symptoms treated over the next week or so once the multidisciplinary team (including physicians, cardiologists and neurologists) have assessed the patient. Thereafter, the patient is admitted to a rehabilitation facility where the interdisciplinary team can assist with the next phase of the recovery process.    
Hannerie Pretorius, a physiotherapist at the Life Rehabilitation Unit at Life Pasteur Hospital, says stroke patients can experience 'weakness, paralysis, or increased muscle tone of the affected side, speech difficulty, and a range of cognitive impairments'. There are also emotional and behavioural changes, since the brain controls emotions and actions. 
Dr Michelle van Zyl, a rehabilitation doctor at the Life Rehabilitation Unit at Life Pasteur Hospital, explains that treatment depends largely on the stroke's severity. 'Depression, spasticity and other complications should be identified, and treatment initiated as early as possible,' she says. 
Stroke specialists
 With all the different *rehabilitation aspects involved, a coordinated approach between the interdisciplinary team members – including the stroke doctor, nurses, physiotherapists, a stroke speech therapist and occupational therapist (OT) – is required at the rehabilitation centre. They can then address each impairment, working together to reach the patient's goals, whether it's driving again or reintegrating into home life.  
Dr Van Zyl says the interdisciplinary team works much like an orchestra. Each team member 'has an integral role to play in the success of a patient's rehabilitation and each is irreplaceable', and the stroke doctor acts as a 'conductor' to 'facilitate the clinical decision-making of the team to reach the optimal rehabilitation goals for the patient'. 
*If you want to find out what to do after a family member has had a stroke, download this decision tree.
Speech therapy and physiotherapy for stroke patients
A physiotherapist aims to improve muscle strength and postural stability and control – vital to achieving functional goals and correct movement. 'Even swallowing is easier with the right posture and control,' says Hannerie. Stroke speech therapy is also implemented, improving communication and assisting further with swallowing. The nursing team then consolidates what has been learnt in therapy by repetition in the ward. 
Danny Joelson, charge therapist at the Life Rehabilitation Unit at Life New Kensington Clinic, says OTs then 'arrange for equipment [such as a walking frame] that may be required at discharge, with input from the physiotherapist'. OTs also treat the affected upper limb or arm through neuro-rehabilitative techniques and help the patient to relearn basic activities of daily living, such as eating, bathing and dressing. 'Stroke rehabilitation requires patience, compassion and a fair amount of discipline. After all it's a second chance at life,' says Danny.
Adapting to life after a stroke
The stroke social worker plays an important role in adapting after a stroke and helping to place the patient in the most suitable environment for their recovery, and providing family counselling. The OT then advises the family on making the home safer to prevent further injury from falls.    
After discharge from in-patient rehabilitation, outpatient rehabilitation is usually needed to further improve or maintain mobility.
Secondary stroke prevention is also crucial. 'Lifestyle changes and diet are discussed with the patient and advice is given regarding these by the team,' says Dr Van Zyl. Risk factors like smoking must be stopped and diabetes and high blood pressure should be managed with regular check-ups and appropriate medication. Addressing these and leading a healthy lifestyle will help to prevent a secondary stroke.
If you suspect that you've had a stroke, get help immediately to ensure a speedier recovery and a better quality of life after therapy. 
Find out more about Life Healthcare's specialised COVID-19 rehabilitation programme or contact one of the Life Rehabilitation Units based at the below hospitals:
KwaZulu-Natal 
Life Entabeni Hospital
031 204 7801
rehab.entabeni@lifehealthcare.co.za 
Gauteng
Life Eugene Marais Hospital
012 334 2603
rehab.eugenemarais@lifehealthcare.co.za 
Life New Kensington Clinic
011 538 4700
rehab.newkensington@lifehealthcare.co.za
Life Riverfield Lodge
086 074 8373
rehab.riverfieldlodge@lifehealthcare.co.za 
Free State
Life Pasteur Hospital
051 520 1207
rehab.pasteur@lifehealthcare.co.za 
Eastern Cape
Life St Dominic's Hospital
043 742 0723
rehab.stdominics@lifehealthcare.co.za 
Western Cape
Life Vincent Pallotti Hospital
021 506 5360
rehab.vincentpallotti@lifehealthcare.co.za 
The information is shared on condition that readers will make their own determination, including seeking advice from a healthcare professional. E&OE. Life Healthcare Group Ltd does not accept any responsibility for any loss or damage suffered by the reader as a result of the information provided.