Life Pasteur Hospital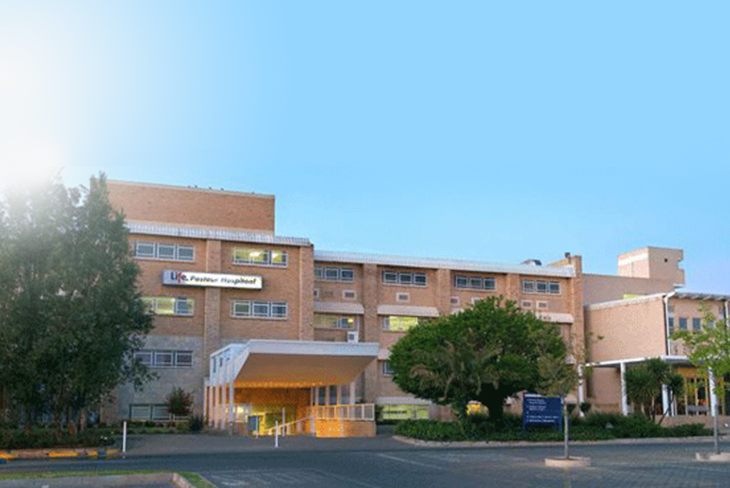 Overview
Life Pasteur Hospital is the only accredited, dedicated acute physical rehabilitation unit in central South Africa. Its focus is on specialised health care dedicated to treating and rehabilitating clients who have become acutely disabled by a stroke, major trauma, brain injury, spinal cord injury or by complex orthopaedic, neurological or medical conditions. It is a 47-bed rehabilitation unit with modern and sophisticated equipment to assist patients with their rehabilitation therapy. Life Pasteur Hospital employs a comprehensive team of healthcare professionals dedicated to providing co-ordinated and expert services to convalescing patients and their families. Experienced interdisciplinary teams, working together to achieve optimal functional independence through acute rehabilitation programmes that are custom developed for each patient, staff the hospital. Here you'll see Life Healthcare's pillars of life, health and care in action.
Telephone

Email
Physical address

54 Pasteur Drive, Hospital Park, Bloemfontein, 9301

GPS

-29.12868 : 26.19492
Practice Manager

Christina Fourie
Visiting hours
For visitation exceptions around neonatal ICU and paediatric wards contact the hospital directly or click here for more information.
We welcome all of our patients` visitors, as we know what a difference the support of close family and friends can make. However, bed rest and a quiet hospital environment is vital for healing. In the interest of our patients' wellbeing and the much needed rest that all of our patients require we do enforce visiting times. Visitors are restricted to three per patient at a time. Children are welcome but they must have an adult supervising them.
11:00 - 12:00
15:00 - 16:00
19:00 - 20:00
Visiting hours for rehabilitation unit: 16:00 - 20:00
Healthcare professionals
Rehabilitation doctors
Nursing staff
Physiotherapists
Occupational therapists
Speech therapists
Psychologist
Dietician
Contact us
Physical address

54 Pasteur Drive
Hospital Park
Bloemfontein
9301

Postal address

P O Box 8510
Bloemfontein
9300

Telephone

051 522 6601

Fax

051 522 6654

Practice manager

Christina Fourie

Email

Map
 Specialised services offered
FES (functional electrical stimulation): uses the application of small electrical charges to trigger muscle contractions. Some of the applications of FES include managing pain, improving strength of muscles and lifting the foot to improve walking.
Vitalstim therapy: this therapy modality uses electrical stimulation to improve swallowing and speech deficits.
AAC (alternative and augmentative communication) clinic: the focus of this clinic is to assist clients to communicate using alternative methods when they are unable to speak. Technologically advanced computerised equipment is used to assist with communication where needed.
Balance and vestibular clinic: the thera balance is an electrical and hydraulic dynamic standing frame which is used to improve a client's balance. Vestibular rehabilitation therapy (VRT) is an exercise based programme aimed at reducing the symptoms of dizziness and increasing balance and walking functions.
Im-Able: the Im-Able exerciser is a gaming device which is used to improve and re-train upper limb function, balance, memory and concentration.