Physiotherapy vs occupational therapy: Which is for you?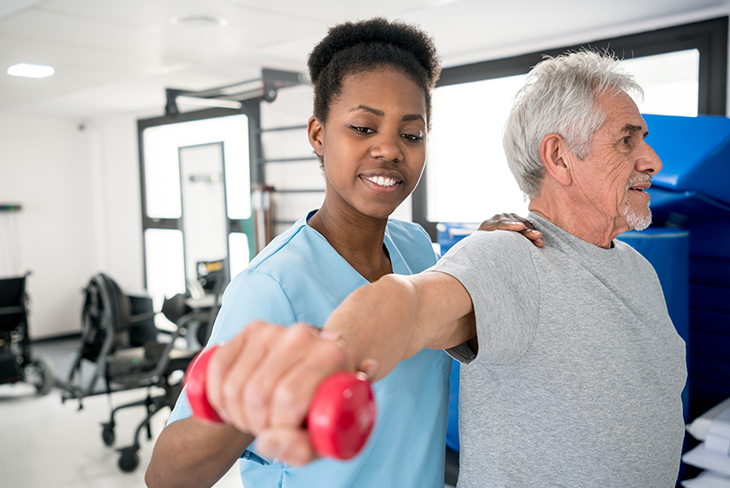 If you've suffered an injury, your medical professional may recommend a course of physiotherapy and/or occupational therapy as part of your physical rehabilitation journey. But what exactly do these modalities entail, and how can they help?
Physio: Making the most of movement
Belinda le Roux, a physiotherapist at Life Rehabilitation based at Life Eugene Marais Hospital, explains that physiotherapy is all about movement – so if you've been referred to a physiotherapist, you can expect a very hands-on approach that aims to restore your normal movement and functioning.
Physiotherapy rehabilitation aims to optimise patient function and wellbeing, which helps patients integrate back into activities at home or work.
This form of therapy is often used as a way to minimise pain – by not only treating the pain, but also its source. 'Our goal is to help people become as independent as possible,' Belinda says, adding that physiotherapy also aims to prevent injuries from recurring.
A typical physiotherapy session starts with an assessment, followed by physical therapies to address your unique health issue. These can range from mobilisation to manipulation, massage and acupressure. Physiotherapists will augment this with a range of exercises tailored to improve posture, and to strengthen and build your problem areas. They may also talk you through some relaxation techniques or incorporate hydrotherapy and biofeedback in your treatment. Chest physiotherapy is another area that can assist in rehabilitation. It helps to improve breathing by indirect removal of mucus from the breathing passages.
Physiotherapists work with sophisticated equipment, including electrotherapy devices that channel electrical currents to stimulate muscles and manage pain. They may also work with traction or use heat and ice, splints or walking aids to assist healing. Patient education is a significant part of the treatment and buy-in of patients are crucial to the success of the rehabilitation programme.
Belinda notes that physiotherapy has a broad range of applications: mothers preparing for labour and birth benefit just as much as tiny babies or people with cerebral palsy fighting lung infections. It's a useful tool for encouraging children and adults recovering from orthopaedic surgery, injury and even burns to regain their full range of movement. Physiotherapy also assists older patients in the analysis and treatment of aches occurring as part of the ageing process. Sportspeople often consult physiotherapists to enhance performance, and it can even be used to support learners with special needs.
Regaining mobility
'Occupational therapy (OT) is all about occupation – not related to work, as you might think, but rather the tasks and activities that give our lives meaning,' says Karin Weskamp, an occupational therapist at Life Rehabilitation based at Life Vincent Pallotti Hospital.
Often, it's these activities that are affected when people are injured, and the inability to complete routine tasks can be as damaging as the injury itself. This is why OT is crucial: it helps individuals regain abilities and, in cases where this is not possible, finds alternatives that will make them feel just as capable. 'My job is to understand who my clients are so that I can assist them to return to their former, or an acceptable, state of functioning,' Karin notes.
Each patient starts with an assessment that examines how they usually spend their days, taking into account work as well as hobbies. In particular, fine motor skills are assessed to determine if and how the dexterity of the coordination of small muscles in their limbs have been affected through injury.
'Imagine, for example, someone who worked as a mechanic before they were injured. We would scrutinise all parts of their job, then try to work with the client so that they can do their job again. But if this is not possible, we would try to find ways to modify the job,' Karin says.
It's all about getting people to engage with their lives once more. This makes the occupational therapist's task a complex one, as it involves a degree of counselling. Karin isn't above a bit of tough love: 'Sometimes life is challenging and we need to face unpleasant emotions. This can make patients angry, but it is indifference to what's going on around them that can hinder their rehabilitation journey.'
The occupational therapist's counselling skills may be used in other ways, too. For example, if the client can't resume their former pastimes, talking about other hobbies or things they used to enjoy in childhood may help unearth potential new interests. The fact that someone enjoys cycling, say, but doesn't particularly like soccer may be a hint that they prefer solitary pursuits over team activities.
Occupational therapist's will often collaborate with an interdisciplinary team. As a specialist in hand injuries, Karin frequently partners with orthopaedic surgeons, prosthetics specialists and physiotherapists. Nurses and nutritionists may also be invited to share their expertise. 'Ultimately, we're working to help people rediscover their sense of purpose,' Karin concludes.
The information is shared on condition that readers will make their own determination, including seeking advice from a healthcare professional. E&OE. Life Healthcare Group Ltd does not accept any responsibility for any loss or damage suffered by the reader as a result of the information provided.