A day in the life of an Emergency Unit doctor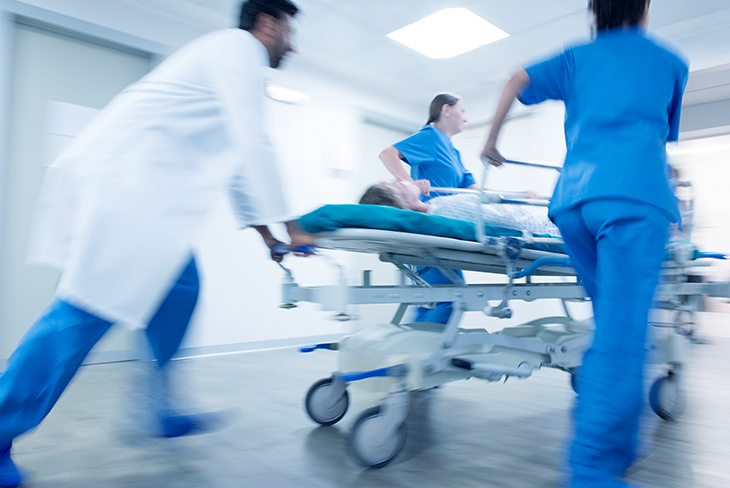 There is no typical day in an emergency unit (EU) – it's a busy, dynamic place, but Dr Michael Waldeck, Emergency Unit Head at Life Wilgeheuwel Hospital, in Johannesburg, says staff balance the ups, downs and challenges, and support each other through it all.
COVID-19 has changed everything about the way the world works, and this is especially relevant to emergency units, which usually experience high volumes, plenty of foot traffic and waiting areas filled with patients seeking treatment – as well as, often, concerned family or friends.
But while it has required heightened safety protocols to prevent infection, the team dynamic in the emergency unit remains supportive and collaborative and always aimed at saving people's lives. 
A day in the life of an emergency unit doctor
Dr Michael Waldeck's shift at Life Wilgeheuwel Hospital starts with coffee and a prayer for his staff and patients. 'As a doctor, sometimes you win, sometimes you lose. We see it all – life and death in one day,' he says. 'Death in the EU is difficult for staff too. We provide high-quality care and do all we can – and sometimes it still isn't enough.' 
Triage
Currently, the emergency unit is divided into respiratory and non-respiratory areas as a way of sorting arrivals, and patients are triaged or prioritised into levels of severity. 'Teams are firing on all cylinders during the ongoing COVID-19 pandemic and patients with life-threatening emergencies are attended to first, therefore patience is key,' explains Dr Waldeck.
He finds himself daily at the bedside of patients, encouraging them to just hang in there – and fight. 'The most rewarding experience is when a critically ill patient recovers and walks out of the hospital with grateful family members because our skills and expertise as a multidisciplinary team helped them live another day,' he says. 
Emergency unit providing world-class treatment 
'You never know what emergency is going to come into the hospital: a COVID-19-positive person with severe symptoms, a child that needs resuscitation following a near-drowning, survivors of a car accident, broken bones and dislocations, severe-burn victims, drug or alcohol poisoning, patients with stroke symptoms, and even patients complaining of chest pain that may be suffering a heart attack. No one day is the same – it can be all of the above and more,' Dr Waldeck explains.
Working hand in hand with the EU, emergency paramedics do their best to ensure patients arrive at the hospital already stabilised, and then the EU doctor takes over.
The EU team immediately treats any injuries, infections and other conditions that will help to further stabilise or treat the patient. In addition, EU doctors can request medical tests, including blood and histology reports (to get a better view of organs, tissues and cells), create treatment plans and refer patients to appropriate specialists.  
A team approach 
Dr Waldeck sings the praises of his team. 'When we have busy, hectic days and the EU is at capacity – no one goes home, even if their shift has ended. The camaraderie is truly a beautiful thing to see in action,' he says.
'We help each other arrange beds, see extra patients and pick up ringing phones; we all pitch in to keep the system running. Often there's no time to eat or even fit in a bathroom break.'
More than once he has arrived home exhausted and hungry only to have dinner delivered on his doorstep by someone in the community. 'The generosity from the community has extended to the hospital too. During the ongoing pandemic, we have received coffee pods, crates of energy drinks, snacks and drinks to keep our morale up,' he says.
EU doctor lifestyle challenges 
In the month of June 2021, because of the increase in COVID-19 cases, Dr Waldeck spent 280 hours in the EU: about 24 days of 12-hour shifts.
'The universal challenge of being an EU doctor is not seeing much of your family, or having little time for anything else. I have often heard my 6-year-old daughter pray during the third COVID-19 wave for everyone to get better, for the hospital to calm down and for everyone to go home,' he says.
At the time of writing this article, Dr Waldeck was home recovering from COVID-19. 'It is a very tough situation when doctors get sick, as it places pressure on an already overburdened medical team. I feel so helpless not being able to be in the EU at the moment,' he says.
How you can help
If you find yourself in the EU, it is important to let a doctor or nurse know if your condition changes, which means you will be reassessed immediately.
Furthermore, he urges the public to abide by non-pharmaceutical interventions to prevent infection, such as handwashing, social distancing and wearing masks, which have been proven to make a difference, and to vaccinate as soon as you're eligible. 
Important: All 41 Life Healthcare emergency units remain open at all times. Doctors, experienced nursing staff and specialists on call are available to ensure our patients receive the best emergency care. Save your nearest Life Healthcare emergency unit contact details on your mobile phone in case of medical emergencies.
The information is shared on condition that readers will make their own determination, including seeking advice from a healthcare professional. E&OE. Life Healthcare Group Ltd does not accept any responsibility for any loss or damage suffered by the reader as a result of the information provided.