Why stroke caregivers should look after their own health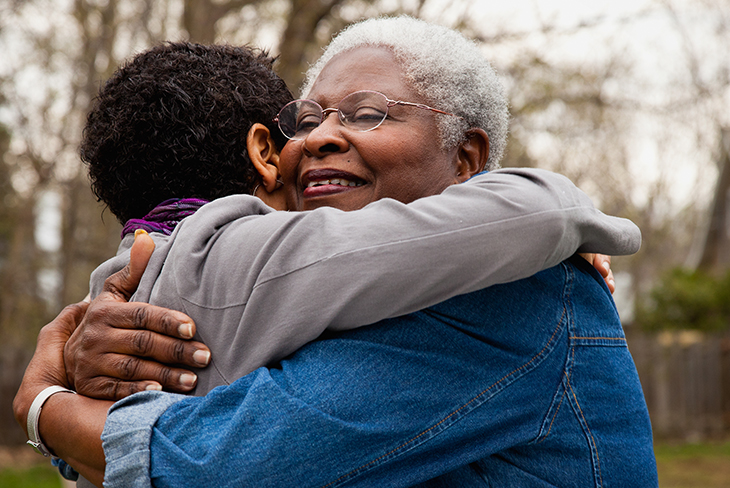 Caregivers are often so busy looking after the stroke patient that their own health suffers. Life Healthcare shares advice for caregivers.
Caring for a loved one who is ill, recovering or frail can be a rewarding experience. But there's no denying it can take its toll on the caregiver's physical and mental energy reserves. Psychology Today defines caregiver burnout as 'a state of mental and emotional exhaustion brought on by prolonged or repeated stress'.
As a caregiver, you have this new responsibility in addition to maintaining your day-to-day life. A set of tools can help you look after yourself, achieve balance and stave off any looming caregiver fatigue.
Cilia Slabbert, a social worker in the Life Rehabilitation Unit at Life Eugene Marais Hospital, says being a caregiver is one of the toughest jobs out there. Cilia and Anna Bizos, a physiotherapist at the Life Rehabilitation Unit at Life New Kensington Clinic in Johannesburg, offer this advice:
1. Look out for caregiver burnout symptoms
Cilia says it's normal to have conflicting emotions as a caregiver. While the carer wants to tend to their loved one who has had a stroke, they might feel overwhelmed, irritable, guilty or angry. Those emotions could be an indication that more self-care is needed, and you should never delay getting professional help. Other signs to watch out for are:
Health problems: headaches, heartburn, repeated colds
Sleep changes: too much or too little sleep
Social withdrawal: not seeing friends or family
'Recognising that you need help takes strength and courage,' says Cilia. Once you've taken this important step, you can seek out assistance from stroke support groups, your doctor or a counsellor.
2. Be open to accepting help
'Don't be a hero at your own cost. And don't share a room with the person you're caring for, unless there is no alternative,' Anna recommends. Stroke caregiver support is essential. Talk to others in the same situation to lighten the emotional load. Suggest specific things people can help you with – for example, if you're struggling to find time to cook healthy meals, ask members of your network to bring over a pot of something tasty.
 3. Caregiver wellness is underrated
Wellness refers to more than just mental health. Caregiving might involve lifting someone in and out of bed or pushing them in a wheelchair. Anna recommends speaking to a physiotherapist or an occupational therapist to learn the correct way to undertake these tasks to avoid injury. 'It's rarely about strength and more about technique,' she explains.
4. Be prepared
Getting organised is the first step to managing stressful situations. Carrying these items with you daily could help:
5. Learn to accept change
Read up on your loved one's condition or speak to their interdisciplinary team. Information is empowering and gives you some control over a difficult situation, says Cilia. However, it's important to understand that your loved one is going through many changes, so don't be too alarmed or surprised if they behave differently. Finding a way forward after stroke can be extremely challenging, so acknowledge your feelings and remember that feelings come and go. Tomorrow is another chance to do things better.
A psychologist or social worker can help you cope with your emotions and prevent burnout. Book an appointment with one of Life Healthcare's trained mental health professionals by contacting the email addresses below.
Gauteng
Life Brackenview
010 009 6200
johan.lombaard@lifehealthcare.co.za

Life Carstenview
011 655 5519

Life Glynnview
011 741 5460
tyron.schelin@lifehealthcare.co.za

Life Poortview
087 352 2100
glynis.krebser@lifehealthcare.co.za

Life Riverfield Lodge
087 352 2100
glynis.krebser@lifehealthcare.co.za
Western Cape
Life St. Vincent's
021 506 5111
regan.beukes@lifehealthcare.co.za
KwaZulu-Natal
Life St. Joseph's
031 204 1470
support.stjosephs@lifehealthcare.co.za
The information is shared on condition that readers will make their own determination, including seeking advice from a healthcare professional. E&OE. Life Healthcare Group Ltd does not accept any responsibility for any loss or damage suffered by the reader as a result of the information provided.