Pack a healthy meal for lunch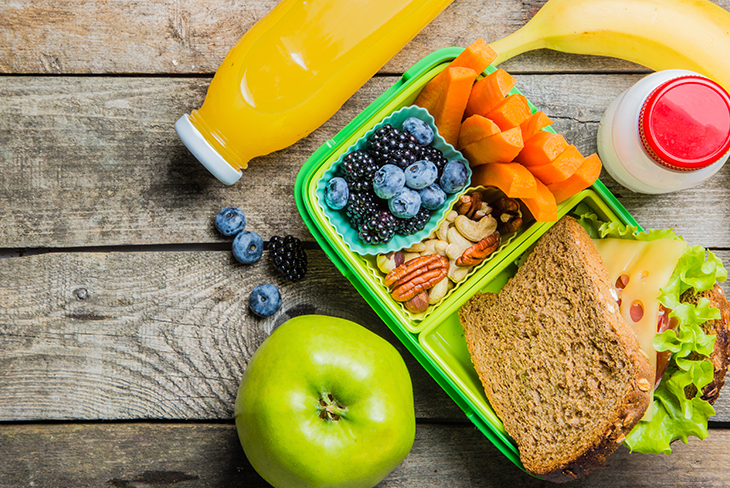 Master the art of packing healthy meals for work and school that are nutritionally balanced, give you an energy boost and keep you performing at your peak.
Preparing and packing healthy food for lunch is one way to start the year on a positive note. Maybe you're trying to lose excess weight, or perhaps you simply want to ensure that you and your family stay satisfied during the day. Whatever the reason, there are so many pros to taking control of what you're eating at work or what your kids are eating at school.
Make your own
According to CNBC Africa, South Africans have a strong culture of eating out, which includes takeaways, fast food and convenient ready meals. 'The workplace doesn't always make it easy for people to make healthy choices – cafeterias sell unhealthy food, or the healthier options are often more expensive. And lunchtimes aren't always adhered to because work takes precedence, so by the time employees get to eat they are hungry and make unhealthy food choices. Stress at work contributes too,' says registered dietitian Mpho Tshukudu.
But there does seem to be an ever-increasing consciousness about meal planning and eating healthily. Many retailers and medical aids reward members and clients for making healthy choices, and an influx of new iPhone and Android apps help you check specials, share recipes, suggest meals and ingredients, and highlight money-saving options. While the planning and preparing may sound like a lot of effort, focus on the benefits for you and your family and use the strategies below to make packing meals for work or school easier.
Nutritional balance
You need to include all the components in your diet for healthy living. 'We maintain good blood-sugar levels by choosing a balance of carbohydrates, fats and proteins,' says dietitian Nathalie Mat. Pack lunches that include at least three of the four food groups:
Grains and starches: wholegrain bread or pasta, crackers, pitas and wraps
Fruit and vegetables: veggies with a dip (use yoghurt or low-fat cottage cheese instead of mayonnaise), stir-fry, soup, fruit slices and fruit kebabs
Milk and milk alternatives: yoghurt, cheese portions, soy/almond/cow's milk, cottage cheese
Meat and meat alternatives: lean meat (turkey, chicken breasts, pork tenderloin), sustainable fish, eggs, peanut butter, hummus, tofu, nuts or seeds, lean biltong (but be mindful of the salt content)
Advanced planning
Getting organised is essential to success since you are less likely to get up early to prepare food in the morning or pack mindfully when you're in a rush. Use the following tips:
Set aside Sunday evening to prep meals for at least the first three days of the week. Julienne vegetables, boil pasta and portion out proteins in advance, then assemble the night before it's needed.
Involve your kids by bringing them to the supermarket and let them pick out fruit and vegetables they would like to try.
Buy grab-and-go healthy snacks like packets of raisins, and dried fruit and nuts. Keep these in your office drawer to avoid the temptation of sweets and chocolates. Also keep fresh fruit on your desk or in the fridge, and take along pre-cut fruit and vegetables.
Home-made is best
Preparing your own food allows you to control the ingredients, which means less sugar, kilojoules, sodium and fat. Get creative with leftovers and use chicken, pasta, rice and veggies to create healthy, flavourful lunch options. While convenience meals often score high in office-lunch options, they are laden with processed elements, salt and hidden kilojoules.
Lunch tips 101
Invest in small resealable containers to pack sauces, dressings and condiments.
When packing soup, freeze it so it stays cold for several hours.
Pack orange wedges with apple slices to keep the apple from turning brown.
Freeze fruit overnight, then add it to yoghurt in the morning to keep it cool until lunchtime.
Yoghurt, pasta and salad require napkins and cutlery, so remember to include.
The information is shared on condition that readers will make their own determination, including seeking advice from a healthcare professional. E&OE. Life Healthcare Group Ltd does not accept any responsibility for any loss or damage suffered by the reader as a result of the information provided.