Stroke: break a sweat to lower your risk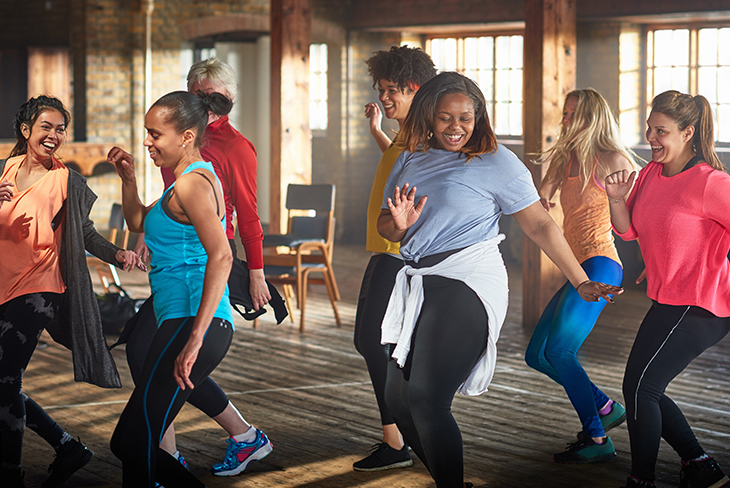 Exercise could help lower your risk for stroke. We challenge you to move more this month and track your progress.
Your family history, age and gender are stroke risk factors that may need a doctor's intervention. The good news is, lifestyle risk factors such as obesity and hypertension could be addressed with regular exercise, and screenings that assess and monitor your risk.
According to research published in the ISRN Neurology Journal, exercising for at least 30 minutes per day could reduce the chances of stroke by 20 to 30%. Furthermore, working out helps with weight loss. Research by Harvard University revealed that losing a minimum of 5 to 10% of your body weight could lower your risk for hypertension, the leading stroke risk factor.
Belinda le Roux, a physiotherapist at the Life Rehabilitation Unit at Life Eugene Marais Hospital, says one of the main purposes of working out is to increase your heart rate to exercise the heart muscle. This is why cardiovascular exercise is particularly good for overall health.
Why is stroke linked to a sedentary lifestyle?
'A sedentary lifestyle increases the risk of stroke and heart disease because of the likelihood of the development of blood clots, obesity due to inactivity, increased blood glucose levels, and higher blood pressure levels due to stress and inactivity,' explains Belinda.
According to research released by data analytics platform App Annie, downloads of fitness and exercise apps jumped 40% in the last week of March 2020, compared to the average of the first two months of the year, and as lockdown restrictions sharpened in the UK, that number increased to 65%. Many people could see the benefits of daily exercise, exercising at home, at first, and then, as restrictions eased, running, cycling and walking also became popular.
Belinda suggests these exercises to lower your risk.
Try these exercises to reduce your stroke risk
1. Dance fitness
Dance fitness usually includes cardio, weight-bearing and coordination. To get started, ask around or research where you can safely do a dance fitness class such as Zumba. 'This kind of exercise can put a lot of strain on joints (due to the jumping and fast movements). So, start slow and gradually increase your pace,' advises Belinda. There are plenty of fitness videos and tips on YouTube and Instagram. Try starting with Strong Nation or Dance Fitness with Jessica.
2. Barre
Barre exercise usually includes weight-bearing and flexibility exercises. Although similar to dance fitness, the pace is slow and includes elements of ballet and pilates. 'Elderly people should be aware that this exercise could put a strain on joints and ligaments,' says Belinda.
3. Swimming
Swimming is excellent for building flexibility and strength. If you don't have a pool, find out if your gym has pool facilities that you can access with the necessary safety protocols. Don't worry if you can't swim, doing a few lessons will still give you a workout, along with learning a new skill.
4. Yoga
This exercise can help you become more flexible and strong without putting extra strain on your joints. It also aids relaxation and mind-body awareness. Yoga workout apps are easy to find on the App Store and Google Play, and if you do a quick online search, you might find yoga classes in your area. Try Yoga with Adriene or apps such as Daily Yoga and 5 Minute Yoga.
5. Skipping
Skipping rope engages your entire body. This makes it an effective full-body workout and as it gets your heart rate up, it's a good cardiovascular exercise. Best of all, it burns 3.054 kilojoules per hour, can be done anywhere and is tons of fun.
How to stay motivated
Remember your motivation and visualise your 'why'.
Keep in mind why you started exercising in the first place – to reduce the chance of stroke. By doing this, you're creating an internal motivation, rather than external motivation, which may include the opinion of loved ones and co-workers. As internal motivation comes from within, it is more personally rewarding and stable.
Take baby steps.
If you've never exercised before, taking on too much could discourage you. Starting small and challenging yourself as you go will motivate you. For instance, start out swimming one lap per day. When it starts feeling easy, try doing an extra lap next, and so on.
Track your progress.
Use our nifty downloadable calendar to track your progress for a month. It will help keep you motivated to stick to your schedule. Writing out your plan also strengthens your commitment and assists you to stay on top of your schedule. What's more, there's the added satisfaction of crossing off days to show how much you've accomplished! Just remember to always consult a healthcare professional before starting any new exercise regimen, and alert your doctor immediately about any health concerns.
Tag team.
It's not as easy to bail on your afternoon workout if someone is counting on you. Having a workout partner adds more motivation to exercise because you can hold each other accountable. Activities are also more fun in pairs, so grab a friend and get healthy together. Many people are also longing for connection, so a workout buddy is good for your mental health too.
Keep it fresh.
Doing different workouts will keep things interesting and will ensure that you are targeting the different parts of your body. For example, you could alternate yoga and strength workouts during the week and swim on the weekend. As gyms reopen, you might want to alternate between gym and home workouts.
A note from the expert
'Regular physical activity improves your overall quality of life. World Health Organization exercise guidelines for general overall health advise 30 minutes of moderate exercise per day. If you have a specific goal in mind, like losing weight, you might need to increase the frequency of exercise. Consult your doctor and physiotherapist to assist in attaining your goals,' says Belinda.

The information is shared on condition that readers will make their own determination, including seeking advice from a healthcare professional. E&OE. Life Healthcare Group Ltd does not accept any responsibility for any loss or damage suffered by the reader as a result of the information provided.