Aquatic physiotherapy: the healing power of water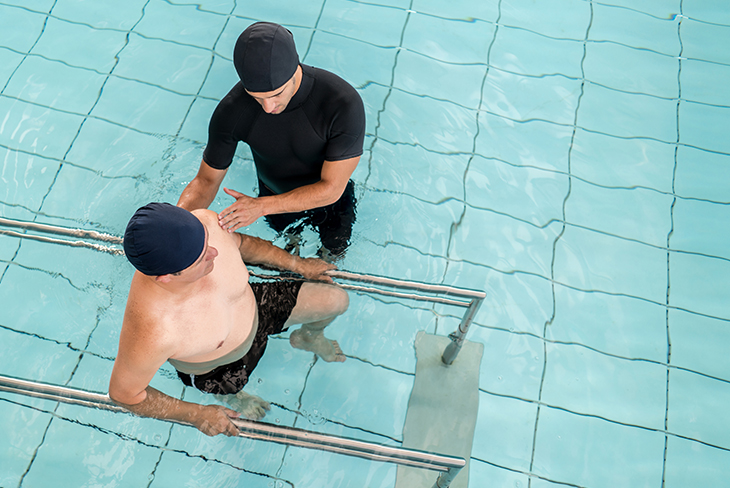 If you enjoy soaking in a hot bath, you know about the healing properties of warm water. But did you know that it can also benefit some health conditions? These are the benefits of aquatic physiotherapy.
Carina Basset, a physiotherapist at the Life Rehabilitation Unit at Life St Dominic's Hospital, explains that aquatic physiotherapy, also known as hydrotherapy, is a rehabilitation tool that essentially requires two things: a registered physiotherapist with formal training, and thermoneutral water (water that is maintained at 34–35°C).
'The physiotherapist's role is to get the patient used to the water (especially if they are wary of it), guide them through exercises that will help their recovery, and end off with stretches,' says Carina. She adds that props and equipment can be used, such as floating devices and weights, but those are not essential.
Advantages of hydrotherapy
As simple as this sounds, the outcomes of aquatic physiotherapy can be extensive, and include improved:
Pain management
Muscle power
Balance
Coordination
Proprioception (body awareness)
Flexibility
Mobility
Circulation
Emotional wellbeing
This makes it a powerful physical rehabilitation technique to help patients achieve a better quality of life.
How does aquatic physiotherapy work?
For some people, moving in water can be easier and safer than on land. Christine De Greef, a physiotherapist who has specialised in aquatic physiotherapy and who locums at the Life Rehabilitation Unit at Life St Dominic's Hospital, explains: 'Your body weight in water is much [lighter] than on land. This makes it easier for patients to move and exercise. And the temperature of the water is therapeutic and relaxing, and therefore movements are less painful and can be performed slowly. Patients also experience less fear of falling, as the water supports them even if they lose their balance.' 
However, while aquatic physiotherapy can make doing exercises easier, it doesn't mean the exercises are easy, adds Christine. Patients must continuously use their core muscles to control their buoyancy, while the pressure of water creates resistance on inhalations and lengthens exhalations, which increases their cardiovascular workout.
Small adjustments can also make exercises much harder. For example, water assists with slow movements, but quick movements create drag and are therefore more strenuous. 
What does aquatic physiotherapy treat?
Aquatic physiotherapy can benefit patients with a range of conditions, such as:
Multiple fractures
Amputations
Arthritis
Chronic pain
Difficulty balancing
Post-neurological surgeries
Neurological conditions
Spinal cord injuries
Another advantage is that it can be used for patients of all ages and varying abilities – including those who cannot swim.
However, there are risks, says Carina. 'Patients with cardiac conditions must be cleared by their doctor, and extra precautions need to be taken by the physiotherapist. And we need to be careful that the water temperature does not exceed 35°C for pregnant women.'
It is also not advised where patients have unstable diabetes and hypertension, resting angina, uncontrolled cardiac failure, acute vomiting or diarrhoea, and open infected wounds, to name some examples.
The information is shared on condition that readers will make their own determination, including seeking advice from a healthcare professional. E&OE. Life Healthcare Group Ltd does not accept any responsibility for any loss or damage suffered by the reader as a result of the information provided.