Your renal treatment dream team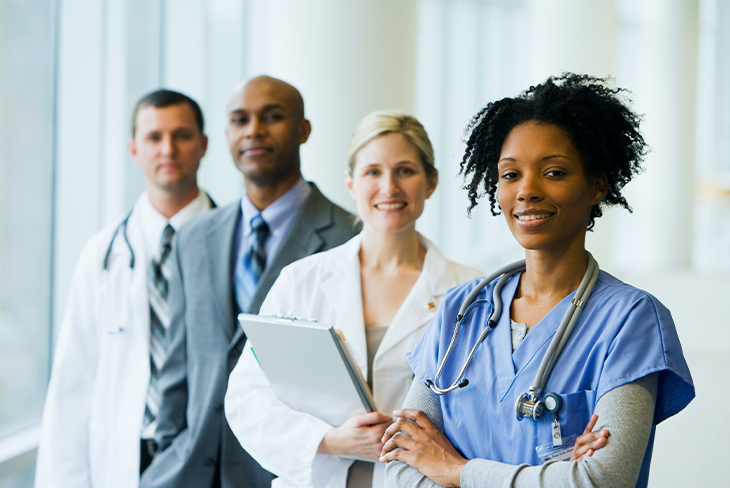 Good healthcare is a team effort – especially for people with chronic kidney disease (CKD). Since each member of a kidney treatment team contributes to the patient's wellbeing, it's crucial to build a good relationship with them. Here are five of the most important specialists.
Find a list of specialised services at Life Healthcare available to you.
1. The nephrologist
The nephrologist, or kidney doctor, is the team leader. He has the final say in your treatment. Anette Gouws, Renal Dialysis Unit Manager at the Life Renal Dialysis unit at Life Robinson Private Hospital, explains: 'The nephrologist has advanced training in treating kidney disease. He is responsible for the patient's care during dialysis.'
You will get to know your nephrologist through your regular dialysis treatments. Your nephrologist will make sure the dialysis machine is doing what your kidneys are no longer able to do – removing excess waste fluids from your blood.
'The nephrologist will also take care of a patient before and after a kidney transplant,' says Anette, referring to that magical moment when you find out there's been a match and you're getting a new kidney.
2. Nephrology nurse
The nephrology nurse specialises in the care of patients with renal failure. 
'They are responsible for assessing patients, ensuring that medication and treatment are administered correctly and overseeing the dialysis process on a daily basis,' she explains. The nephrology nurse is also responsible for training the patient to do self-dialysis at home and offers support to the family.
3. Renal dietitian
For CKD patients, diet is extremely important. Salt and processed food should be avoided, while plenty of protein like fish, chicken and red meat should be eaten at every meal. 
'Renal dietitians have specialised degrees in dietetics,' says Anette, 'and educate patients regarding potassium, phosphate and sodium.' Because diet is so important to a patient with kidney disease, it's vital to build a good relationship with your renal dietitian and listen to their advice.
4. Social worker
The social worker is there to help the patient and their family cope. Finding out that you suffer from CKD can be a huge shock – and a major lifestyle adjustment. 
'Your social worker will provide counselling to help you deal with kidney disease and the changes it brings to your family, home and workplace. She is there to give you emotional support,' explains Anette.
5. Vascular access surgeon
'This doctor will perform minor surgery on your arm, leg, neck or chest to create access that enables you to be connected to a dialysis machine during your treatment,' says Anette. This access can either be a fistula, graft or catheter. 
Having one of these access points means the vascular access surgeon doesn't need to perform surgery at each dialysis session. The access must be kept completely clean at all times to avoid infection.
For a patient living with chronic kidney disease, the care team offers physical and emotional support. Life Renal Dialysis is a specialised healthcare service providing acute and chronic renal dialysis services. Our facilities offer the latest renal dialysis technology as well as ease of access to hospital specialists, physicians, advanced imaging and laboratory facilities.
The information is shared on condition that readers will make their own determination, including seeking advice from a healthcare professional. E&OE. Life Healthcare Group Ltd does not accept any responsibility for any loss or damage suffered by the reader as a result of the information provided.