'There is life after spinal cord injury'
In February 2008, 26-year-old Freddy Ntumba was on his way to work when a car suddenly turned in front of his motorbike. He was flung into the air and, in a matter of seconds, life as he knew it was over. His story of life after spinal cord injury is inspiring and empowering.
The accident
'I remember seeing the car, feeling the impact... and then nothing. When I came around, I was still at the scene. Everything was a blur and I thought it was a dream. I kept losing consciousness and only realised two days later when I awoke in hospital that it wasn't a dream. That's when I discovered I had broken my right arm and my neck – and that I was paralysed from the chest down. My first question was "Will I be fine?" and I was told that the doctors didn't know, which is what they also said when I asked if I was going to be "like this" for the rest of my life.'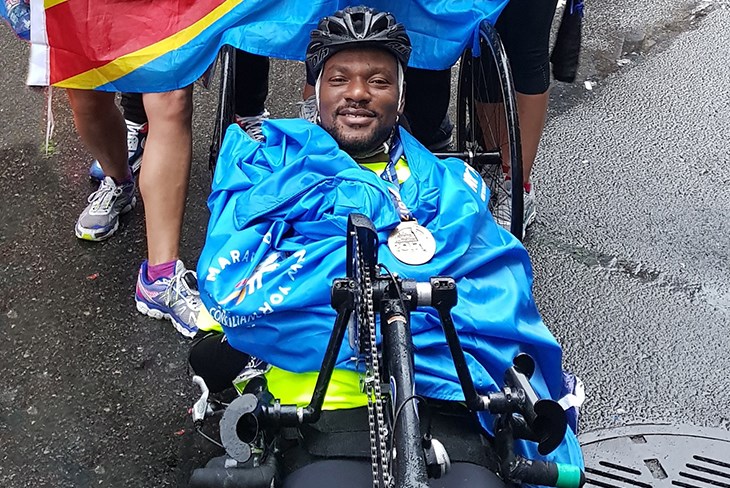 Rehabilitation after spinal cord injury (SCI)
'Strangely enough, I never felt any anger or felt sorry for myself. Right there and then, I decided I was going to fight. I was too young to give up. I had been fit and healthy – I played soccer, swam and regularly went to the gym – and I was determined to reclaim my life. 
'I was moved to the Life Rehabilitation Unit at Life New Kensington Clinic six weeks later, and it became my home for the next eight months. It was slow-going. After two months, I could only tolerate tilt-table exercises and I had some pretty bad moments when I couldn't believe how tough everything was. But I had the most fantastic team who welcomed me with open arms and never left my side.
'The nurses and therapists became part of my family, caring for me with love and lots of laughter, especially on my bad days, encouraging me every step of the way to help me get to where I needed to be.
'They were always there for me, as were my family and friends – I had so much support that I never felt alone. It took a great deal of physical and mental effort and adjustment – and really hard work.'
Living with SCI
'The first thing I wanted to do when I was discharged was to get back to work! The IT company I worked for bought me a power wheelchair and I slowly started picking up the pieces of my life.
'Twelve years down the line, I'm living a full and happy life. I go to church, I'm self-employed and I play wheelchair rugby. Three years ago, I completed the New York City Marathon – another great milestone – proof that having a spinal cord injury isn't the end of the world. That's what I try to explain to other SCI patients, both here and in my native Congo – that it's important to be positive and not to give up. Motivating fellow patients started while I was admitted to the Rehabilitation Unit. I'd see them crying and depressed and I'd go to their bedside or speak to them from my bed, encouraging them to fight.
'There's life after SCI – obviously not the same as before, but it's there to be lived – and once you get your head right, nothing can stand in your way!'
For more about living with SCI, visit the QASA website.
Life Rehabilitation team at Life New Kensington Clinic
'Freddy was a 26-year-old who was admitted to our facility on 28 March 2008 following a motorbike accident that had occurred one month previously. The injury to the C6 level (the sixth cervical vertebra) caused by the accident meant that he would live as a person with quadriplegia.
'On admission, he had limited shoulder, elbow and wrist movement, with no movement present in his hands, trunk and lower limbs. Even though he suffered from intermittent bouts of depression, he never let it interfere with his progress. His therapists motivated him and his employer encouraged him to learn about continuing his work and adaptations to his work environment.  
'Since his discharge, Freddy has revisited the unit to assist in coaching and mentoring other young patients living with SCI. He participates in many sporting activities and is a well-adjusted person – a true inspiration to us all.'
Explaining spinal cord injury (SCI)
Complete spinal cord injury
Paraplegia (lower-body paralysis)
Quadriplegia (full-body paralysis)
Incomplete spinal cord injury
Brown-Séquard syndrome (damage to one half of the spinal cord)
Anterior cord injury
Posterior cord injury
Central cord injury
Bodily functions lost due to SCI
Cervical nerve
Head
Shoulders
Neck
Diaphragm
Hands
Arms
Thoracic nerve
Chest muscles
Abdomen
Back m

uscles
Lumbar nerve
Hip muscles
Knee muscles
Thigh muscles
Foot muscles
Sacral nerve
Bladder and bowel function
Sexual function
Sources: QuadPara Association of South Africa (QASA), Freedom Wand, People with Spinal Cord Injury in Republic of South Africa report, 2017
The information is shared on condition that readers will make their own determination, including seeking advice from a healthcare professional. E&OE. Life Healthcare Group Ltd does not accept any responsibility for any loss or damage suffered by the reader as a result of the information provided.