Dealing with disability at work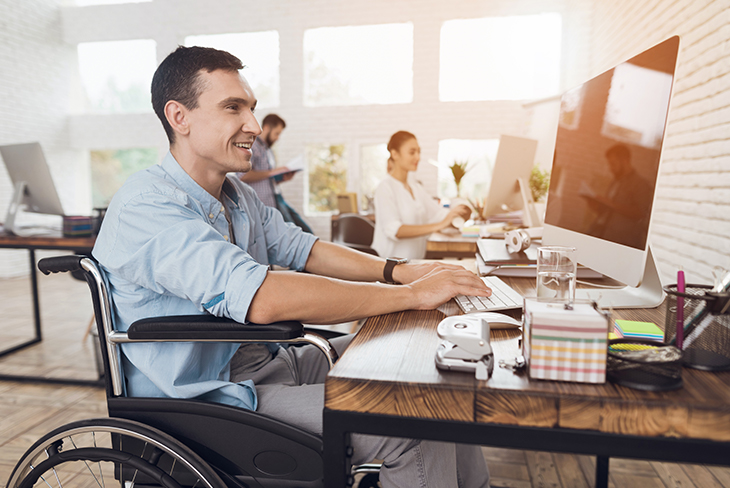 To celebrate International Day of Persons with Disability on 3 December, we celebrate the ability of the disabled to enhance your workplace.
Disability takes many forms, physical and mental, and could affect you or your loved ones at any time in our accident-filled and sometimes violent society.
The most recent census (2011) showed that 7.5% of South Africans are living with a disability – defined by Article 1 of the UN Convention on the Rights of Persons with Disabilities as 'those who have long-term physical, mental, intellectual or sensory impairments which, in interaction with various barriers, may hinder their full and effective participation in society on an equal basis with others'.
Sadly, the census data shows eight out of 10 adults with disabilities are unemployed. Tendai Khumalo is the MD of Qunu Workforce, which provides disability solutions for corporate and government organisations. He reports that although the Employment Equity Act states that at least 3% of the workforce should be employees with disabilities, there is little compliance. The consequences for employers are limited 'if any', unlike failure to meet B-BBEE targets.
This is one of the biggest problems facing the 'able disabled', therapists explain, as independence, purpose and self-respect are key to healing – and many have a wealth of insights and experience to offer. Their ability is far stronger than their disability.
Disability rights
There is no legal obligation to disclose a disability to an employer or potential employer, provided it doesn't affect your work or the employer's production, or put anyone at risk. 'Disclosure can have risks – ignorance, unfair stereotyping, prejudice,' says Peter Strasheim, owner of DLM Labour and HR Management Consulting. However, it can bring benefits too. 'Many employers will welcome your application as the Employment Equity Act requires them to increase their number of employees with a disability.' The act also states that companies should provide medically recommended 'reasonable accommodations' to help you, such as time off for medical appointments and flexi-hours.
Interacting with the differently abled
Working or socialising with people living with disability should be no different to interacting with anyone else, but if you're unfamiliar with their problem, you may fear giving offence. Here are some tips to help you and your co-worker with a disability feel more comfortable:
Don't be afraid to look at someone in case it seems you're staring. 'Make eye contact as you would for anyone and smile,' says Thomas Mashia, who is disabled. 'See the person, not the chair.'
Use 'person first' language, emphasising the individual and not the disability, says communications officer Sihle Gqirana from the National Council of and for Persons with Disabilities. 'X has paraplegia/has partial sight' not 'X is a paraplegic/blind'.
Unless the disability is severe hearing or cognitive impairment, don't speak louder or slower than normal, use simplified language or talk through someone else. It's disrespectful and patronising. If the person has a speech impediment, don't hurry him or her or complete their sentences.
Don't agonise over common terms. Saying 'I've got to run' when someone is in a wheelchair is not offensive – apologising just draws attention to your awareness of the person being disabled, says Thomas.
Don't be afraid of giving offence by offering help. But don't help without asking first – grabbing a wheelchair or taking someone with impaired vision by the arm and steering them is rude. (Offer your arm to hold and lead them.)
Life Rehabilitation
Life Rehabilitation provides quality, cost-effective, acute, outcomes-driven physical and cognitive rehabilitation for patients affected by stroke, spinal cord injury, brain injury and other disabling conditions. For more information, click here.
The information is shared on condition that readers will make their own determination, including seeking advice from a healthcare professional. E&OE. Life Healthcare Group Ltd does not accept any responsibility for any loss or damage suffered by the reader as a result of the information provided.