Here's why you shouldn't fear therapy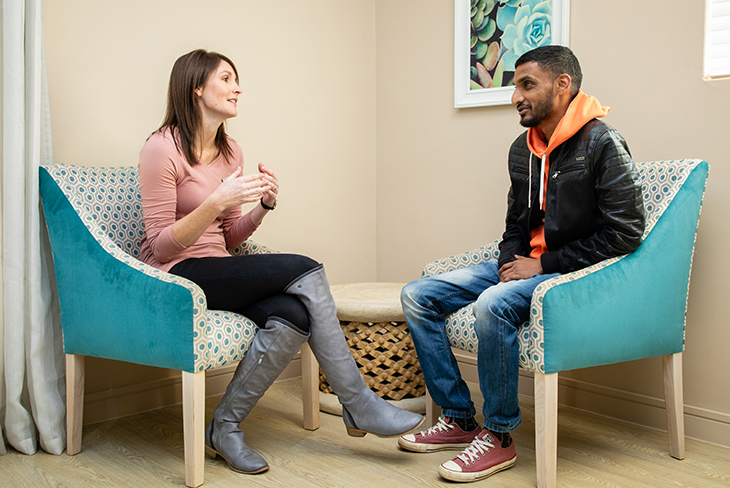 Are you apprehensive about going to therapy? It's understandable. From mental health stigma to the fear of opening up to a stranger, therapy can be a scary thought. However, it has numerous benefits for your mental wellbeing.
According to The South African College of Applied Psychology, one in six South Africans is living with anxiety, depression or substance use disorder. Furthermore, only 27% of those with mental health conditions are receiving treatment. 
Here's what you need to know if you're considering therapy.
What is talk therapy? 
Also known as psychotherapy, talk therapy involves sessions with a qualified psychologist, counsellor, social worker or psychiatrist, depending on your needs and mental health condition. This may be one-to-one or in groups (e.g. family or couple's therapy). 
During a therapy session, you may discuss your challenges, goals and any concerns in a judgment-free, confidential, unbiased environment with a professional. 
The goal of talk therapy varies depending on the person, but the general aim is to help you cultivate a healthy state of mind by overcoming negative patterns of thoughts and behaviour.
Why is therapy so important?
The ongoing isolation and general loss of normality due to the pandemic lockdown regulations deeply affected mental wellbeing. This has made therapy even more essential. 
Talk therapy is beneficial, as it may help with:
coping with stress

, fear or anxiety
identifying triggers or obstacles that are harming mental health
working through unhealthy habits
processing traumatic experiences 
gaining a better understanding of emotions
Your therapist will use various strategies to help you deal with your mental health challenges. 
Find the right professional
If you're ready to try therapy, finding the right mental health expert is a good start. Some ways that you could find a reputable professional include:
asking your general practitioner (GP) for a recommendation 
asking close friends and family members for suggestions 
contacting a well-known mental health facility, such as

Life Mental Health

, that can help you to find an expert
You should also consider whether you want a therapist of the same gender, race and/or religion as you. Some questions you could ask before choosing an expert are:
Do you have experience working with people who have a background or concerns like mine?
What can I expect during our sessions?
What will be expected of me?
What are some of your therapy approaches?
The South African Depression and Anxiety Group is a local mental health organisation with various toll-free hotlines, support groups and therapy options.
Overcoming first-session fear 
Attending your first therapy session can be daunting, but knowing what to expect can help. If you're feeling particularly anxious, you could request a phone consultation beforehand. 
This will help you to get a feel for your therapist so you're more comfortable when you meet in person. There may also be virtual therapy options due to ongoing pandemic safety restrictions, so ask about these options. 
The first session is usually to establish comfort and rapport and is an introduction to the process. Here's what your first session could look like:
discussions surrounding your everyday life
sharing your symptoms, such as emotions, thoughts and behaviours
asking any questions you may have 
going through the process of therapy
Note: Therapy is not a quick fix and the treatment could take some time. However, going for therapy means you're prioritising your mental health and overall wellbeing. Be proud that you took a challenging step that could have a positive life-changing effect. 
The information is shared on condition that readers will make their own determination, including seeking advice from a healthcare professional. E&OE. Life Healthcare Group Ltd does not accept any responsibility for any loss or damage suffered by the reader as a result of the information provided.