Know your patient rights and responsibilities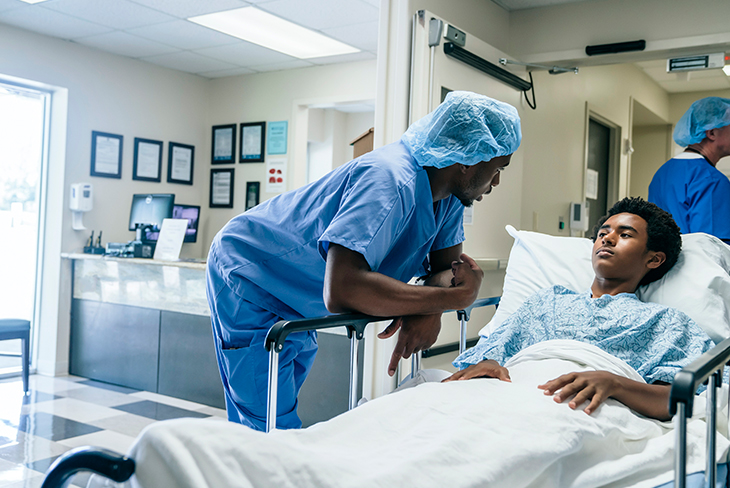 Nowadays, patients have more control over their healthcare and patient rights. Find out more about patient rights and responsibilities and health decision-making here.
Recognising patient rights and responsibilities
A patient should play an essential role in their own health, safety and treatment. Furthermore, patient rights and responsibilities help protect the patient, ensure that the most appropriate care is received and are vital to patient empowerment.  
To ensure the realisation of the right of access to healthcare services as guaranteed in the Constitution of the Republic of South Africa (Act No 108 of 1996), the Department of Health is committed to upholding, promoting and protecting this right, and therefore proclaims that the Patients' Rights Charter is the common standard for achieving the realisation of this right.
 A patient is entitled to:
a healthy, safe environment
participation in decision-making
access to healthcare
knowledge of their health insurance/

medical scheme

choice of health services
treatment by a named healthcare provider
confidentiality and privacy
informed consent
refusal of treatment
a referral for a second opinion
continuity of care
complain about health services
Every patient has the following patient responsibilities: 
advise healthcare providers of their wishes with regards to their death;
comply with the prescribed treatment or rehabilitation procedures;
enquire about the related costs of treatment and/or

rehabilitation

and to arrange for payment;
take care of health records in their possession;
care for and protect the environment;
respect the rights of other patients and health providers;
utilise the healthcare system properly and not abuse it;
know their local health services and what they offer; and
provide healthcare providers with the relevant and accurate information for diagnostic, treatment, rehabilitation or counselling purposes.
Information on patients' rights and responsibilities is available at all Life Healthcare facilities.
What is patient empowerment?
Digital innovation has given patients access to information they could previously only get during a doctor's visit and thus patients feel more equipped to make important decisions about their health.
The World Health Organization (WHO) defines patient empowerment as 'a process through which people gain greater control over decisions and actions affecting their health' (WHO, 1998). Below are 7 essential components:
Information: a patient's access to the right and relevant information to help them make an informed decision about their treatment


Health literacy: the capacity to obtain, process and understand basic health information 


Digital literacy: the ability to find, evaluate, utilise and share content using technology


Self-efficacy: the patient's belief in their ability to achieve personal health goals


Mutual respect: seeing the relationship between patient and medical professional as a partnership of equals


Shared decision-making: the conversation between a patient and clinician to reach a healthcare choice together 


A facilitating environment: health professionals welcome the patient's involvement and know how to create an enabling healthcare environment
Barriers to patient empowerment and participation
In every healthcare setting, there are obstacles to active patient participation. These can include:
insufficient doctors consultation time
language barriers
technology barriers
generation gaps
cultural gaps
Older patients can experience barriers to participation, such as hearing impairment and a lack of technological understanding and/or access.
This can be counteracted by building a good relationship between the patient and their healthcare provider, teaching patients to use simple digital tools and allowing them access to their data.  
Furthermore, providing trustworthy sources of medical knowledge and allowing patients the power to execute their choices to achieve their health goals will allow for patient empowerment and better participation in their care. 
Read more about Life Healthcare's patient experience survey and quality measures, which rate and report on the care patients receive, and then make the best decision about their care and treatment.
The information is shared on condition that readers will make their own determination, including seeking advice from a healthcare professional. E&OE. Life Healthcare Group Ltd does not accept any responsibility for any loss or damage suffered by the reader as a result of the information provided.