How to stay healthy during cold and flu season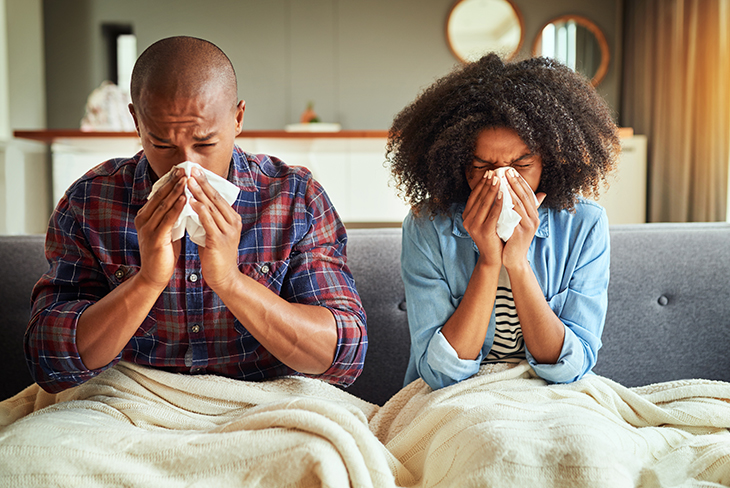 Winter is here and along with it comes the inevitable common cold; think a runny, blocked nose, sometimes a cough or, more uncomfortable, flu, with body aches, fever, lethargy and, sometimes, nausea and vomiting in children. These tips might help you avoid illness.
Use your own pen
This might sound like strange advice, but hands spread 80% of common infectious diseases, so whether you're signing a bill at a restaurant, filling out forms at the doctor's office or using a pen at a colleague's desk, you could be exposing yourself to an unwanted virus such as COVID-19. Remember that during this time of year, it's especially important to wash your hands regularly and thoroughly. You'll also benefit from wiping down frequently touched surfaces.
Don't wait, vaccinate
Influenza, or flu, is a highly contagious viral infection. There is a difference between a cold and flu since the latter can lead to secondary complications and can be fatal. Antibiotics only treat bacterial infections. In most cases, they have no effect on viral infections. 
Flu vaccines are about 65% effective and generally only work for one season, but if you are over 65, have an underlying health condition such as heart disease, diabetes or lung disease, or you're pregnant, it's worth a shot. In most cases, it reduces the severity and duration of the flu. 
'The primary means for preventing seasonal influenza is vaccination, and it's never too late to vaccinate as long as the virus is still circulating,' explains Dr Sibongile Walaza, medical epidemiologist at South Africa's National Institute for Communicable Diseases.
Caution: The flu vaccine contains trace amounts of egg protein, so people with an egg allergy need to take care and consult their doctor about their options.
Get enough rest
If you're sick and you're coughing and sneezing, it's best to stay away from work. Sick people should protect others while they are infectious. This also applies to children. Viruses can spread quickly, so it could start with just one ill person, but in no time the entire class will have the infection. Your body also needs rest to heal, so take the time to restore your lost energy and vitality.
Eat for good health
Whole fruit and vegetables are packed with immune-boosting vitamins and minerals, so you shouldn't skimp on the recommended five daily servings of fruit and vegetables. Foods that are high in vitamin C, such as oranges, sweet potatoes and tomatoes, have an important role to play in boosting immunity. Spinach and legumes are rich in zinc, so they are also good options. Swap sugary foods with wholesome soups with lots of garlic and ginger. Just a whiff will make you feel instantly healthier.
Hydration is everything
The importance of staying hydrated – especially when you have a cold or flu – cannot be overstated. When the body is adequately hydrated it improves oxygen flow and digestion and keeps your eyes, nasal passages and mouth lubricated, which blocks or flushes out contaminants that might cause infection. Water is always the best option, but soups, rooibos tea and drinks that can help to restore lost electrolytes (especially if you've been vomiting or have diarrhoea) are also good alternatives.
How to boost your immune system
The best defence is to strengthen the immune system since it's responsible for helping the body fight illness and disease. There are many factors that can disrupt the optimal functioning of the immune system. Pay particular attention to the following:
Dial down stress: some stress is good, but too much can affect your overall health.
Get quality sleep: it's not about how much, but how well you sleep.
Stay active: aim for 30 minutes of moderate activity at least 3 times a week.
The information is shared on condition that readers will make their own determination, including seeking advice from a healthcare professional. E&OE. Life Healthcare Group Ltd does not accept any responsibility for any loss or damage suffered by the reader as a result of the information provided.