When fever becomes an emergency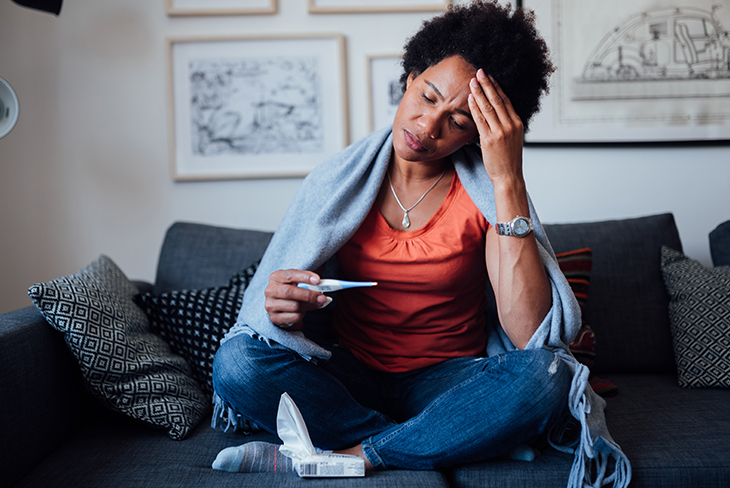 Dr Charl van Loggerenberg, General Manager: Emergency Medicine at Life Healthcare, explains the basics of a fever and when to seek help.
When you have a fever, it is usually a sign that your body is trying to fight off an infection. 'A fever is essentially any situation when core body temperature (correctly measured with an appropriate thermometer) is more than 38°C,' says Dr Charl van Loggerenberg, General Manager: Emergency Medicine at Life Healthcare.
When can you treat a fever at home?
'The rate of temperature increase can be as significant as the absolute high temperature,' explains Dr van Loggerenberg.
'Initially, unless a patient is otherwise significantly unwell, low-grade fevers can be managed via appropriate clothing/a cool environment/over-the-counter antipyretics (fever-reducing medication such as aspirin or paracetamol, if a healthcare practitioner has previously advised those are safe medications) for a couple of days at home. If fever symptoms and the fever persist, then consult a doctor. 
'There's no real definition of a high fever, but more than 38.5°C usually requires a clinical diagnosis if not settled by using over-the-counter antipyretics,' says Dr van Loggerenberg.
Most reliable way to measure a fever
'A properly calibrated thermometer (e.g. digital scanner) or rectal thermometer is the best way to measure temperature,' says Dr van Loggerenberg. 'Skin and oral temperature readings are less reliable.'
COVID-19 concerns
Is fever a symptom of COVID-19? 'Yes, but it's not very specific,' explains Dr van Loggerenberg. 'Most patients who have COVID-19 do have a fever, but one can have COVID-19 without a high temperature, or have a high temperature with another infection. A high temperature usually indicates some infectious process.' 
How does fever treatment differ in infants and children? 
'Fever treatment in babies and children is similar to adults, but recognising that children relay symptoms less reliably and can also suffer from febrile convulsions (a fit or seizure that occurs in children when they have a high fever) more easily,' says Dr van Loggerenberg.
'Thus generally, one intervenes a little sooner, with the same fever treatment strategy: remove unnecessary clothing, cool the environment and use over-the-counter medication.'  
A fever can cause dehydration and it's important to offer babies and small children liquids frequently to prevent this from happening. 
When to go to an emergency unit
So how long should you wait before going to an emergency unit if you have a fever?
'If after two days of trial therapy at home (on oral antipyretics) your temperature is still high, I would recommend consulting a doctor,' says Dr van Loggerenberg.
'A fever combined with other symptoms, such as chest pains or breathing difficulties, should always be checked out immediately at the emergency unit. The fever itself is not an indicator of severity. 
'Fever associated with skin wounds, rashes and a recent travel history should also always be checked out. 
'If you have fever and persistent respiratory symptoms not resolving at home after a few days, consult your GP,' says Dr van Loggerenberg.
Life Healthcare's emergency units are located at 41 Life Healthcare hospitals and offer emergency medical services 24 hours a day, seven days a week. Doctors, experienced nursing staff and specialists are available to ensure every patient receives the best emergency care.
Important: All our emergency units remain open at all times. Save your nearest Life Healthcare emergency unit contact details in your mobile phone in case of medical emergencies.
The information is shared on condition that readers will make their own determination, including seeking advice from a healthcare professional. E&OE. Life Healthcare Group Ltd does not accept any responsibility for any loss or damage suffered by the reader as a result of the information provided.