Life College of Learning: A centre of excellence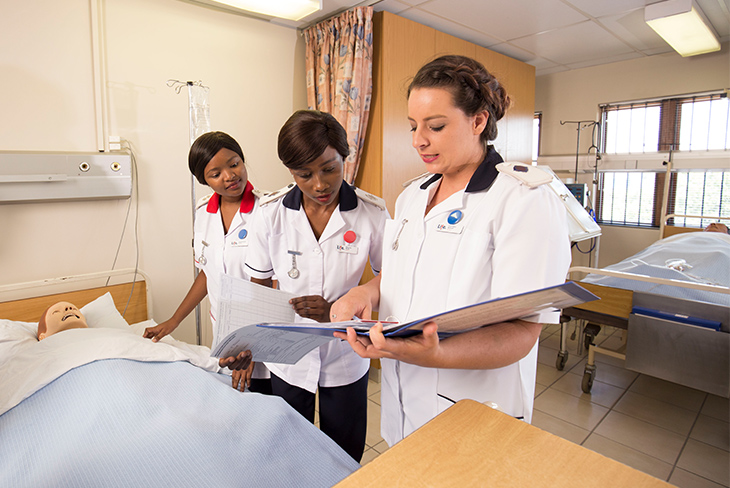 Nursing training has undergone radical changes in the past two decades, and nowhere is this more apparent than at the Life College of Learning. Established in 1998 with 10 bridging students, today the college has seven learning centres countrywide, which prime graduates for the demands of high-tech private hospital care.
From past to present
For Shereen Choonara, Life College of Learning's Regional Education and Training Manager (Eastern Cape), the evolution in nurse training is vividly summed up in the difference between how she taught first-year students to give injections in 1998 and how they are taught today.
'Students are always afraid of hurting patients, so we'd train them by injecting oranges, which give a similar sensation to human muscle,' she says. 'But today they learn on partial mannequins – lifelike models of human body parts. They can be anatomical replicas, for instance of an arm or pelvis. But that's not all: we also use high-fidelity robotic patient simulators that lie on a bed just like a real patient. And if students don't give the injection properly, the robotic patient yelps – or rather, I do, through the voice simulator. You should see them jump! We can even make the "patient" breathe or have a heart attack. Talk about progress...'
Technological advances
Other technological advances at the college include access to interactive multimedia modules that enable students to actually see things like the body's blood circulatory system, and create 3D images and anatomical cross sections in computer labs.
They also have access to academic databases and journals online, and to college policies and procedures through an internal college intranet. 'All student documents are electronically scanned so that we can go paperless,' says Shereen excitedly. 'Healthcare is also about helping the environment.'
The College's greatest achievement
For Life College of Learning's quality and development manager Magda Cunze and former National Education Manager Peggy Naicker, the greatest achievement of the past 20 years has been the college's registration with the Department of Higher Education and Training as a private higher-education institution.
'The college has maintained registration as a nursing education institution over the past 20 years and our graduates are sought after for their clinical competence and expertise. The college also maintains a patriotic association with the Nelson Mandela University, which has played a significant role in our governance and growth during this period,' says Magda.
The college is also proud to allow students an opportunity to do their own research, which they can then present at annual research days held at each learning centre. This includes students who are employed by Life Healthcare who have completed formal graduate studies and projects for clinical practice. The Life Healthcare Group has its own Research and Ethics Committee, accredited in 2018 by the Department of Health's National Health Research Ethics Council (NHREC).
Nurses are still in short supply
But along with advances, the past 20 years have brought challenges, some of which continue to grow. One of the biggest is addressing the nationwide shortage of nurses.
Shereen attributes this partly to the wider range of career options available and the steady growth in the number of patients, which has increased the demand for nurses, but the college is proud that they've seen a rise in male enrolment (now about 10% of the college's student intake).
The quality of students' basic education is another challenge. 'Not all schools have a good standard, and literacy and numeracy are a problem, never mind computer literacy,' says Magda. 'We get many applications from rural areas where schools don't have computer labs, and there is understandably a lack of even basic computer knowledge.' This is an issue the college plans to address as it moves into the next 20 years.
Life College of Learning looks forward to offering two new programmes:
Higher Certificate: Auxiliary Nurse
Diploma in Nursing
Quality patient care
Dr Sharon Vasuthevan, the Group National Nursing and Quality Executive at Life Healthcare, is passionate about the Life College of Learning and the opportunities it offers students. 'Our vision is to create a skilled workforce for Life Healthcare and the healthcare industry, in order to provide cost-effective, quality and competent patient care,' she says. 
Added to that, it's imperative that the college prepares students for new medical and nursing challenges linked to advances in technology, and dealing with more knowledgeable patients with higher expectations.
'Through all we have achieved over the past 20 years, we are committed to providing students with opportunities to upskill and ensure they are practising best-quality care using state-of-the-art technologies,' Dr Vasuthevan concludes.
Find out more about Nursing at Life Healthcare.
The information is shared on condition that readers will make their own determination, including seeking advice from a healthcare professional. E&OE. Life Healthcare Group Ltd does not accept any responsibility for any loss or damage suffered by the reader as a result of the information provided.