Become a blood stem cell donor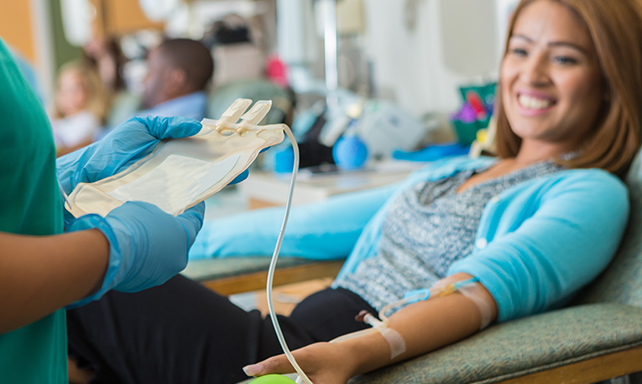 You can give patients with leukaemia and other blood disorders the hope of life – it's easier than you think. Here are the facts:
According to the South African Bone Marrow Registry (SABMR) hundreds of South Africans with blood-related diseases such as leukaemia and aplasia, as well as immune deficiencies and inborn errors of metabolism reach the point where their only chance of survival is a blood stem cell transplant. The greatest challenge is finding a compatible blood stem cell donor.
Family members, especially siblings, are generally most suitable. However, only 30% of patients could find a suitable match in their relatives. For the other 70%, their only hope is to find an unrelated matched donor – individuals who have registered with a stem cell donor database around the world. The Sunflower Fund, a donor recruitment centre and stem cell registry in South Africa, is dedicated to driving awareness of the need for stem cell donation and the recruitment of blood stem cell donors in order to create a healthy and ethnically diverse registry of committed donors.
Why is ethnicity important?
Many ethnic and racial minority groups experience lower match rates. Since donor matches depend on tissue types, not blood types, and these are inherited genetic characteristics more frequent in a particular race group, ethnicity does play an important role in finding a match. This factor highlights the need for people of all races to register so that anyone, from any race group, with a life-threatening blood disorder has the opportunity of finding a life-saving donor match.
What is a blood stem cell transplant?
A blood stem cell transplant is a procedure to replace damaged or destroyed bone marrow with healthy bone marrow blood stem cells. The misconception that donating blood stem cells or bone marrow involves drilling through bones is one of the greatest challenges faced by registries in growing their donors. The truth is that the donation process requires no surgery, no general anaesthetic and no drilling. The Sunflower Fund helps to dispel other common misconceptions.
Myth #1: Blood stem cell donation is painful.
With stem cell donation from the blood, there is very little pain involved. The process is similar to donating platelets or whole blood donation.
Myth #2: Being a donor means having an operation.
There is no need for an operation. To stimulate the production and release of blood stem cells, the donor receives a series of injections. After three days of injections, the donation process can begin. Two needles are inserted – one in each arm. Blood is drawn from one arm, circulated through a cell-separator machine, and the stem cells are collected. The remaining blood is returned through the other arm and the entire process takes four to six hours.  
Myth #3: They will drill into my bones.
The life-saving bone marrow stem cells are found in your bloodstream. A cell-separator machine is used to collect stem cells from your blood.
Myth #4: I can't afford to be a blood stem cell donor.
Potential donors are asked to consider contributing towards the cost of the test, but if you are not able to, The Sunflower Fund can cover the expense. There is also no cost when you are a match for a patient – all costs are covered by the patient or The Sunflower Fund through their patient support fund.
Myth #5: Donor matches depend on your blood type.
Blood stem cell donor matches depend on tissue types, not blood types. These are inherited genetic characteristics, and are often unique to a particular race group.
For more information about donor criteria and to find out if you are eligible, visit The Sunflower Fund website.
The information is shared on condition that readers will make their own determination, including seeking advice from a healthcare professional. E&OE. Life Healthcare Group Ltd does not accept any responsibility for any loss or damage suffered by the reader as a result of the information provided.