Life Vincent Pallotti Hospital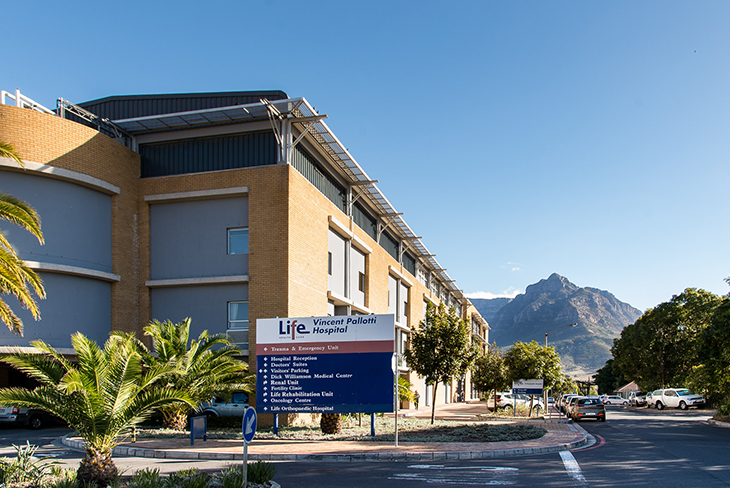 Overview
Conveniently located off the N2 highway in Pinelands, Life Vincent Pallotti Hospital is one of Cape Town's oldest and most established hospitals with an excellent reputation for quality and clinical excellence. Complementing the outstanding facilities is a dedicated team of first-class healthcare professionals who are truly focused on the personal needs of patients and their families, and while the hospital caters to all medical and surgical disciplines, they are continually striving to improve the hospital facilities, standards and technology. The priority here is to focus on the delivery of a special brand of health and care that will improve and impact the lives of our patients and visitors.
Advanced life support paramedic service

Telephone:

E-mail:
Physical address:

Life Vincent Pallotti Hospital, Alexandra Road, Pinelands, 7405

GPS:

-33.938359 : 18.49044
Hospital Manager:

Gavin Pike
Visiting hours
All visiting hours listed below have been reviewed according to current lockdown regulations. Please contact the hospital directly for updated information.
For visitation exceptions around neonatal ICU and paediatric wards contact the hospital directly or click here for more information.
Medical service
Cardiology
Cardio-thoracic surgery
Dermatology
Endocrinology
ENT surgery
Cardiac electrophysiology
Fertility treatment
Gastroenterology
Gastroenterological surgery
General practice
General surgery
Geriatrics
Gynaecology
Hand surgery
Internal medicine
Joint replacement surgery
Laparoscopic surgery
Maxillo-facial surgery
Nephrology
Neonatology
Neurology including acute stroke care
Neurosurgery
Neuro-vascular surgery
Nuclear Medicine
Obstetrics
Oncology
Ophthalmology
Orthopaedic surgery
Paediatrics
Paediatric surgery
Pathology
Plastic & reconstructive surgery
Psychiatry
Pulmonology
Radiology
Radiosurgery
Renal
Rheumatology
Psychogeriatrics
Spinal surgery
Specialised stroke care
Sports medicine
Urology including lithotripsy vascular surgery
Ancillary services
Dentistry
Dietetics
Electrophysiology
Physiotherapy
Psychology
Doctors
Anaesthesiologist(s)

Dr Peter Ridley

021 531 1026

Dr Richard Cooke

021 531 1026

Audiologist

Colleen Cox

021 506 5486
Biokinetics

Kim Murphy

021 531 7232
Breast Disease Clinic – General Practitioner(s)

Dr Anne Gudgeon

021 531 6924

Dr Irene Boeddinghaus

021 531 6924

Dr Ronelle de Villiers

021 531 6924

Cardiac electrophysiologist

Dr David Milne

021 531 6655 / 6

Dr Vinod Thomas

021 000 2367

Cardio-thoracic surgeon(s)

Dr Loven Moodley

021 506 5139

Dr Willie Koen

021 531 1206

Cardiologist(s)

Dr Adrian Horak

021 531 0695 / 6 / 7

Dr Brad Griffiths

021 531 1216

Dr Charles Kyriakakis

021 531 7278

Dr Saleem Dawood

021 531 0090

Dr Thayabran Pillay

021 531 0090

Dr Zaid Mohamed

021 531 0090

Dr Chevaan Hendrickse

021 531 0090

Dermatologist(s)

Dr Dagmar Whittaker

021 506 5194 / 021 762 4779

Dr Kesiree Naidoo

021 531 1107

Prof Carol Hlela (Paediatric Dermatologist)

021 045 1554

Dietician

Denise Caron

082 619 0671

Nasreen Mohamed

083 266 1796

Zulpha Essop

079 880 7710

Ear, nose & throat surgeon(s)

Dr Michele Long

021 531 4282

Dr Martin Vanlierde

021 532 2156

Dr Paul Crosland

021 531 1221 / 1226 

Dr Eve Samson

063 157 1710

Dr Azgher Karjieker

0800 129 999

Endocrinologist

Dr Tanya Kinvig

021 510 7728

Fertility specialist(s)

Dr Victor Hulme

021 531 6999

Prof Igno Siebert

021 531 6999 / 021 938 4446

Prof Thinus Kruger

021 531 6999 / 021 938 4446

Dr Gerhard Hanekom

021 531 6999

Gastroenterologist(s)

Dr David Epstein

021 531 6402

Dr Eduan Deetlefs

021 551 8678 
General practitioner(s)

Dr Benjamin Bosch

021 531 4139

Dr Che Venter - Physical & Cognitive Rehabilitation Doctor


021 975 7093

Dr Ed Baalbergen - Physical & Cognitive Rehabilitation Doctor

021 506 5360

General surgeon(s)

Dr Bradley David

021 531 0554

Dr Bernie Maree

021 531 0097

Dr Ian Lorimer

021 531 0097

Dr Shaheeda Sonday

021 531 0554

Dr Anna Coccia

021 531 0097

Geriatric physician(s)

Dr Faheema Parker

021 200 5924

Dr Kathleen Ross

021 200 5924

Geriatric psychiatrist

Dr Surita Van Heerden

021 200 5924

Gynaecologist(s)

Dr Katrien Dehaeck

021 531 9311

Dr Sheana Jones

021 532 3177

Dr Bruce Howard

021 531 8465

Dr Steffi Hinz

021 531 2390

Gynaecologists & obstetrician(s)

Dr Amaal Schroeder

021 531 1526

Dr Jackie Searle

021 531 9190

Dr Kate Richardson

021 531 9933

Dr Lindi Murray

021 911 5388

Dr Ilana Johnson

021 911 5388

Haematologist (Clinical)

Dr Gerhard Sissolak

021 441 0461
Maxillofacial surgeon

Dr Lester du Preez

021 531 9121

Nephrologist(s)  
Dr Nabeel Bapoo
021 506 5122
Dr Piers Stead
021 506 5355
Dr Trevor Gerntholts
021 685 1694
  Neurologist(s)
Dr Andrew Frost
021 532 3882
Dr Amanullah Rawoot
021 532 3830
Neonatologist
Dr Lize Boshoff Coyles
021 224 0817
  Neurosurgeon(s)
Dr David Welsh
021 531 2580
Dr Grant White
021 531 3278
  Nuclear medicine
Dr Tessa Kotze
021 531 2170
Occupational therapist(s)
Joan Andrews
083 441 0024
Karin Weskamp
021 506 5531
Marion Fourie
083 261 7935
Oncologist(s)
Dr Heide Hart 
021 944 3700
Dr Jacquiline Hall
021 532 0343
Dr Johann Raats
021 944 3700
Dr Krystina Marszalek
021 531 0099
Dr Lisa Dalmeyer
021 201 1299
Dr Louis Kathan
021 506 5606
Ophthalmic surgeon
Dr Andrew Perrott
021 531 4317
Orthopaedic surgeon(s)
Prof Brian Bernstein (Trauma)
021 506 5555
Dr Brendan Dower (Hip & Knee)
021 506 5610
Dr Craig Hastings (Foot & Ankle)
021 506 5600
Prof Garth Grobler (Hip & Knee)
021 506 5610
Dr Hayden Hobbs (Knee)
021 506 5621
Dr JP du Plessis (Shoulder & Elbow)
021 506 5580
Dr Keith Hosking (Tumour)
021 506 5630
Dr Marc Nortje (Trauma, Hip & Knee)
021 506 5555
Dr Pierre Ehlers (Trauma & Tumour)
021 506 5555 / 021 506 5630
Dr Pradeep Makan (Spinal)
021 506 5590
Dr Peter Polley (Spinal)
021 506 5590
Dr Robert Nicholas (Hip & knee)
021 531 2998
Dr Steve Carter (Hand)
021 506 5670
Dr Stewart Dix-Peek (Paediatric)
021 506 5580
Dr Willem van der Merwe (Knee)
021 686 1196
Prof Basil Vrettos (Shoulder & Elbow)
021 506 5580
Prof Mike Solomons (Hand)
021 506 5670
Prof Sithombo Maqungo (Trauma)
021 506 5555
Dr Maritz Laubscher (Trauma)
021 506 5555
Dr Stephen Roche (Shoulder & Elbow)
021 797 4332
Orthotics / Prosthetics
Jason Chin
021 531 7232
Paediatric surgeon
Prof Robin Brown
021 531 0584
Dr Babalwa Nondela
067 780 2377
Paediatrician(s)
Dr Carl Wicht
021 531 1222
Dr Candice Royal (Paediatrician & Allergologist)
021 510 0336
Prof Claudia Gray (Paediatrician & Allergologist)
021 510 0336
Dr Leon Jedeikin
021 531 7317
Dr Lize Boshoff Coyles
021 224 0817
Dr Paul Sinclair (Paediatric Nephrologist)
021 531 3082
Pathologist(s)
Ampath
021 514 4785
Lancet laboratories
021 531 4985
Pathcare
021 531 5185 / 3383
Physician(s)
Dr Adam Piorkowski
021 531 8491
Dr Corinna Woodlands
021 531 4911
Dr Ashnee Govender
021 685 0547
Dr Elias Pretorius
021 532 1346 / 021 532 1436
Dr Robert Smith
066 458 8955
Physiotherapist(s)
Andrea Africa
021 531 7232
Marc Labuschagne
021 531 7232
Mandy Wilkinson
021 531 7922
Nureesha Hendricks
021 506 5540
Rob & Kim Sims
021 531 5395
Plastic & reconstructive surgeon(s)
Dr Clare Neser
021 510 8534 / 021 510 2546
Dr Conrad Pienaar
021 510 8534 / 021 510 2546
Dr Dehan Strüwig
021 531 4565
Dr Gareth September
021 532 1702 / 021 531 1703
Psychiatrist(s)
Dr Candice Jacobson
087 0944 049
Dr Elizabeth Peter
021 686 0501
Dr Imthiaz Hoosen
021 685 2635
Dr Keith Ganasen
021 701 0402
Dr Qhama Cossie 
021 447 5148
Dr Neil Horn 
021 461 7111
Dr John Torline 
021 461 0497
Dr Mitchell Gates
021 506 5139
Dr Robin Scheepers 
087 0944 049
Dr Robyn Ackhurst 
021 461 0497
Dr Peter Williams-Ashman
021 506 5139
Dr Surita Van Heerden (Geriatric)
021 200 5924
Psychologist
Cheryl Daniel
021 506 5140
Pulmonologist(s)
Dr Hoosain Khalfey
021 532 0305
Dr Peter Chapman
021 532 3964
Radiologist
Dr Morton & Partners
021 531 7635
Rheumatologist(s)
Dr Cathy Spargo
021 532 2111
Dr Heather Angus
021 531 6655
Dr Rehana Bhorat
021 532 2111
Specialist – Infection diseases
Dr Helen van der Plas
021 531 0588
Dr Kevin Rebe
021 506 5474
Specialist Paediatrician
Dr Aruna Lakhan (Pulmonologist)
021 531 1197
Specialist Paediatric Dermatologist
Prof Carol Hlela
021 531 0090 / 021 045 1554
Specialist Paediatric Endocrinologist
Dr Lindsey Levin
021 224 0817
Thoracic & oesophageal surgeon
Prof Mark de Groot
021 532 0343 / 021 531 3804
  Urologist(s)
Dr Karlheinz Jehle
021 506 4186
Dr Larry Jee
021 531 2331
Contact us
Physical address

Life Vincent Pallotti Hospital

Alexandra Road

Pinelands

7405

Postal address

P.O. Box 103

Howard Place

7450

Telephone

021 506 5111

Fax

021 506 4093

Hospital Manager

 Gavin Pike

E-mail

Advanced Life Support Paramedic service

0860 123 367