Life Gaborone Private Hospital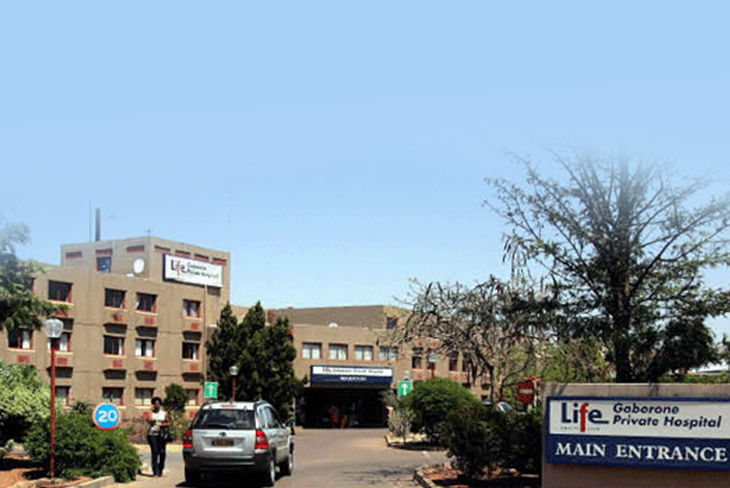 Overview
Located in the bustling district of south-east Botswana, Life Gaborone Private Hospital supports the capital, Gaborone, and its surrounding areas. The 132-bed hospital delivers quality healthcare to local patients without their having to travel long distances, and the hospital leads their care with the understanding that they have a responsibility to meet the expectations of those entrusted to them as well as their loved ones. The first-class health professionals working at this modern and sophisticated facility provide excellent treatment to those who need surgery for routine or more serious procedures. The hospital has four theatres, and several specialised units, including a neonatal ICU and an oncology unit. The employees at Life Gaborone Private Hospital actively participate in community initiatives, and through their ongoing quality training, deliver excellent healthcare and embrace the principles of empathy, ethics, excellence and empowerment.
Life Gaborone Hospital is a member of the Life Healthcare Group, one of the largest private hospital groups in South Africa, operating more than 60 acute facilities across the country and Botswana.
Telephone

Email
Physical address

Plot 8448, Segoditshane Road, Mica Way, Gaborone

Map

-24629113 : 25.933338
Hospital manager

Mpho Gabonewe
Visiting hours
For visitation exceptions around neonatal ICU and paediatric wards contact the hospital directly or click here for more information.
Medical and surgical disciplines
Anaesthesiology
Ear, Nose and Throat surgery
General Surgery
Gynaecology
Internal medicine
Neonatology
Neurosurgery
Obstetrics
Oncology including radiotherapy and chemotherapy
Ophthalmology
Orthopaedic surgery
Paediatrics
Pathology
Plastic, reconstructive and cosmetic surgery
Urology
Neurology
Haemodialysis
Ancillary services
Audiology
Cardiac diagnostic services
Immunisation clinic
Orthotics and prosthesis services
Pathology
Pharmacy
Physiotherapy
Radiology (including MRI)
Dietetics
Doctors
The doctors listed below are private practitioners. Please enquire about their rates directly with the practice.
All doctors are available on Tel 09267 368 5600.
Anaesthetist(s)

Dr Doris Ramiro Savigne Torres

3685600/5765/6
Dr V D Mafavuneh
3685600/5765/6

Dr F Motswagole

3685600/5765/6

Dietician

Dr Malebo Eluya

3685600/5765/6

Ear, nose & throat surgeon

Dr Alikan Zikhali

3685600/5765/6

Emergency room doctor(s)

Dr Keyi Ncube

3685600/5765/6

Dr Nonofo Keaikitse

03685644

General surgeon(s)

Dr Antony Dumisani Sibiya

3685600/5765/6

Dr Jerry Keineetse

3685600/5765/6

Dr Martin Sibanda

3685600/5765/6

Dr Desmond Masilo

3685600/5765/6

Gynaecologist(s)

Dr Baron Matonhodze

3685600/5765/6

Dr Christine Minja

3685600/5765/6

Dr Esad B Kurtagic

3685600/5765/6

Dr Fungai Museta

3685600/5765/6

Dr Hezekiel Osore

3685600/5765/6

Dr Peter Eaton

3685600/5765/6

Dr Tao Zhang  

3685600/5765/6

Dr. Vincent G.Molelekwa (Fertility Specialist)

3685600/5765/6
Medical Officer(s)
Dr K Ncube (Chief)
3685600/5765/6
Dr K Setlhare (Senior)
3685600/5765/6
Dr T Mathekela 

(Senior)

3685600/5765/6
Dr K Mosiko
3685600/5765/6
Dr G Mapfumo-Nhova
3685600/5765/6
Dr O Adeboye
3685600/5765/6
Dr C Macala
3685600/5765/6
Dr I Maserah-Mhlanga
3685600/5765/6
Dr C Kangwa
3685600/5765/6
Dr G Kgakanyane
3685600/5765/6
Dr L Monyatse
3685600/5765/6

Oncologist(s)

Dr Dawn Balang

3685600/5765/6

Dr Memory Bvochora-Nsingo

3685600/5765/6

Dr Sebathu Chiyapo

3685600/5765/6

Ophthalmologist

Dr Batsile M Matlhaga

3685600/5765/6

Orthopaedic surgeon(s)

Dr Alistar Orford

3685600/5765/6

Dr  Laughter Lisenda (Arthoplasty)

3685600/5765/6

Dr Tiro Mmopelwa (Spinal)

3685600/5765/6

Dr Yash Gureja

3685600/5765/6

Paediatrician(s)

Dr Farayi Chinhoyi

3685600/5765/6

Dr Sylvester A Musa Aisien

3685600/5765/6

Dr Q Zhang

3685600/5765/6

Dr Qiongzhou Zhang (New-born Specialist)

3685600/5765/6

Physician(s)

Dr Churchill  Lukwiya Onen

3685600/5765/6

Dr Joseph Moeketsi Makhema

3685600/5765/6

Dr K Mpuang

3685600/5765/6

Dr Washington Chiguye

3685600/5765/6

Dr Gordana Cavric

3685600/5765/6

Dr M W Moloi (Physician & Nephrologist)

3

685600/5765/6

Plastic and reconstructive surgeon

Dr. Willem Erasmus

3685600/5765/6

Dr Uamunovandu Tjinjeka

3685600/5765/6

Radiologist(s)

Dr Bethuel Ndosi

3685600/5765/6

Dr Canuto C Silava

3685600/5765/6

Dr Joseph Kimaro

3685600/5765/6
Contact us

Physical address

Plot 8448
Segoditshane Road
Mica Way
Gaborone

Postal address

Private Bag BR130
Gaborone
Botswana

Telephone

00267 368 5600/5765/

Fax

09267 390 2804/1998

Email

Map