Life Bay View Private Hospital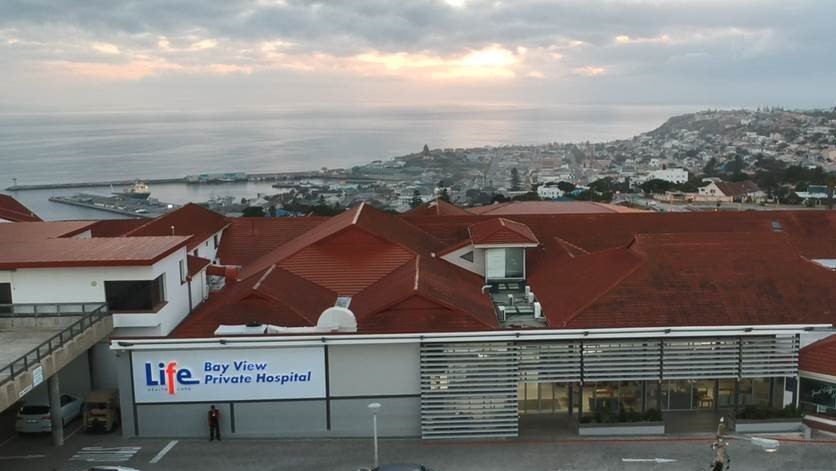 Overview
Life Bay View Hospital,  overlooking the Indian Ocean, is situated high on a hill in Mossel Bay. This - 147 bed upmarket facility aims to deliver a special brand of world-class healthcare to its patients. The combination of high-quality treatment, excellent facilities and a focus on the personal needs of the patient helps this hospital achieve the level of care all patients deserve. Life Bay View Hospital has state-of-the-art diagnostic and monitoring technology in its various units, which include an accident and emergency unit, five theatres, an intensive-care unit , Neonatal ICU and a maternity wing  The luxuriously appointed wards and private rooms promote the comfortable recovery of the patients within this world-class hospital. Through their ongoing quality training, hospital employees are able to deliver excellent healthcare and embrace the principles of empathy, ethics, excellence and empowerment.
Emergency

Telephone

Email
Physical address

Cnr Alhof and Ryk Tulbach Streets, Mossel Bay, 6506

GPS

-34.18168 : 22.131218
Hospital manager

Lida Swart
Visiting hours
All visiting hours listed below have been reviewed according to current lockdown regulations. Please contact the hospital directly for updated information.
For visitation exceptions around neonatal ICU and paediatric wards contact the hospital directly or click here for more information.
11h00 - 12h00

15h00 - 16h00

19h00 - 20h00
Medical services
Anaesthesiology
Cardiology
Cardio-thoracic surgery
Ear, nose and throat surgery
Endoscopic surgery
Endovascular surgery
Gastroenterology
General surgery
Gynaecology and obstetrics
Neurosurgery
Orthopaedic surgery
Paediatrics
Plastic surgery
Urology
Doctors
Anaesthetist(s)

Dr  Elizabeth Gericke

044 690 5800

Dr George Barrett

044 690 7205

Dr Jaco Strauss

044 690 5800

Dr Theo Gericke

044 690 5800

Dr Willem Pretorius

044 690 3532

Dr Jacques Geldenhuys

044 690 5800

Dr Nico Bernard

044 690 5800

Cardio-thoracic surgeon

Dr Tertius van Rooyen

044 691 3240

Cardiologist(s)

Dr Andre Lochner

044 691 0088

Dr HW Snyman

044 690 4128

Ear, nose & throat surgeon(s)

Dr Jannie Snyman

044 690 6882

Dr Gert Wessels

044 690 6882

General practitioner(s)

Dr Alwo Dercksen

044 691 2120

Dr Andre du Plessis

044 691 2120

Dr Anet Janse van Rensburg

044 695 2090

Dr Abre Oberholster

044 691 2120

Dr Anton Vorster

044 693 1470

Dr Ben van der Westhuizen

044 695 1666

Dr Esther Labuschagne

044 691 1213

Dr Eugene Marais

044 693 1470

Dr Uys Keyser

044 693 1470

Dr Wilhelmie Pretorius

044 690 3545

Dr Herkie Strydom

044 691 2120

Dr Hein van Niekerk

044 695 1666

Dr K Berger

044 691 3122

Dr  Carel Kolesky

044 695 1666

Dr PieterJoubert

044 691 2120

Dr Quentin Ninaber

044 698 1247

Dr Rene Griesel

044 691 2120

Dr Eben Van der Watt

044 690 3203

Dr Thinus van Staden

044 690 3545

Dr Theo Smith

044 693 2412

General surgeon

Dr  Jan-Hendrik Barnard

044 690 4755

Dr Ben Oosthuyse

044 690 5015

Gynaecologist(s)

Dr Ben Chris Alberts

044 690 3260

Dr Lizelle Nortje

044 007 0203

Neurologist

Dr Andre Leonard

044 690 4119

Neurosurgeon

Dr Herman van Heerden

044 690 3935

Ophthalmologist(s)

Dr J le Roux

044 690 4044

Dr Henning van den Heever

044 690 4044

Orthopaedic surgeon(s)

Dr Dan Potgieter

044 690 5552

Dr Gys Wilson

044 691 1825

Dr LD Griesel

044 690 5878

Dr Riaan Jacobs

044 690 3578

Paediatrician(s)

Dr Heindrich Sandilands

044 691 1101

Dr Anita Estherhuyse

044 690 3562

Physician(s)

Dr Francois Retief

044 691 2123

Dr Riaan Marais

044 690 5185

Dr Sunette Hurter                                                                       

044 690 3964

Plastic surgeon(s)

Dr Corneels Verster

044 873 3491

Psychiatrist

Dr Pieter Smit

044 690 0456

Psychologist(s)

Dr Daan Stulting

044  620 4917

Fanie van Wyk

044 695 4422

Magriet Oberholster

044 690 5409

Tjaart van der Walt

044 873 4348

Radiologist(s)

Dr Gerrit Dekker

044 691 3701

Dr Henry Bartlett

044 691 3701

Dr Delme Hurter

044 691 3701

Dr Willie Conradie

044 691 3701

Urologist(s)

Dr Pieter Steenkamp

044 690 3821

Dr Robbie Botha

044 691 0880
Contact us                             

Physical address

Cnr Alhof and Ryk Tulbach Streets
Mossel Bay
6506

Postal address

P O Box 287
Mossel Bay
6500

Hospital Manager

Lida Swart

Telephone

044 691 3718

Fax

044 691 1183

Email

Map