Life Knysna Private Hospital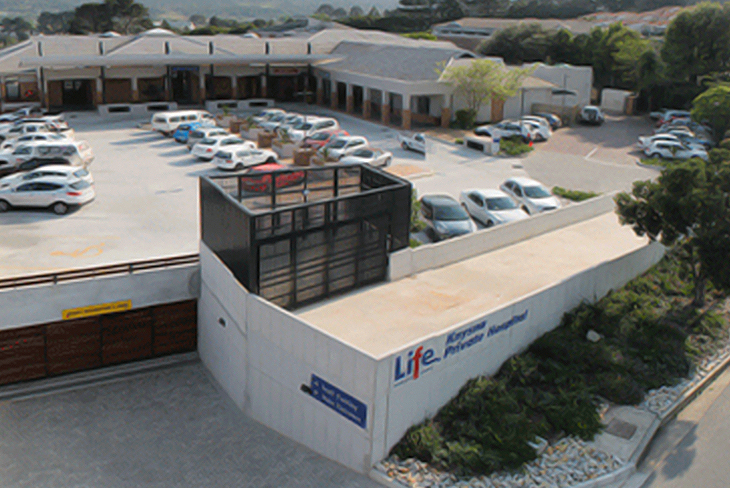 Overview
Life Knysna Private Hospital and its first-class healthcare professionals aim to provide quality healthcare to all its patients, and also to extend this care into the community. The modern facilities in this 58-bed hospital include a state-of-the-art intensive-care unit, a 24-hour accident and emergency unit with a doctor on call, high-tech diagnostic equipment, a renal dialysis unit and a pathology lab, which local patients can access without having to travel long distances. The commitment to the delivery of high-quality healthcare is reflected by ongoing staff quality training, and surveys show the patients' appreciation of this excellent treatment, which embraces the caring principles of empathy and empowerment. Through their ongoing quality training, hospital employees are able to deliver excellent healthcare and embrace the principles of empathy, ethics, excellence and empowerment.
Emergency

Telephone

Email
Physical address

Hunters Estate Drive, Hunters Home, Knysna, 6570

GPS

-34.04638 : 23.078904
Hospital manager

Mr Sifiso Mdluli (Acting)
Visiting hours
Please contact the Hospital directly for the current visiting times.
Medical services
Dentristy
Endocrinology
ENT surgery
General practice
General surgery
Gynaecology
Internal medicine
Maxillofacial surgery
Neurology
Obstetrics
Orthopaedic surgery
Paediatrics
Pathology
Plastic & reconstructive surgery
Radiology
Renal Dialysis
Urology
Ancillary services
Ante natal classes
Biokinetics
Dietics
Occupational therapy
Physiotherapy
Psychiatry
Speech therapy
Doctors
Anaesthesiologist(s)

Dr Fourie de Kock
0443025200

Dr Reinhardt De Wet

0443025200

Dr Catherine Knights

0443025200

Audiologist

 Ms Loran Nicklin

0443822686

Dentist(s)

Dr Eugene Kok

0443822352

Dr Jan Zonnestein

0443821410

Dietician

 

Karen de Kock       

0761990623

Dermatologist(s)

Dr Zandile Spengane

0441500091

Ear, nose & throat surgeon

Dr Martin Young

0443820800

Endocrinologist

Dr Arla Ogilvie

0441500094

General practitioner(s)

Dr Berend Maarsingh

0443821492

Dr Bennie Stander (Sedgefield)

0443431943

Dr Dawie Du Plessis

0443826646

Dr Deidre Richman

0443827101

Dr Gustav Gous (Plettenberg Bay)

0445330400

Dr Herman Nel (Plettenberg Bay)

0445330186

Dr J Lourens Van Zyl (Plettenberg Bay)

0445335032

Dr James Norval

0443827101

Dr Johan Olivier

0443829980

Dr JC Venter (Sedgefield)

0443431278

Dr Lizel Cremer

0443826646

Dr Megan Michaux

0443821492

Dr Peter Berning (Plettenberg Bay)

0445330933

Dr Rudi de Wet

0443825077

Dr Rodney Lewies

0443850034

Dr Fasie De Kock

0443826646

Dr Sanet Prinsloo

0443829980

Dr Vanessa Viljoen

0443840097

General surgeon(s)

Dr Francois Bruwer

0443841857

Gynaecologist(s)

Dr Douglas Seton

0443827881

Maxillofacial surgeon

Dr Stan Butz

0443821350

Dr Philip Jonsson

0218509040

Neurologist

Dr Rowan Ada Venter

0443025250

Ophthalmologist(s)

Dr Peter Harpur

0443822687

Orthopaedic surgeon(s)

Dr Mike Verrier

0443841860

Dr Tim Reardon

0443841418

Paediatric endocrinologist

Prof  Francois de Villiers

0443840422

Paeditrician

Dr Jaco Neser

0443025204

Paeditrician Cardiologist

 

Dr Ken Sprenger

0443820800

Physician(s)

Dr Hannes Coetser

0443840422

Dr Johann Viljoen

0443840447

Physiotherapist(s)

Mrs Nicky Joubert

0443825433

Mrs Sunette Meyer

0443823082

Phillo Beukes Physiotherapy Practice

0443841938

Boonzaier, Meyer & Wentzel Physiotherapy

 

Ernst Jordaan

074 275 2533


Plastic surgeon

Dr Matthew Brouckaert

0443820800

Dr Martin Kelly

044 533 0518

Urologist

Dr Grant Trollip

0443841717
Contact us                                

Physical address

Hunters Estate Drive
Hunters Home
Knysna
6570

Postal address

P O Box 3340
Knysna
6570

Hospital Manager

Mr Sifiso Mdluli(Acting)

Telephone

044 302 5201/2/3

Fax

044 384 1272 / 1924

Email

Map