Life Cosmos Hospital
Mpumalanga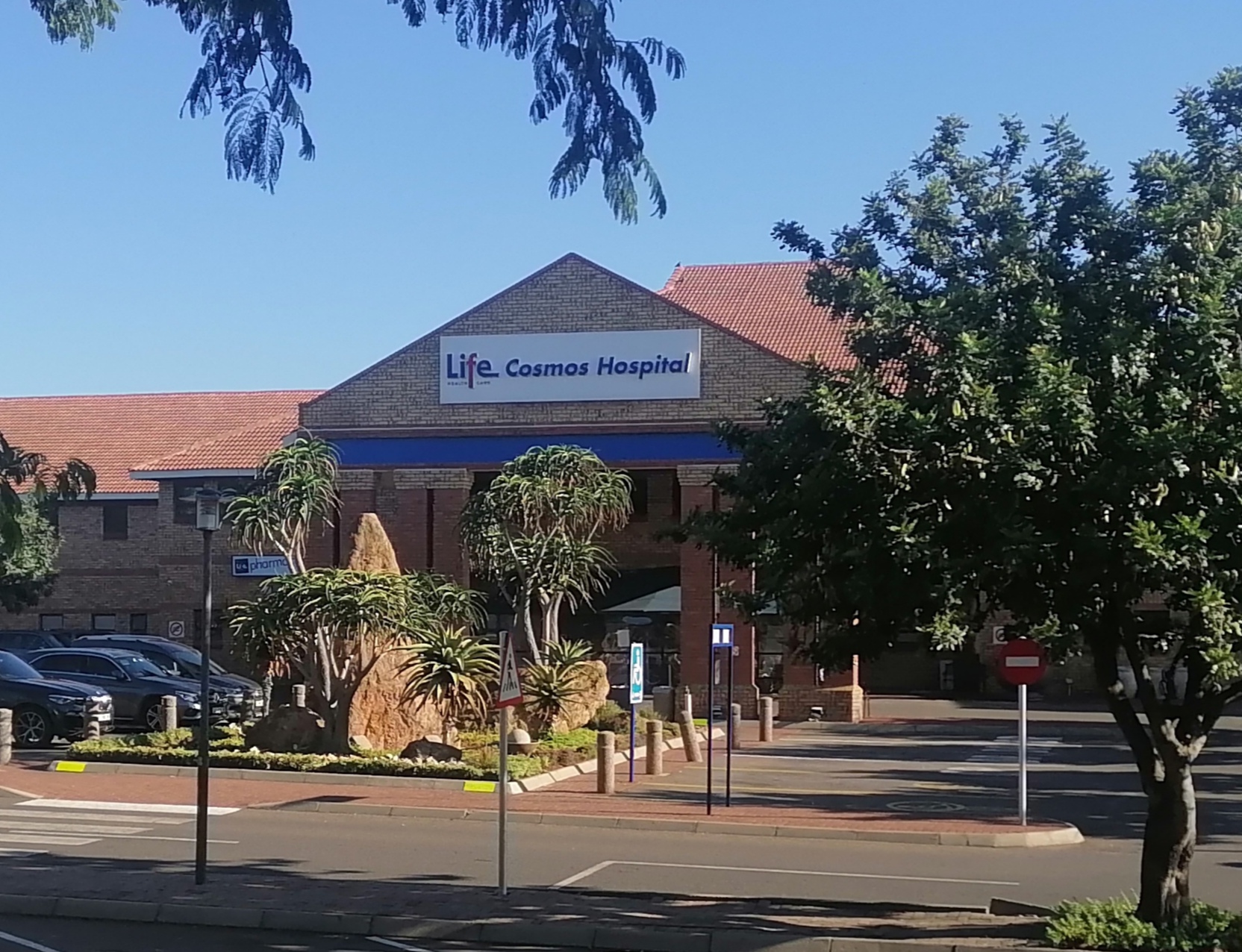 Overview
Life Cosmos Hospital is situated in the picturesque province of Mpumalanga, serving the community of eMahlahleni and surrounding areas.  Our facility has 261-beds offering quality patient-centered care to all our patients.  Our dedicated team of resident specialists and healthcare providers ensure our patients are provided with quality treatment and advise – be it for routine, more serious or extensive procedures.
Our modern facility offers 7 theatres, 21-bed Medical Intensive Care Unit, 10-bed Surgical Intensive Care Unit as well as a state-of-the-art 6-bed Burns Unit.  Our burns units can accommodate injury on duty patients as well as specialised treatment for paediatric burn patients. 
Our 9-station renal dialysis units provides treatment for patients with chronic kidney disease – also offering holiday dialysis for patients visiting our beautiful province.
Our 24-hour emergency unit is fully equipped to handle all medical emergencies – from minor to major.  A dedicated helicopter landing pad ensures our trauma patients can be airlifted to our facility to receive immediate treatment. 
Life Cosmos Hospital employees are able to deliver excellent healthcare through ongoing training.  All our employees embrace the principles of empathy, ethics, excellence and empowerment, making Life Cosmos Hospital – your hospital of choice. 
Emergency

Telephone

Queries
Physical address

C/O OR Tambo Street & Beatty Ave, Witbank, 1035

GPS

-25.8835807 : 29.2329081
Hospital Manager

Hanlie Geyser
Visiting hours
For visitation exceptions around neonatal ICU and paediatric wards contact the hospital directly or click here for more information.
15:00 - 16:00
19:00 - 20:00
Visitors are restricted to two per patient at a time. Children are welcome, but they must have an adult supervising them.
Visiting hours for Medical, Surgical, Neurosurgical, Neonatal ICU and Burns Unit: 
15:00 - 16:00
19:00 - 20:00
In the Intensive Care Unit (ICU), we only allow two family members per patient.
Medical services
Critical care
Emergency services
ENT surgery
General surgery
Gynaecology and Obstetrics
Internal medicine
Maxillofacial surgery
Neonatology
Nephrology
Neurosurgery
Orthopaedic surgery
Paediatrics
Physicians
Renal Dialysis
Retail Pharmacy
Urology
Wound care Clinic
Ancillary services
Audiology and speech therapy
Dietetics
Nuclear medicine
Occupational therapy
Pathology
Physiotherapy
Psychiatry
Radiology
Doctors
Ear, nose & throat surgeon(s)

Dr Jabril Ayodele 

013 653 8240

Dr Nico Ligthelm

013 653 8270

General practitioner

Please contact us for detailed list

013 653 8000

General surgeon(s)

Dr Dawid Roux

013 653 8260

Dr Pieter Oosthuizen

013 653 8290

Dr Stefan Rost

013 653 8296

Gynaecologist(s) & Obstetrician(s)

Dr Michael Mtsweni

013 653 8350

Dr Paddy Daya

013 656 5459

Dr Sinah Mashiloane (Female)
013 655 3054/55


Dr Teboho Ratsatsinyane 

013 653 8340  

Maxillofacial and oral surgeon

Dr Edward Molomo

013 653 8031

Nephrologist(s)

Dr Thuli Shabangu

013 653 8190

Neurosurgeon(s)

Dr Dusan Tatomir

013 282 4493

Dr Gerrie Engelbrecht

013 653 8257

Dr Francois van Niekerk

013 653 8308

Orthopaedic surgeon(s)

Dr Nathi Mhlongo

013 653 8010
Dr Wynand Steenkamp

013 653 8367

Paediatrician(s)

Dr Christian Edeani

013 653 8023

Dr Dharmandra Daya

013 653 8330

Dr Stella Onyari

013 690 2661

Dr Kemi Ayodele 

013 653 8240

Physician(s)

Dr Aamir Hasan

013 653 8250

Dr Ndisha Sipholi

013 653 8355

Dr Tlangelani Tiva

013 653 8300

Dr Ratidzo Tadzimirwa

013 653 8148

Trauma doctor

Doctor on duty

013 653 8002

Urologist(s)

Dr Nico van Greunen

013 653 8328
Contact us
Physical address

C/O OR Tambo Street & Beatty Ave
Witbank
1035

Postal address

PO Box 810
Witbank
1035

Telephone

013 653 8000

Fax

013 653 8005

Hospital manager

Hanlie Geyser

 Queries

Map