Life Cosmos Hospital
Mpumalanga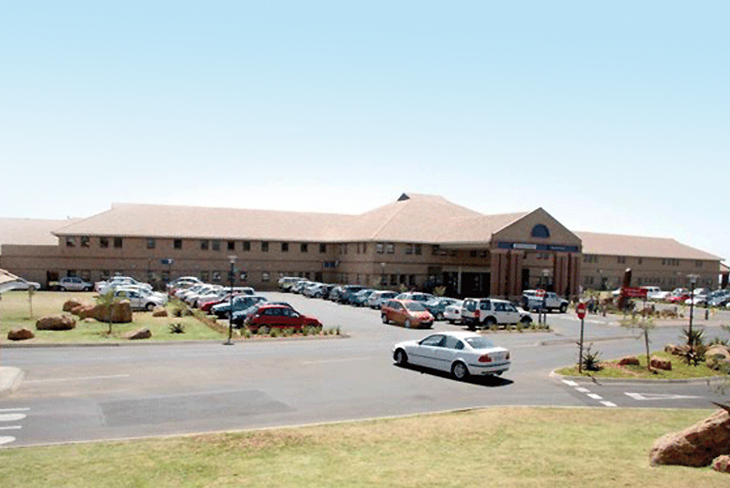 Overview
Situated in Witbank, the large 261-bed Life Cosmos Hospital is focused on the delivery of high- quality treatment and standards of care for which the Life Healthcare Group is known. Its wide range of modern facilities and a first-class team of health professionals provide patients with the treatment they need, whether for routine, more serious, or extensive procedures. There are 7 theatres, a 21-bed medical intensive care unit, a 10-bed surgical intensive care unit, a large maternity unit and a 10-bed neonatal ICU, a 4-bed paediatric intensive care unit as well as a 24-hour accident and emergency unit. Life Cosmos Hospital also has a state of the art 6-bed Burns Unit. This hospital has sophisticated diagnostic equipment, and its dedicated staff members focus on the needs of patients and their families. Through their ongoing quality training, hospital employees are able to deliver excellent healthcare and embrace the principles of empathy, ethics, excellence and empowerment.
Life Cosmos Hospital is a member of the Life Healthcare Group, one of the largest private hospital groups in South Africa, operating more than 60 acute facilities across the country.
Telephone

Queries
Physical address

C/O OR Tambo Street & Beatty Ave, Witbank, 1035

GPS

-25.8835807 : 29.2329081
Hospital Manager

Hanlie Geyser
Visiting hours
All visiting hours listed below for all general wards, ICU and High Care units are suspended until further notice.
For visitation exceptions around neonatal ICU and paediatric wards contact the hospital directly or click here for more information.
10:30 - 11:00
15:00 - 16:00
19:00 - 20:00
Visitors are restricted to three per patient at a time. Children are welcome but they must have an adult supervising them.
Visiting hours for Medical, Surgical, Paediatric, Neonatal ICU and Burns Unit: 
15:00 - 16:00
19:00 - 20:00
In the Intensive Care Unit (ICU), we only allow two family members per patient.
Medical services
Critical care
Dental surgery
Emergency services
ENT surgery
General surgery
Gynaecology
Internal medicine 
Laparoscopic surgery
Maxillo facial surgery
Neonatology
Neurosurgery
Obstetrics
Orthopaedic surgery
Paediatrics
Pathology
Physicians
Psychiatry
Radiology
Urology
Nuclear medicine
Maternity services
Wound care
Ancillary services
Audiology
Pharmacy
Phsyiotherapy
Doctors
Ear, nose & throat surgeon(s)

Dr Kayode Ayodele

0136538344

Dr Nico Ligthelm

0136538270

Dr Wynand Joubert

0136538344

General practitioner

Please contact us for detailed list

0136538000

General surgeon(s)

Dr Dawid Roux

0136538260

Dr Pieter Oosthuizen

0136538280

Dr Stefan Rost

0136538296

Gynaecologist(s)

Dr Michael Mtsweni

0136538350

Dr Paddy Daya

0136565459

Dr Sinah Mashiloane

0136553054/55


Dr Sivagnana Vijendranath

0136538340

Maxillofacial and oral surgeon

Dr Edward Molomo

0136538031

Neurosurgeon(s)

Dr Dusan Tatomir

0132824493

Dr Gerrie Engelbrecht

0136538257

Dr Francois van Niekerk

013 653 8308

Orthopaedic surgeon(s)

Dr Johannes Nortjé


0136538240

Dr Nathi Mhlongo

0136538344

Dr Wouter van Graan

0136538367

Paediatrician(s)

Dr Christian Edeani

0136538023

Dr Dharmandra Daya

0136538330

Dr Stella Onyari

0136902661

Physician(s)

Dr Aamir Hasan

0136538250

Dr Amanda van der Horst

0136538148

Dr Ndishavhelafhi Sipholi

0136538355

Dr Tlangelani Tiva

0136538300

Trauma doctor

Doctor on duty

0136538001

Urologist(s)

Dr Heinrich Voigt

0136538328

Dr Nico van Greunen

0136538328

Dr Wikus Vermeulen

0136538328
Contact us
Physical address

C/O OR Tambo Street & Beatty Ave
Witbank
1035

Postal address

PO Box 810
Witbank
1035

Telephone

013 653 8000

Fax

013 653 8005

Hospital manager

Hanlie Geyser

 Queries

Map