Life Empangeni Private Hospital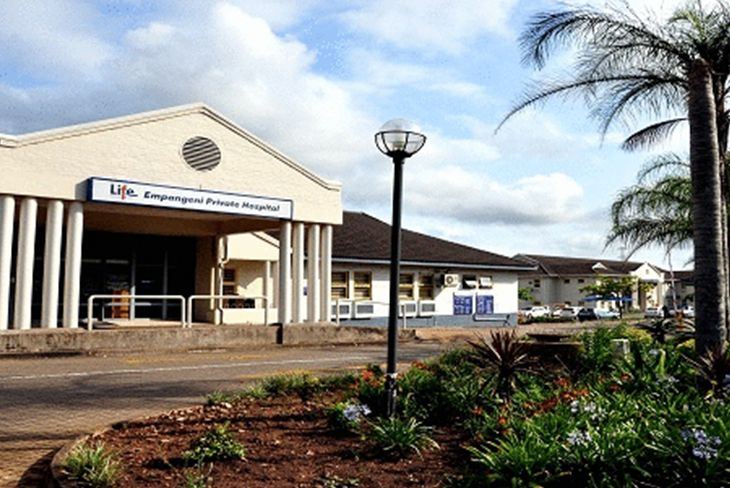 Overview
Empangeni lies about 160 km north of Durban and this where Life Empangeni Private Hospital is situated. This 174-bed hospital serves local patients, who, thanks to the hospital's central location, do not have to travel long distances to access high-quality medical care. The facility has five theatres and an emergency unit. The dedicated team of health professionals offers treatment in many surgical and medical disciplines and focus on an experience of care for everybody who visits or is admitted.Through their ongoing quality training, hospital employees are able to deliver excellent healthcare and embrace the principles of empathy, ethics, excellence and empowerment.
Emergency

Telephone

Email
Physical address

Cnr Biyela and Ukula Street, Empangeni, 3880

GPS

-28.72952 : 31.892506
Hospital manager

John Fidler
Visiting hours
For visitation exceptions around neonatal ICU and paediatric wards contact the hospital directly or click here for more information.
General wards:
10h00 to 20h00

Maximum of two visitors per patient at a time.
ICU and high care ward:
11h00 - 11h30

15h00 - 16h00

19h00 - 20h00

Only family are allowed to visit.

Maximum of two visitors per patient at a time.

No children are allowed.
Medical services
24-hour Emergency Unit
Adult and neonatal ICU
Day ward facility
Ear, nose and throat surgery
General surgery
Laminar flow theatre
Maternity
Medical units
Nephrology
Neurology
Neurosurgery
Obstetrics
Oncology
Ophthalmology
Orthopaedics
Paediatrics
Pathology
Plastic and Reconstruction surgery
Psychiatry
Radiology
Thoracic surgery
Urology
Ancillary services
Ambulance service
Dietetics
Occupational health
Pharmacy
Physiotherapy
Doctors
Anaesthetist(s)

Dr MJ Madisakwane

035 772 2748

Dr SNH Taqvi

035 772 2748

Dr P van der Walt

035 789 7287

Dr F Wever

035 772 6713

Dentist(s)

Dr P Fahn
035 772 3731
Dr Carlse
035 772 3920
Dr RL Pretorius
035 772 3731
Dr JV Sibeko
035 772 4981
Dr PD Swan
035 772 7231

Dermatologist

Dr Kunene
035 799 5577

Ear, nose & throat surgeon

Dr G Charlton
035 792 5569

GP's in Emergency unit

Dr D Van der Walt
035 902 8020
Dr W Gelderblom
035 902 8020
Dr R Cooper
035 902 8020
Dr J Ani
035 902 8020
Dr SN Mdakane
035 902 8020
Dr O Adetiba
035 902 8020

General surgeon(s)

Dr RS Kalyan

035 902 8088

Dr N Naidoo
035 772 3335

Gynaecologist(s)

Dr SJ Kunene
035 772 4848
Dr S Dladla
035 902 8091
Dr RK Misra
035 902 8010

Nephrologist(s)

Dr SC Coka
035 789 9089

Renal Unit

035 772 4210

Neurosurgeon

Dr K Timakia
035 791 5300
Ophthalmologist
Dr J de Lange
035 792 2200

Orthopaedic surgeon(s)

Dr C Gathiram
035 772 2653
Dr S Ndlela
035 902 8092

Paediatrician(s)

Dr TL Usaiwevhu (Ladi)
035 772 1522

Dr NM Nsele

035 772 3848

Pathologist(s)

Ampath Laboratories

035 901 7600

Lancet Laboratories

035 902 8063

Physicians(s)

Dr FI Hashmi
035 772 4798
Dr SC Nkwanyana
035 772 2304
Dr SR Kistensamy
035 902 8000

Plastic & Reconstructive surgeon

Dr B Lelala
035 902 8213

Psychiatrists

Dr SX Molefe
035 772 7253

Radiologist(s)

Dr K Mckenzie
035 772 6839
Dr CI Stoyanov
035 772 6839

Urologist(s)

Dr S Akhtar
035 792 8000

Dr Van Tonder

035 902 8000
Contact us
Physical address

Cnr Biyela and Ukula Streets
Empangeni
3880

Postal address

PO Box 2136
Empangeni
3880

Telephone

035 902 8000

Fax

035 792 1240

Email

Map

Hospital Manager

John Fidler