Life Entabeni Hospital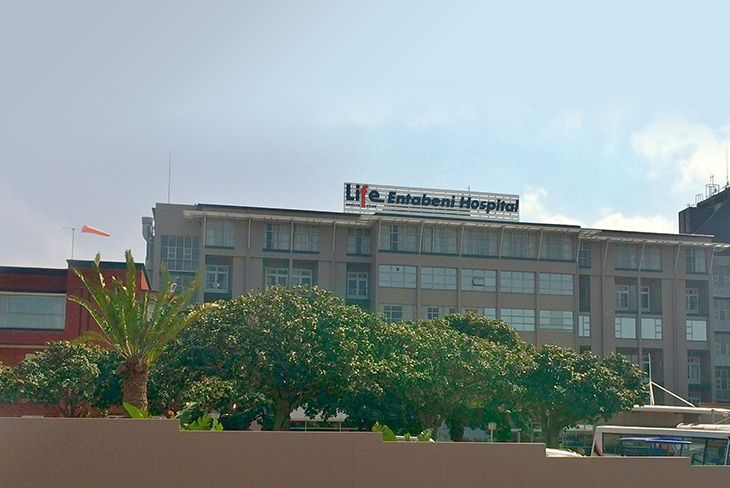 Overview
Life Entabeni Hospital, situated in Berea, Durban, has a total of  312 beds and an additional 50 beds in the rehabilitation unit, for which this hospital is well known. It offers rehabilitation for patients disabled by traumatic brain injury, stroke, spinal cord injury and other disabling conditions. A  state-of-the-art renal unit, based at Life St Joseph's adjacent to the hospital, opened in 2012. The 12-station facility provides haemodialysis treatment for patients with chronic renal failure, in a hospital setting. Treatment in many other medical and surgical disciplines is also offered at the hospital, where a first-class team of health professionals provide exceptional care to patients. Through their ongoing quality training, hospital employees are able to deliver excellent healthcare and embrace the principles of empathy, ethics, excellence and empowerment.
Life Entabeni Hospital is a member of the Life Healthcare Group, one of the largest private hospital groups in South Africa, operating more than 60 acute facilities across the country.
Emergency

Telephone

Email
Physical address

148 Mazisi Kunene (South Ridge Road), Berea, Durban, 4001
Hospital manager

Bhaviksha Maharaj
Visiting hours
All visiting hours listed below have been reviewed according to current lockdown regulations. Please contact the hospital directly for updated information.
For visitation exceptions around neonatal ICU and paediatric wards contact the hospital directly or click here for more information.
All Wards
15h00 - 16h00
19h00 - 20h00
Medical services
Cardiology
Cardiothoracic surgery
ENT surgery
Epilepsy surgery
Dermatology
Gastroenterology
General surgery
Hepatobiliary surgery
Internal medicine
Maxillofacial & oral surgery
Nephrology
Neurology
Neurosurgery
Oncology
Ophthalmology
Orthopaedic surgery
Paediatrics
Paediatric nephrology
Paediatric neurology
Pathology
Plastic and reconstructive surgery
Psychiatry
Pulmonology
Radiology
Radioisotope nuclear medicine
Renal transplantation
Urology
Vascular surgery
Ancillary services
Audiology
Clinical psychology
Educational psychology
Neuropsychology
Occupational therapy
Physiotherapy
Psychology
Renal dialysis
Sleep laboratory
Speech therapy
Social services
Doctors
Anaesthetist(s)

Dr Charlotte Evans

031 261 1258

Dr Ian Young

031 171 0019

Dr Liesl Baker

031 261 1258

Audiologist(s)

Mr Pregalathan M Naidoo

031 261 1991

Mrs Maxine Dobeyn

031 261 4779

Ms Rookaya Vahed

031 261 4779

Cardiologist(s)

Dr Ash Naicker

031 204 1610

Dr Farouk Hassen

031 261 8211

Dr Satees Singh

031 261 9908

Dr Vijay Deenadayalu

031 261 8514

Cardiothoracic surgeon(s)

Dr Gerard Alexander

031 261 1777

Dr Kaven Naicker

031 261 1777

Dr Keith Odayan

031 261 1777

Dermatologist(s)

Dr Anita Gordhan

031 261 5799

Dietician(s)

Mrs Danielle Roberts

031 312 7506

Miss Logeshpree Govender

031 261 1007

Ear, nose & throat surgeon(s)

Dr Garth Skinner 

031 261 1976

Dr Salesh Srikewal

031 261 7373

Endocrinologist(s)

Dr Sophia Rauff

031 261 2575

Gastroenterologist(s)

Dr Kugan Govender

031 261 1001

Dr Suleman AH Moola

031 261 8580

General practitioner(s)

Dr Charles Roberts

031 261 6828

Dr David Dungan (Maritime Occupational)

031 261 8291

Dr Guy Scott

031 261 6828

Dr James Addington (Maritime Occupational)

031 261 8291

Dr Jamie Frederik

031 261 6828

Dr Johann Wessels

031 007 0549

Dr Marguerite Howlett

031 261 1255

Dr Nick Park-Ross (Maritime Occupational)

031 261 8291

General surgeon(s)

Dr Andre Reddy

031 261 7310

Dr Emil Loots

031 261 7111

Dr Jenen Reddy

031 204 1569 /1442

Dr Namasha Naidoo

031 261 7310

Dr Neil Craig Campbell

031 261 7111

Dr Naseem Y Bhorat

031 261 6796

Dr Ponnusamy Rajaruthnam

031 261 7310

Dr Rajan Moodley

031 261 7111

Haematologist(s)

Dr Dhaya Moodley

031 204 1628

Dr Natasha Sewpersad

031 204 1628

Maxillofacial & oral surgeon(s)

Dr Vivesh Rughubar

031 261 7310

Nephrologist(s)

Dr Ishan Rambali

031 261 9901

Dr Suman Maharaj

031 261 8861

Neurologist(s)

Dr Ashleigh Bhanjan

031 261 5446

Dr Dinita Devchand

031 261 1458

Dr Nuren Prosad

031 261 1586

 Neurophysiologist (Epilepsy Unit)

Ms Candice Böttcher

031 204 1490

Neurosurgeon(s)

Dr Jason Coventry

031 261 8237

Mr Malan Roux

031 261 2585

Dr Mike du Trevou

031 261 2585

Dr Prashanth Maharaj

031 171 0307

Mr Somasundram T Govender

031 261 1491

Occupational therapist(s)

Ms Kate Rowland

031 261 4870

Ophthalmic surgeon(s) (Eye Centre)

Dr Raymond Way

031 261 2338

Dr Vanessa Thunstrom

031 261 9303

Dr Sine Mulonga

031 301 1549

Orthopaedic surgeon(s)

Dr AD Bhatta

031 261 1215

Dr Andrew Baker

031 261 7907

Dr Andre Human

031 261 7907

Dr Bijay Garach

031 261 6090

Dr Ian Stead

031 261 7907

Dr Luren Reddy

031 261 1215

Dr Sachin Baba

031 261 1215

Dr Sicelo Mvelase

031 261 1272

Dr Vernian Nadar

031 261 7308

Paediatric Nephrologist

Dr Rashinta Moodley

031 261 4767

Paediatric Neurologist

Dr Amith Keshave

031 261 1561

Paediatrician(s)

Dr Das Pillay

031 201 3024

Dr Rashinta Moodley

031 261 4767

Pathologist(s)

Ampath Laboratories

031 261 7331

Lancet Laboratory

031 275 4460

Physician(s)

Dr Ishan Rambali

031 261 9901

Dr Mahomed S Khan

031 261 2256

Dr Ramesh Bhoola

031 261 2256

Dr Rasha Maharaj

031 261 5130

Dr Seshen Govender

031 261 2256

Dr Sophia Rauff

031 261 2575

Dr Sudhir Mohun

031 261 8861

Physiotherapist(s)

Miss Vaneshrie Moodley

031 201 3024

Mr Riad Khan

031 261 4985

Ms Nasreen Ebrahim

031 201 3024

Plastic surgeon(s)

Dr Simmi Singh

031 940 4024

Dr Shaal Ramdial

031 942 1354

Psychiatrist(s)

Dr Suntheren Pillay

031 261 2688

Dr Theshenthree Govender

031 261 1325

Dr Varsha Maharaj

031 261 2688

Dr Vasavan Agambaram

031 261 9120

Psychologist(s)

Dr Ann Watts (Neuropsychologist)

031 261 8288

 Dr Farheen A Majid (Clinical)

031 204 1569

Prof Lourens Schlebusch

031 261 4293

Pulmonologist

Dr Mahomed S Khan

031 261 2256

Radiologist

Lake, Smit & Partners

087 310 4983

Rheumatologist

Dr Rasha Maharaj

031 261 5130

Speech therapist(s)

Ms Justine Hellberg

031 261 4779

Mrs Maxine Dobeyn

031 261 4779

Mr Pregalathan M Naidoo

031 261 1991

Hepatobiliary surgeon

Dr Emil Loots


031 261 7111

Trauma doctor(s)

Dr Dave Ogg

031 204 1377 / 8

Dr Konrad Dorfling

031 204 1377 / 8

Dr Rynn Vurden

031 204 1378

Urologist(s)

Dr Aslam Bhorat

031 261 7073

Dr Michael Nicholls

031 261 1226

Dr Shiven Ramkissoon

031 261 1300

Vascular surgeon(s)

Dr Jahangirul Islam

031 261 1362

Dr Vinesh Padayachy

031 261 5130

Wound Care Practitioner

Sr Kate Macphail

031 261 1255
Contact us
Physical address

148 Mazisi Kunene (South Ridge Road),
Berea,
Durban
4001

Postal address

P O Box 2230,
Durban
4000

Telephone

031 204 1300

Fax

031 261 6435

Email

Map

Hospital Manager

Bhaviksha Maharaj