Life Springs Parkland Hospital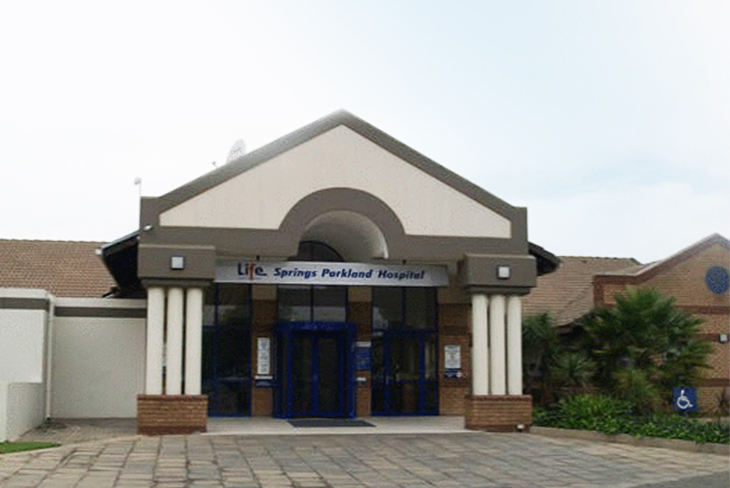 Overview
Half an hour's drive east of the city of Johannesburg, lies the 247-bed Life Springs Parkland Hospital. The priority of the team of health professionals at this large hospital is to focus on the delivery of a special brand of health and care to patients. Within a world class hospital, this unique approach is what makes the difference. Facilities include 7 theatres, including a digital theatre, a 24-hour accident and emergency unit with an emergency paramedic response service is supported round-the-clock by specialists, an 18-bed Surgical ICU, an 11-bed Medical ICU a 10-bed renal unit and sophisticated diagnostic equipment. Hip and knee replacements are among the many surgical procedures regularly performed here. A large number of general practitioners and specialists are available for consultation at this hospital. Through their ongoing quality training, hospital employees are able to deliver excellent healthcare and embrace the principles of empathy, ethics, excellence and empowerment. A 15 bed Rehabilitation unit will be opening soon.
Emergency

Telephone

Email
Physical address

15 Springs West Road, Pollak Park, Springs, 1559

GPS

-26.2661053 : 28.4335346
Hospital manager

Cora Muller
Visiting hours
For visitation exceptions around neonatal ICU and paediatric wards contact the hospital directly or click here for more information.
Monday to Friday
15h00 - 16h00
19h00 - 20h00
Visitor Restrictions
Only one visitor allowed at patients' bedside at a time
No children under 12 allowed
No visitors will be allowed outside visiting hours without prior arrangements with unit manager.
Medical services
Cardiothoracic Surgery
Dentistry
Dermatology
ENT surgery
General surgery
Gynaecology
Internal medicine
Maxillofacial surgery
Neurosurgery 
Obstetrics
Orthopaedic surgery
Paediatrics
Paediatric Cardiology (minor)
Paediatric surgery
Renal dialysis
Urology
Renal dialysis
Ancillary services
Baby Clinic
Dietetics
Hearing Acoustics
Neuro Diagnostics
Nuclear Medicine
Occupational therapy
Pathology
Pharmacy
Physiotherapy
Podiatry
Psychology
Radiology
Sessional suites with consulting rooms
Wound Clinic
Doctors

Cardiothoracic surgeon(s)

Dr Steve Davis

011 812 4198

Clinical psychologist(s)

Dr Johan Pieterse

011 812 4096/4172

Dr Marencia Odendaal

011 363 1717

Dermatologist(s)

Dr Michael Musk

011 883 6272 / 011 812 4096 / 4172

Ear, nose & throat surgeon(s)

Dr Jacek Ogonowski

011 812 4096 / 4172

Dr Nissius du Plessis

011 812 4096 / 4172

Dr Tumba Mulanga

011 812 4096 / 4172

Fertility

Dr Gaontebale Matlhaga

083 649 9207

General surgeon(s)
Dr Ben Jansen van Vuuren

011 365 1847

Dr Christopher Snowdowne 

010 446 1060

Dr Lydia Kilani

011 812 4000

Dr Rhynie Landau 

011 812 4096/4172

Gynaecologist(s)

Dr Clive Khoza

011 812 4019

Dr Faith Mjoli

011 812 4240

Dr Nontando Ntloko

011 812 4067

Dr Kgotleathata Molefi

011 425 6288

Maxillo-facial surgeon(s)

Dr Frits Hoogendijk

011 812 4096/4172

Neuro Diagnostic(s)

Ryan Brits
011 812 4096

Clinical Neurophysiologist(s)

Janet Bester
011 812 4096 / 4172
Kristie Kane
011 812 4096 / 4172

Neurosurgeon(s)

Dr Kennedy Matshana

011 812 4096 / 4172

Nephrologist(s)

Dr S Wadee

011 812 4073

Dr V Rekhviashvili

011 812 4073

Dr Z Gangat

011 812 4073

Orthopaedic surgeon(s)

Dr Marek Radziejowski

011 812 4125

Dr Jean Kumasamba

011 362 3695

Dr Shaaheen Bismilla

011 812 0544

Paediatric surgeon(s)

Dr Ben Jansen van Vuuren

011 812 4030 / 5

Paediatrician(s)

Dr Legodimo Madihlaba

011 812 4076

Dr Tanyah Ndou

118124195

Dr Ewa Stepien

011 812 4093

Dr Antonio Zambakides

(Admitting only)

Paediatric Cardiologist(s)

Dr Mamaila Lebea

011 812 4172

Physician(s)

Dr Nathi Luthuli

011 812 4099

Dr Johan Reyneke

011 815 1883

Dr Louis de Lange

011 812 4016

Dr Segomotso Moholo

011 812 4201

Urologist(s)

Dr Oyewole Adebisi

011 812 4185
Contact us
Hospital Manager

Cora Muller 

Physical address

Springs West  Road
Pollak Park
Springs
1559

Postal address

P O Box 86
Springs
1560

Telephone

011 812 4000

Fax

086 681 7207

Email

Map