Life Brooklyn Day Hospital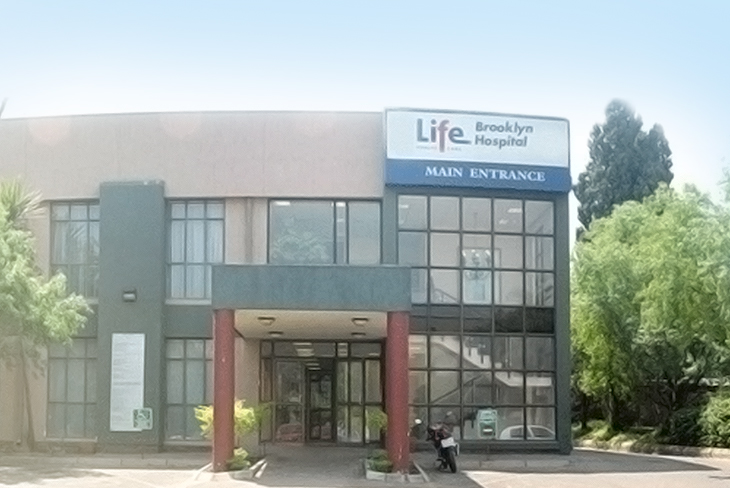 Overview
Brooklyn, Pretoria, is home to Life Brooklyn Day Hospital – a 27-bed facility, catering mainly for day surgery patients and where necessary patients are accommodated overnight in the 13 bed overnight ward.  As surgery is this hospital's main focus, there are four technologically advanced and fully equipped theatres, aimed at delivering the high-quality care, which Life Healthcare hospitals are passionate about. The hospital provides a variety of surgical disciplines supported by specialist anaesthetists. Specialists perform cosmetic and reconstructive, general, ear-nose-and throat, urology and gynaecological surgery at the hospital. In addition dental procedures performed here are maxillofacial and oral, periodontal as well as general dental surgery. The employees at Life Brooklyn Day Hospital actively participate in community initiatives. Through their ongoing quality training the employees, deliver excellent healthcare and embrace the principles of empathy, ethics, excellence and empowerment.
Physical address

Brooklyn Medpark, Brooklyn Day Hospital, Cnr. Duncan Jan Shoba & Olivier Street , 154 Olivier Str, Brooklyn, 0181

GPS

-25.763049 : 28.236624
Hospital Manager

Chrisna Krynauw
Visiting Hours
We welcome all our patients' visitors, as we know what a difference the support of close family and friends can make. 
Parents are encouraged to stay with their children both before and after surgery.
Morning:
10:00 – 11:00
Afternoon:
15:00 – 16:00
Evening:
19:00 – 20:00
Medical services
Cosmetic & reconstructive surgery
Dental surgery
Dentistry
Dermatology
Ear, nose & throat surgery
General practice
General surgery
Gynaecology
Maxillofacial & oral surgery
Orthopaedic surgery
Pathology
Periodontal surgery
Ancillary services
Doctors

Dermatologist(s)

Dr Kevin Sevior

012 9985287

Dr Marius Hannah

012 3482974

Ear, nose & throat surgeon(s)

Dr Addie Viljoen

012 3221108

Dr Amelia Geyser

012 8801569

Dr Jannetjie Izeboud 

012 3333155

Dr Jacques Viljoen

012 3465253

Gynaecologist(s)

Dr Hennie Nel

012 3432290

Dr Bianca Zondagh

012 3464564

Dr Emma Bryant

012 3462634

Dr Elizabeth de Gouveia

012 3412741

Dr Ryno Scribante

012 6645701

Maxillofacial surgeon(s)

Dr Arrie Martin

012 3465017

Dr Corlia v Straten

012 3468416

Dr Manfred Swanepoel

012 6643579

Dr Sarel Botha

012 3466032

Orthopaedic surgeon(s)

Dr Wim Hiddema

012 3463004

Dr Melt V Niekerk

012 3467279

Plastic & reconstructive surgeon(s)

Dr Ehrin Eksteen

012 5486601

Dr Eddie Moller

012 6640220

Dr Liana Volkwyn

012 3460730

Dr Paul Pienaar

012 3464303

Dr Ralph Schröder

012 8075863

Dr Stefan Rawlins

012 5480431

Dr Vivien Jandera

012 9930566

Dr Grysie Annandale

012 8072695
Contact us
Physical address

Brooklyn Medpark
Brooklyn Day Hospital
Cnr. Duncan Jan Shoba  & Olivier Street
154 Olivier Street
Brooklyn
0181

Postal address

PO Box 1705
Brooklyn Square
0075

Telephone

012 433 0860

Fax

012 346 6350

Email

Hospital Manager

Chrisna Krynauw

Map