Life Wilgeheuwel Hospital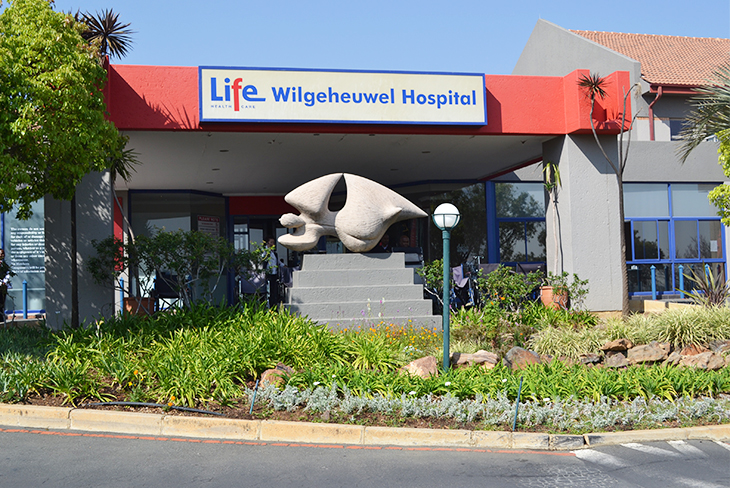 Overview
Life Wilgeheuwel Hospital is situated on the West Rand in Johannesburg. The healthcare professionals at this world-class hospital appreciate the importance of quality in delivery of service, and embrace caring principles of empathy, ethics, excellence and empowerment. This modern and sophisticated hospital has 220 beds and 10 theatres, and the facility is equipped to deal with routine, more serious and extensive procedures. There are several highly specialised units, such as the neuro-orthopaedic unit, an infertility clinic and a renal unit. A large team of doctors and specialists from 24 medical and surgical disciplines is available for consultation. A combination of quality and clinical excellence, supported by a passion for people is what makes Life Wilgeheuwel Hospital a hospital of choice.
Emergency unit

Main Reception

Email
Physical address

Corner of Paul Kruger road and Amplifier Road, Radiokop Ext 13, Roodepoort, 1724

GPS

-26.09184 : 27.924491
Hospital Manager

Adri Botes
Visiting hours
For visitation exceptions around neonatal ICU and paediatric wards contact the hospital directly or click here for more information.
We welcome all of our patients' visitors, as we know what a difference the support of close family and friends can make. Please note that our patients do need their rest to recover, therefore we ask all visitors co-operation to keep the noise levels down between 13h00 and 15h00, during Rest and Sleep time.
Visiting hours
General wards:
Two visitors per day per patient between 15h00-16h00 and 19h15-20h15
Paediatric Wards/ICU:
One parent will be permitted to sleep in with an admitted paediatric patient.
The other parent will be permitted between 15h00-16h00 and 19h15-20h15
Nursery and Neonatal ICU:
Parents may visit together between 8h00 and 20h00. The duration of the visit will be at the discretion of the unit manager.
No visitors between 06h45 - 07h15 and 18h45 – 19h15 (nurse's handover), in addition to 13h00 – 15h00 (Quiet time).
No children, siblings or other family members will be allowed.
Adult ICUs:
Two visitors per patient per day between 15h00-16h00 and 19h15-20h15
Critically ill patients:
Family visitation may be allowed subject to special arrangements with the hospital manager.
Confinement – partner support in theatre/labour ward:
Please liaise with your doctor/the hospital you have booked at for the birth of your baby.
 Medical services
Advanced laparoscopic surgery
Endocrinology
Ear, nose & throat surgery
Fertility Clinic
Gastroenterology
General surgery
Gynaecology and Obstetrics
Internal medicine (physician)
Maxillo-facial surgery
Neonatology
Nephrology
Neurology
Neurosurgery
Ophthalmology
Orthopaedic surgery
Paediatrics
Paediatric surgery
Paediatric Neurology
Pathology
Plastic & reconstructive surgery
Psychiatry
Pulmonology
Radiology
Rheumatology
Robotic surgery
Urology
Ancillary services
Antenatal classes
Audiology & speech therapy
Baby clinic
Biokinetics
Dietetics
Indoor hydrotherapy pool
Occupational therapy
Pharmacy
Physiotherapy
Postnatal clinic
Renal dialysis unit (14 beds)
Doctors
Audiology and speech therapy

Ms Celeste de Freitas

011 795 2909

Cardiologist

Dr Rob Leibbrandt

011 794 1720 / 011 794 1817

Dietician(s)

Ms Amanda van Huysteen

082 452 7347

Ms Liezel Koekemoer

083 658 9248

Ear, nose & throat surgeon(s)

Dr Neels van Schalkwyk

011 472 2272

Dr Phillip Pio

011 794 4790 / 011 794 4788

Dr Stefaan Bouwer

011 794 4790 / 011 794 4788
Emergency unit head

Dr Michael Waldeck

011 796 6622 / 011 796 6549

Endocrinologist

Dr Gita Makan

011 796 6686

Gastroenterologist

Dr Hilda Smith

010 595 4582

General surgeon(s)

Dr André Baars

011 475 6826 / 011 475 6885

Dr Blikkies Booyse

011 794 3364 / 011 794 8575
Dr Fayyaz Hameed
011 794 1583 / 011 794 9701

Dr Lydia Kilani

011 796 6686

Dr Maciej Pawlak

011 758 6566

Dr Pieter Swart

011 796 6856
Gynaecologist(s) and Obstetrician(s)

Dr Deshini Packirisamy

011 795 1329

Dr Bernie Potgieter

011 796 1100

Dr Dawid Schulz

011 796 1100

Dr Elmarie Wypkema

011 794 7710

Infertility Clinic/I.F.B Lab

Dr Nomonde Gumata

011 796 6732

Maxillo facial surgeon(s)

Dr Shailen Dulabh

011 794 8530

Dr Johan Vorster

011 472 2321

Mammography and Bone Densitometry

Mammography and Bone Densitometry Centre

011 794 4688

Nephrologist(s)

Dr Malcolm Davies

011 796 6686

Dr Nina Diana

011 796 6686

Neurologist

Dr Jasvina Ranchhod

011 796 6690

Dr Comfort Shaba

011 796 6686 / 011 951 0415
Dr Desmond Shamley
011 794 4358 / 011 794 4261

Neurosurgeon(s)

Dr Antonie Botha

011 794 5518 / 011 794 5528

Dr Ian Human

010 021 0141

Dr Lebo Modikeng

011 796 6645

Occupational Therapist(s)
OT Zone Inc
011 475 9480
Emergencies
079 491 6450
OT Zone Adult physical and Neuro Rehab
060 477 9950
Ophthalmologist(s)
Dr Irene Freed
(Emergencies / after hours)

011 201 4625
082 569 9725
Dr Suzanne Smith
(Emergencies / after hours)

011 201 4625
082 569 9725

Orthopaedic surgeon(s)

Dr Graeme Davis

087 158 3016

Dr Manie de Wilde

011 794 9693 / 011 794 6841

Dr Neil Freed

011 794 8629

Dr Anne Maina

011 796 6686 / 011 278 8758

Dr Philip Mostert

011 794 5758 / 011 794 7386

Dr Gavin O'Brien

011 795 4291 

Dr Tollie Oosthuizen

011 794 3371 / 011 794 3376

Dr Coenie Pretorius

011 470 7860

Dr Franz Snyman

011 795 4038 / 011 795 4101

Dr Ian Steyn

079 345 9148

Dr Jaco Strobos

011 794 9936 / 011 794 9937

Paediatrician(s)

Dr Khau Mungoni

011 794 3409

Dr Ed Neethling

011 794 1504

Dr Harshad Ranchod

011 794 3409

Dr Karin Simmank

011 794 8161

Dr Izanie Weideman

011 794 1504

Paediatric Neurologist

Dr Bernice Naborn
011 794 1504
Paediatric Surgeon
Dr Zubrina Solomon
011 796 6686

Pathologist(s)

AMPATH
011 794 3235 / 011 709 1543

Lancet Laboratories

011 699 1980

Physician

(s)

Dr Robin Ballantine

011 794 4022

Dr Julia Botha

011 794 3604

Dr Andrian Dreyer
011 794 1720 / 011 794 1817

Dr Erich Holz

011 796 6571

Dr Anneli Korb

083 538 9384

Physiotherapist(s)

Bell, Rogers and Harris

011 794 4566

Ingrid Klerck

011 794 2380

Ciné Kruger

083 371 0276

Poulter - Simon

011 796 6714 / 011 794 6833

Plastic & Reconstructive surgeon(s)

Dr Anton Brewis
011 794 7705 / 011 758 6490

Dr Magnus Potgieter

011 794 7705

Psychiatrist(s)

Dr Marie Buchner

011 794 8629

Dr Alma Kalaba

011 795 1129 / 011 792 8674

Pulmonologist

Dr Ziyaad Laher

011 796 6591

Radiologist(s)

Dr Van Rensburg and Partners

011 794 4688

Reproductive Medical Specialist(s)

Dr Nomonde Gumata

011 796 6732

Rheumatologist(s)

Dr Romela Benitha

011 795 2887

Dr Marilyn Reddy 

011 794 4942

Urologist(s)

Dr George Bell

011 794 1161 / 011 470 7966

Dr Marius Conradie

011 794 1161 / 011 794 2911

Dr Colin Martheze

011 758 6469

Dr Reuben Ras

011 470 7966 / 011 796 1100

Dr Piet Steyn

011 794 1161 / 011 794 2911

Dr Corne van Graan

011 794 3549
Contact us
Physical address

Corner of Paul Kruger & Amplifier Road
Radiokop Ext 13
Roodepoort
1724

Postal address

Private Bag X11
Honeydew
2040

Contact details

Main Reception

Paediatric ward

Ward 2

Maternity ward

Ward 5

Ward 6

Ward 7

ICU

High Care

Paediatric ICU

Day Ward

Pharmacy

Emergency unit

Day and night manager on call

 

011 796 6500

011 796 6555

011 796 6522

011 796 6754

011 796 6520

011 796 6602

011 796 6678

011 796 6693

011 796 6718

011 796 6642

011 796 6770

011 796 6541

011 796 6519; 011 796 6523; 011 796 6716

079 040 0227

Fax

086 648 7533

Hospital Manager

Adri Botes

Email

Map