Life Brenthurst Hospital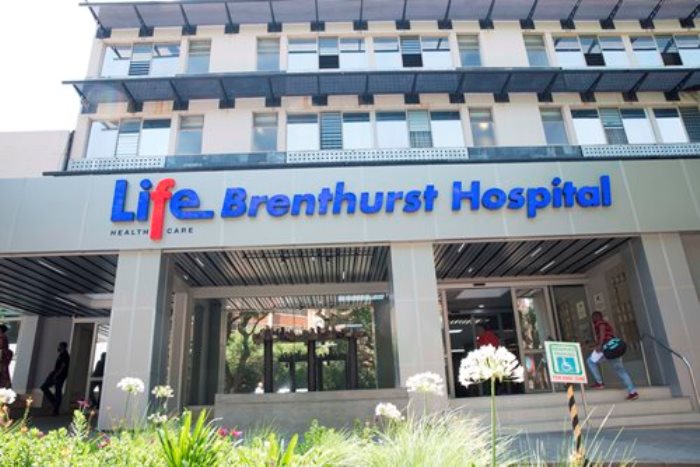 Overview
Life Brenthurst Hospital is a large 233-bed facility in Parktown, Johannesburg, and it is dedicated to delivering high-quality service and embracing principles of excellence and ethics. Whether for routine, major or extensive procedures, the hospital delivers top-quality healthcare from diagnosis to surgery and/or treatment. In addition to the 11 theatres, the intensive-care unit and a 20-bed maternity ward, there is also a specialised ophthalmology unit, a fertility unit and a 10-bed neonatal ICU. A first-class team of health professionals from 27 surgical and medical fields are available for consultation at this excellent hospital. Through their ongoing quality training, hospital employees can deliver excellent healthcare and embrace the principles of empathy, ethics, excellence and empowerment.
Emergency

Telephone

Email
Address

4 Park Lane, Parktown, Johannesburg, 2193

GPS

-26.177515 : 28.045824
Hospital Manager

Pragna Patel
Visitors Information
NICU:
08h00 - 18h00 | 2 parents at a time will be allowed to visit newborns. One grandparent at a time is allowed to visit. 
Maternity:
15h00 - 16h00 & 19h00 - 20h00 | Fathers /Partners are allowed in the delivery room/Theatre during time of delivery and during visiting hours. Grandparents will also be allowed during visiting hours (only 2 grandparents at a time).
Paediatric wards:
15h00 - 16h00 & 19h00 - 20h00 | Only one parent permitted to sleep-in with an admitted paediatric patient and one family member at a time will be allowed to visit during visiting hours.
AICU:
11h00 – 12h00, 15h00 - 16h00 & 19h00 - 20h00 | One visitor per patient. Prior arrangements to be with the Unit manager should you require additional visitation.
General wards:
15h00 - 16h00 & 19h00 - 20h00 | 2 visitors per patient.
 NB:
No children under 12 years old are allowed visitation.
No cellular phones are to be used in the AICU and NICU.
No visitors permitted in the Covid-19 unit.
Should you require visitation outside the above visiting times, please ensure prior arrangement is made with hospital management
Medical services
Cardiology
Cardiothoracic surgery
Dermatology
ENT surgery
Gastroenterology
General surgery
Gynaecology
Internal medicine
Maxillofacial surgery
Neurology
Neurosurgery
Obstetrics
Oncology
Ophthalmology
Orthopaedic surgery
Paediatrics
Pathology
Psychiatry
Radiology
Urology including lithotripsy
Ancillary services
Antenatal clinic
Dental clinic
Diabetic clinic
Baby Immunisation Clinic (011 647 9120)
Dietetics
Fertility clinic (www.bioartfertility.co.za)
Foreign patient assistance
Haemodialysis
Pharmacy
Physiotherapy
Pre-admission clinic
Psychology
Social work services
Doctors

Cardio-thoracic surgeon

Dr Ahmed  Bhayat (non-resident)

011 726 6113

Chardith Baby Immunisation Clinic

Sr Judith  Mokoena

011 647 9120

Clinical psychologist(s)

Dr Thabani Sibanda

082 356 1156

Mrs Nonhlanhla Mngomezulu

082 459 2312

Dentist

Dr Altaz Tayob

011 484 7775

Dermatologist

Prof Deepak Modi

011 642 4743

Dietician (s)

Bongani Mthimunye

079 151 5925

Reginald Kekane

079 493 4177

Terria Mashimbye

078 382 3881

Ear, nose & throat surgeon(s)

Dr Sumaya Ahmed


011 647 9120

Prof Shivesh Maharaj

011 647 9119 / 011 922 1228

General practitioner(s)

Dr Leslie Picker

011 642 1936

Dr Oscar Maisto

011 484 5559

Dr Kaivan Parshotam

011 484 5559

Dr Minakshi Jivan (Family Physician)

060 798 2193

General surgeon(s)

Dr Alimia Eskander

011 484 9120

Dr Amisha Maraj

067 944 8241

Dr Everett Nana Kwame Asante

011 647 9107

Dr Gilbert  Chasumba

011 642 1936

Dr Motheo Thabane Zimba

011 647 9107

Dr Sam Kasumba

011 642 9979

Maxillofacial surgeon

Dr Aziz H Kola

011 484 0988

Medico-Legal

Dr Geoffrey Oliver Read

011 642 5022

Nephrologist

Dr Haroon Tayob (Diabetologist)

011 484 7775 / 6

Dr Kafofora Gerald Maroka

011 482 1716

Neurologist

Prof Girish Modi

011 642 4743

Neurosurgeon

Dr Coceka Mfundisi

011 647 9000

Obstetricians & gynaecologist(s)

Dr Audrey Gugu Gamedze (Female)

011 484 0452 / 086 099 5366

Dr Goolam  Hussim Mohamed

011 484 4550 / 68

Dr Ilonda H Maghoma

011 4847119

Dr Mohamed  I Cassim

011 484 5119 / 68

Dr Nestor M Kabamba

011 333 2321 / 9746

Dr Peddy  Dingayo

011 484 0117

Dr Rasheed  A Ismail

011 642 9867 / 8

Dr Simphiwe  Mose

011484 0343

Dr Yusuf Dasoo

011 484 5119 / 5168

Dr Vusumuzi Maringa

011 484 0343

Ophthalmologist(s)

Dr Aziz Valiallah / Ms Zarina Valiallah
(Optometrist & Contact Lens Practitioner)

011 484 3602 / 98

Dr Kgosietsile Letlape

011 484 9535

Dr Larry Malin

011 484 5341

Dr Shabbir Hussain

011 647 2333

Dr Thekiso Selele

011 484 9535

Orthopaedic surgeon(s)

Dr Ebrahim Hoosen

011 484 0743

Dr Edward Schnaid

011 643 1448

Dr Geoffrey Oliver-Read

011 642 5022

Dr Ramoroa Andrew  Morule 

011 484 7820 / 2

Dr Richard Kgabu

011 484 0470

Dr Zwelithini Linda 

011 484 0470

Paediatric surgeon

Dr Joao Da Fonseca

011 484 5083

Dr Tarryn Dawn Gabler

082 715 2442

Paediatrician(s)

Dr Dalubuhle Ndiweni

011 642 4511

Dr Liemo Monaheng

011 484 5329

Dr Molefi Pholo

011 484 1429

Dr Mpho Muyanga

011 484 1429

Dr Nomsa Helen  Maseko

011 484 7375

Dr Ocavius Mashile

011 336 8210

Dr Zahedah Dadoo

011 484 0007

Physiotherapist (s)

Rivadh Singh

083 750 3011

Mashoro Phasha

083 822 8580

Emily Malaka

071 326 3555

Saki Ngwevela

081 440 2410

Sylvia Ndou

076 152 2281

Lavanya Naidoo

084 533 1334

Mpho Modisane

083 258 1032

Thabang Khoza

076 408 9226

Radiation oncologist

Dr Gulzar Malik

011 484 5260 / 2

Radiologist(s)

Dr Alan Matisonn

011 484 1920

Dr Milton Tobias

011 484 1920

Dr Parusha Pillay

011 484 1920

Specialist general surgeon(s)

Dr Eskander Alimia

011 647 9120 / 3049

Dr Selepe Motuba

011 484 3292 / 3296

Dr Amisha Maraj

067 944 8241

Specialist physician(s)

Dr Charles Muzamhindo

011 333 2408 / 0457

Dr Jean Claude LumandaMbuyamba

011 484 0586

Dr Leslie A Mokgatle

011 337 4508

Dr Mohamed Amanjee

011 484 3216 / 58

Dr Osman Ebrahim (Physician and HIV Specialist)

011 642 1936 / 9247

Urologist(s)

Dr Ahsan Ahmad

011 484 0656

Dr Faizel Dhoodhat

011 484 0656

Dr Thirusha Reddy (non- resident)

011 480 4330

Wound & Foot Clinic

Dr Ethel Andrews (Wound Specialist)

011 484 0033

Ms Gugu Njoko (Podiatrist)

011 863 3225
Contact us
Hospital Manager

 Pragna Patel

Physical address

4 Park Lane,
Parktown,
Johannesburg,
2193

Postal address

P O Box 8999,
Johannesburg,
2000

Telephone

011 647 9000

Fax

011 647 9009

Email

nonhlanhla.thabethe@lifehealthcare.co.za

Map