Life Suikerbosrand Hospital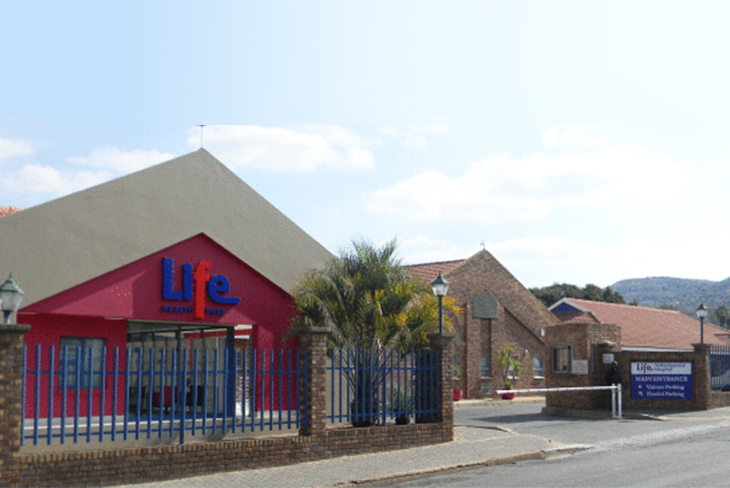 Overview
Just off the N3 highway to the southeast of Johannesburg lays the community of Heidelberg, which is served by the 94-bed Life Suikerbosrand Hospital. The modern facilities include three technologically advanced and fully equipped theatres, an intensive-care unit, accident and emergency unit, and a maternity unit with neo-natal intensive-care beds. This hospital makes provision for the treatment of surgical, medical and day patients, who are served by a large team of first-class health professionals. At Life Suikerbosrand Hospital the priority of the staff is to focus on the delivery of a special brand of health and care to patients. Through their ongoing quality training, hospital employees are able to deliver excellent healthcare and embrace the principles of empathy, ethics, excellence and empowerment. Within a world-class hospital, this unique approach is what makes the difference.
Emergency

Telephone

Email
Physical address

Cnr H F Verwoerd, Maré and Begeman Street, Heidelberg, 1441

GPS

-26.49379 : 28.354117
Hospital manager

Kubashnee Naidoo
Visiting hours
For visitation exceptions around neonatal ICU and paediatric wards contact the hospital directly or click here for more information.
11h00 – 12h00
15h00 – 16h00
19h15 – 20h15
Medical services
Dentistry
General surgery
Gynaecology
Internal medicine
Obstetrics
Orthopaedic surgery
Paediatrics
Pathology
Psychiatry
Radiology
Urology
Ancillary services
Clinical neurophysiology
Pharmacy
Physiotherapy
Psychology
Hearing aid acoustician
Doctors
Dentist(s)

Dr Henry Hartley

0163491505

Dr Johan Meyer

017 773 0326 / 016 341 7178

Dr  André Muller

0163491902

Dr Louw M Nel

0118145574

Dr Michael Opperman

0118144727

Dr Ruan Kok

0163412684

Dr Kobus Botes

0163491505

Dermatologist(s)

Prof Modi

0163429222

Dr Michael Musk

0163429222

Dietician(s)

Mr Alpha Rasekhala

0729522931

Ear, nose & throat surgeon(s)

Dr Sasha Stofberg

0163429222

General practitioner(s)

Dr Bobby Koller

0163414121

Dr Colett Barnes

0118148288

Dr Sandra Carsten

0163414121

Dr Charles Lee

0163416150

Dr Cobus Venter

0163416150

Dr Francois Nieuwoudt 

0177732184

Dr Tlalane Mosisili

0163417070

Dr Jan du Preez

0118141808

Dr Jacobé Meyer

0163412545

Dr Tinus Kruger

0163414121

Dr Pieter Lindeque

0177730248

Dr Hannes  Snyman

0163414121

Dr Siewert Alkema

0163414121

Dr Sipho Ngema

0163414684

Dr Schalk Potgieter

0163416150

Dr Tshepo Tsoene

0760825113

Dr Wiets Steyn

0118148244

General surgeon(s)

Dr Ben Janse van Vuuren

0163429222

Dr Philip Nel

0163414121

Dr Philippus Nel (Jr)

0163429222

Dr C Uzonwa

0163429222

Neuropsychologist(s)

Mrs Janet Bester

0839598869

Obstetricians & gynaecologist(s)

Dr Kinunu

0163429222

Dr Gaontebale Matlhaga

0163429222

Dr Molebatsi

0163429222

Dr Mphele

0163429222

Orthopaedic surgeon(s)

Dr Nhlapo

0163429222

Dr Marek J Radziejowski

0163429222

Orthotics / Prosthetics

Mr Rupert Nagel

0164237633

Paediatrician(s)

Dr Buhle Nxumalo-Toba

0163429222

Physician(s)

Dr Molly Machaba

0163410480

Dr Molekwa

0163410480

Dr Siddiqui

0163429222

Psychiatrist

DR Ngculka

0163429222

Clinical Psychologist

Ms Odette Roberts

0163429277

Physiotherapist(s)

Ms Elchané van Niekerk

0731555284

Ms Margaret Pretorius

0163495922

Ms Martha Khanya

0835244896

Ms Mmasina Molopyane

0738894214

Ms Phumzile Motsumi

0824559240

Radiologist(s)

Dr Heetendra Mistry

0163417158

Urologist(s)

Dr Alsharef

0163429222

Dr Naresh Parbhoo

0163429222
Contact us
Hospital Manager

Kubashnee Naidoo 

Physical address

Cnr H F Verwoerd, Maré & Begeman Streets
Heidelberg
1441

Postal address

P O Box 1141
Heidelberg
1438

Telephone

016 342 9200

Fax

016 341 4821

Email

Angelique.olwage@lifehealthcare.co.za

Map

A&E Unit

016 341 3565