Life Mercantile Hospital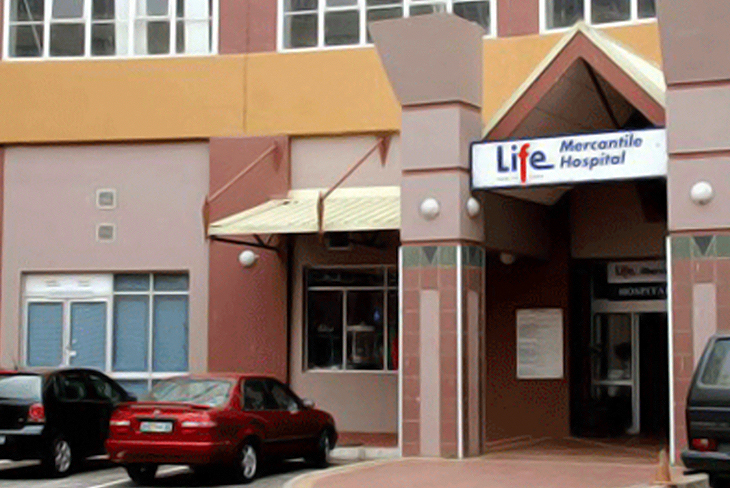 Overview
Life Mercantile Hospital in Port Elizabeth strives to be a world class provider for all while offering quality and clinical excellence for all patients. First-class treatment and compassionate care extends to the many medical and surgical disciplines. The exceptional team of health professionals focus on delivering high-quality treatment and special, unique standards of care – whether for routine or more acute procedures.
The beautiful maternity unit and neonatal intensive care unit has been awarded the Mother and Baby Friendly Status since 2017. The Baby Friendly Hospital Initiative is a worldwide programme of the World Health Organisation and Unicef to promote breastfeeding and skin-to-skin between mother and baby. The specialists and nursing staff of Life Mercantile Hospital will walk the extra mile to smooth your transition into motherhood, and make the birth of your baby a memorable experience. Fathers are not forgotten, and are encouraged to share fully in the birth process.
The Life Renal Dialysis unit at Life Mercantile Hospital offers state of the art dialysis machines and equipment that perform acute and chronic renal dialysis. This unit has dedicated nephrologists and a team of physicians who take care of the renal dialysis patients. The patients are cared for by a dedicated team of renal nurses whose priority is to help educate patients about the treatment and to ensure that they receive the best possible care at all times. The renal dialysis unit offers a 24 hour service which affords patients the security to maintain their normal life routine.
Employees actively participate in community initiatives and through their ongoing quality training, deliver excellent healthcare and embrace the principles of empathy, ethics, excellence and empowerment.
Optional: Life Mercantile Hospital is a member of the Life Healthcare Group, one of the largest private hospital groups in South Africa, operating more than 60 acute facilities across the country
Emergency

Telephone

Email
Physical Address

Cnr Kempston & Durban Roads, Korsten, 6020

GPS

-33.929379 : 25.582734
Hospital Manager

Pat Lubobo
Visiting Hours
For visitation exceptions around neonatal ICU and paediatric wards contact the hospital directly or click here for more information.
10h30 – 11h30
15h00 – 16h00
18h00 – 19h00
Medical services
Anaesthesiology
Dentistry
Cardiothoracic surgery
ENT surgery
General surgery
Neurosurgery
Gynaecology
Nephrology
Obstetrics
Ophthalmology
Orthopaedic surgery
Paediatrics
Pathology
Radiology
Renal dialysis
Urology
Vascular Surgery
Ancillary services
Antenatal & postnatal advice
Breastfeeding advice
Endoscopy room
Nursing learning centre
Pharmacy
The following support facilities are available at our hospital:
Dietetics
Physiotherapy
An in-house pharmacy
Doctors
Gynaecologists / Obstetricians


Dr Abry Nhliziyo

041 404 0531

Dr Francis Maleka

041 453 4190

Dr Tembisa Tini

041 404 0556


Cardio Thoracic Surgeon

Dr Rashoek Sewsunker

041 373 1230

Dentist(s)

Dr Mohamed Asmall

041 451 2246

Dermatologist(s)

Dr Pakamile Magigaba

041 404 0536

Dr Zinzi Limba

041 404 0439

Dietician(s)

Anele Nomvete

041 451 8004

Avril Messiahs

041 482 0004

Denise Stockell

041 453 3579

Ear, nose & throat surgeon(s)

Dr Mtutuzeli Nyoka

041 404 0541

General practitioner(s)

Dr Thaivaganthi Govender

041 453 3584

Dr Victor Ntshona

041 404 0621

General surgeon(s)

Dr Bernard Ocharo

041 404 0620

Dr Bronwyn Boesack

041 492 3689

Dr Lwazi Nongogo

041 404 0538

Dr Nanda Punyamurthy

041 453 9866

Prof Subramanion Pillay

041 404 0504

Gynaecologist(s)

Dr Abry Nhliziyo

041 404 0531

Dr Francis Maleka

041 453 4190

Dr Tembisa Tini 
041 404 0556

Maxillofacial surgeon(s)

Dr Ismael Gopal

041 404 0449

Nephrologist(s)

Dr Khambi Msulwa

041 404 0473

Dr Robert Freercks

041 404 0473

Neurosurgeon

Dr Zwelabantu Wopula

041 404 0508

Oncologist 

Dr Palesa Ford 

041 451 1514

Ophthalmologist(s)

Dr Gallow Nardemar

041 451 0053

Dr Pilile Ngxukumeshe

041 453 2390

Orthopaedic surgeon(s)

Dr Mawanda Mandaba

041 453 3800

Dr Riaan Joubert

041 404 0409

Dr Shaun Attenborough

041 404 0533

Paediatric surgeon

Dr Itayi Simango

083 303 2140

Paediatrician(s)

Dr Asanda Vetman

041 404 0606

Dr Guy Belcher

041 451 1133

Dr Mzimkulu Dilima

041 451 0055

Physician(s)

Dr Clement Kabura

041 404 0585


Dr Martha Magashule

041 451 1566

Dr Rudzani Maringa

041 451 2022

Dr Nomangesi Ngcakani

041 453 5690

Psychiatrist(s)

Dr Carmen Groves

041 008 5080

Dr Nava Reddy

041 451 2928

Dr Zolelwa Ngam

041 451 0931

Urologist(s)

Dr Joseph Nyarko

041 404 0455

Dr Khanyisa Makamba

041 451 0620

Dr Lonwabo  Gqoli

041 451 0620

Vascular surgeon

Dr Bhekifa Dube

041 363 0428
Contact us
Hospital Manager

Pat Lubobo

Physical address

Cnr Kempston & Durban Roads
Korsten
6020

Postal address

P O Box 4031
Korsten
Port Elizabeth
6014

Telephone

041 404 0400

Fax

041 404 0551

Email

Nureen.Dolley@lifehealthcare.co.za

Map

Emergency Number

041 404 0414