Life St Mary's Private Hospital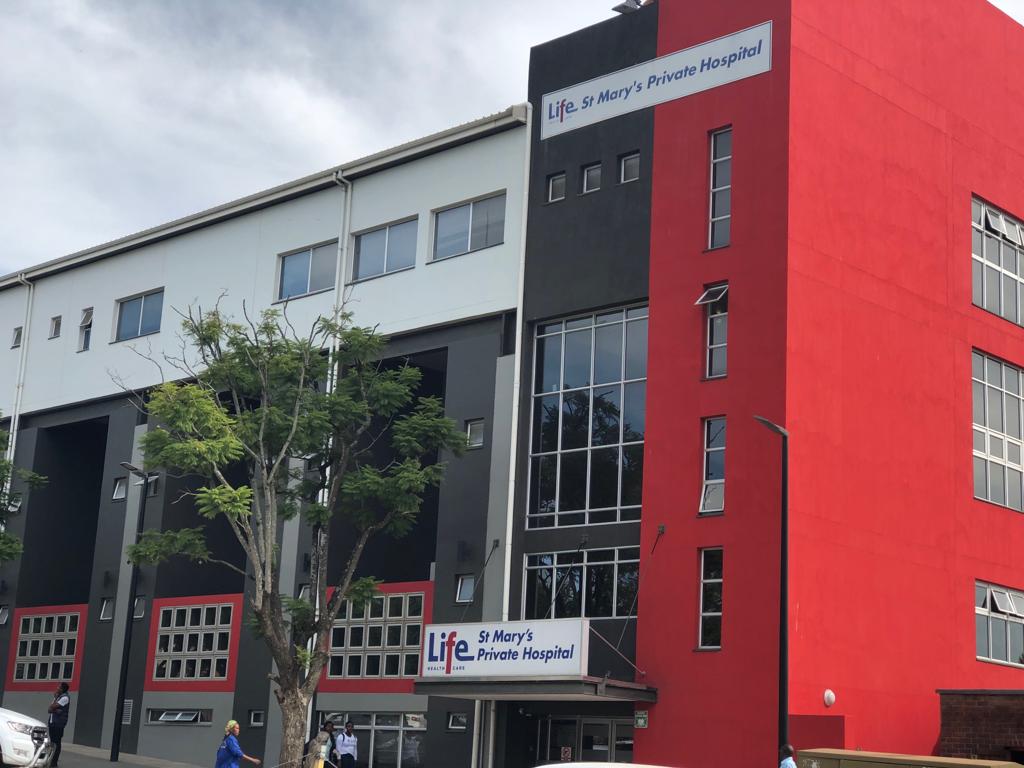 Overview
Life St Mary's Hospital is a 147-bed hospital situated in Mthatha in the Eastern Cape, and it provides excellent medical treatment for local patients without their having to travel long distances. The first-class team of medical professionals at this hospital focuses on an experience of care and quality treatment for everybody who is admitted to this facility or visits it. The hospital has four theatres, as well as an adult and neo-natal intensive care unit. Specialists in 14 different medical and surgical disciplines consult with patients in this modern facility. The employees at Life St Mary's Hospital actively participate in community initiatives, and through their ongoing quality training, deliver excellent healthcare and embrace the principles of empathy, ethics, excellence and empowerment.
Emergency

Telephone

Email
Physical Address

30 Durham Road, Mthatha, 5100

GPS

-31.584683 : 28.784978
Hospital Manager

Sive Jama
Visiting Hours
For visitation exceptions around neonatal ICU and paediatric wards contact the hospital directly or click here for more information.
Wards
11h00 - 12h00
14h00 - 20h00
ICU
11h00 - 12h00
14h00 - 15h00
19h15 - 20h00
Medical services
Family medicine
Dermatology
Neurosurgery
ENT surgery
General surgery
Gynaecology
Internal medicine
Obstetrics
Ophthalmology
Orthopaedic surgery
Paediatrics
Pathology
Radiology
Urology

Vascular surgery
Ancillary Services
24 – hour Accident & Emergency unit
Pharmacy
Doctors

Cardiologist

Dr Khulile Moeketsi
047 531 2118

Dermatologist

Dr Avumile Mankahla
047 531 4108
Dr Salathiso Ndongeni
047 531 6566

Ear, Nose & Throat specialist

Dr Charles Lwanga Myataza

047 502 4400

Endocrinologist

Dr Chukwuma Ekpebegh

047 531 1315

General practitioner(s)

Dr Dumisani Ntanjana

0475311077

Dr Mthobeli Mapeleba

047 532 2153

Dr Desikan Lakshmanan

047 532 2153

General surgeon(s)

Dr Ibrahim Lubega

047 532 4478 

Dr Charles Mushabe

047 531 4034

Dr Mvuyisi Mpikashe

078 211 7000

Gynaecologist(s)

Dr Mana Mdaka

047 532 4186

Dr  George Essilfie - Appiah

047 531 0630 

Dr Constance Gubu-Ntaba

047 150 0085 

Dr Xolani Mbongozi

047 531 1576 

Dr Mziwohlanga Mdondolo

047 531 1786 

Dr Vulikhaya Mpumlwana

061 418 3822 

Gynaecologist(s) & Obstetrician(s)

Dr Sibusiso Phinzi

047 531 6160

Dr Chwayita Makrexeni

047 532 2692

Neurosurgeon

Dr Mahmud Daffala

047 531 4034

Ophthalmologist(s)

Dr Mohan Bhala

047 531 1655

Dr Anele Yako

047 531 6200

Dr Kayalethu Mkabile

047 505 5600

Orthopaedic surgeon(s)

Dr David Oloruntoba

047 531 1089 

Dr Lonwabo Nxiweni

047 531 1945

Dr Sibulele Xaso

047 505 5632

Dr Vuyo Socishe

047 532 2153

Paediatrician(s)

Dr Donald Tshabalala

047 531 1681 

Dr Nobuntu Nkumanda

047 531 1525 

Paediatric cardiologist

Dr Zongezile Makrexeni

047 532 2692

Paediatric neurologist

Dr Tandokazi Quvile

047 531 0537

Paediatric surgeon

Dr Matongo Mfuneko Kopolo

047 531 6002

Physician(s)

Dr Olwethu Nokhwali

064 515 6290

Dr Mkhuseli Mashiyi

047 532 2469

Dr Baby Thomas

047 532 5767

Dr Lungiswa Mtingi - Nkonzombi

047 495 0057 

Dr Monwabisi Goqwana

047 531 2092

Psychiatrist

Dr Thandisizwe Nkushubana
047 502 4140

Thoracic surgeon

Dr Augustine Kafuko

047 505 5600

Urologist

Dr Ntuthuzelo Lusawana

047 532 2153 

Vascular Surgeon
Dr Lungisani Mtimba
083 712 5824
Contact us